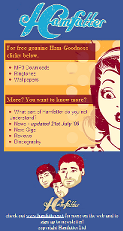 One of our recent clients, the band Hamfatter (who we built a mobile promo site for) are on UK TV's Dragon's Den tonight, making the normally aggressive investors sing for their supper, which should make for interesting viewing.
They should be on GMTV and Radio2 on Tuesday morning too, touting their alternative "direct" route to their own music promotion, using all the new distribution channels, and keeping control in the hands of the band.
To see the mobile site and get free MP3's and other mobile stuff,
text HAMFAT to 86688.
(text costs 25p plus normal network charges, to cover the response SMS messages - we'd charge less if there was a cheaper SMS that covered the cost of the response SMS)

We love their music too, so go and buy their new single for just 70p at play.com or itunes!
(and maybe one day you'll be able to buy music for download or postal delivery direct from the mobile using Masabi's credit card sales technology - who knows? Watch this space....)
The Guardian "the business model would allow the group to make around £3.50 an album, as opposed to the 30p they would get in royalties from a big label"
The Times "Indie band emerges from Dragon's Den with the cash - and a rock revolution"
The Independent "middle-aged telecoms tycoon looking to recapture his youth?"
'THE GIRL I LOVE' MUSIC VIDEO
NME - Hamfatter strike deal with entrepreneur on BBC's Dragon's Den
Our favourite Indie newbies Hamfatter have become the first band to sign a deal on Dragon's Den.
Millionaire Peter Jones signed a £75,000 deal with the Cambridge trio in return for 30% of their profits.
The episode, filmed in April, was aired as the first in the new series on BBC 2 on Monday 21st July.
All five Dragons wanted to make a deal with the band but manager Jamie and band members Eoin, Jimbo and Mark chose Peter Jones.
"Peter Jones simply said 'I just love music, I don't play music but I love it.' And that for me was something big" said guitarist Jimbo. "…plus he was wearing stripey socks."
"Plus he was like 7ft tall so he kind of feels like your dad." added singer Eoin.
Jimbo summed up: "Yep, it was 33% music, 33% socks, 33% TALL."
The band see the deal as a revolutionary new business model for the music industry, ignoring the concept of labels.
"We don't get an advance so we're absolutely skint." explains Eoin. "But that is literally the only downside. We retain complete creative control over what we do; who we work with, release dates, tour dates, which tracks we choose. Hamfatter Ltd is essentially our own record lab el."
"Normally record labels would be perfectly in their rights to rip out bits of your songs they don't like and get somebody else to stick a bit in." He continues "That way you end up with horrible mutilations of tunes. Hopefully, with Hamfatter Ltd we'll sign a bunch of other bands and offer them a similar deal; 'We think you''ve got it, we won't tread on your toes, here's a bunch of money, make a load more for us please!'"
The new single is available digitally now and is available on CD and vinyl from August 11th 2008. Keep checking the website for details of new tour dates coming soon.