Masabi are currently on the lookout for a server developer to join our team working from our London South Bank office.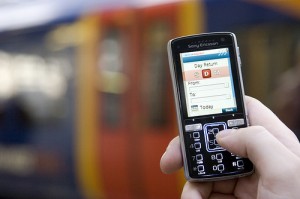 Firstly: NO AGENCIES OR RECRUITERS! We are interested in pro-active candidates who are motivated enough to find us by themselves.
DEVELOP SOMETHING AMAZING AND USEFUL
Ending the pain of queues at Railway stations, Masabi is an award winning and established leader in mobile applications, focussing on mobile transport ticketing - turning anyone's phone into a train ticket and ticket vending machine, eliminating queues and relieving stress for passengers everywhere.
See the 1 minute video below to get an idea about what we do. We're working together with the industry giants The TrainLine and Atos Origin, giving the product the legs to get out into market.
Skills we look for in every candidate: passionate, clear thinking, flexible, confident working in small teams, fluent in English, and London-based, you'll have a desire to be both critical and receptive to the input of other team members. Masabi offers the ideal candidates an exciting work environment with plenty of opportunity to excel in an exciting growing business solving a clear customer need with a working revenue share business model.
You must be a flexible JavaEE developer with experience using Spring, Hibernate, web services and creating interactive web front-ends, who is happy to work with various databases and webapp containers.
Of value, but not essential: an understanding of secure systems, clustering, automated testing (beyond unit tests!), experience in agile practices, working with remote teams from partner companies deploying products. Technologies you will be working with: Tomcat behind Apache, Weblogic, MySQL, Spring 2.5, Hibernate (via Spring extensions), Linux, proprietary SOAP APIs.
You will work alongside our existing server developer, as well as our tester and client developers and external customer teams.
Candidates selected for interview must have excellent English skills with the ability to think concisely and communicate clearly with others, which will be tested at interview.
About Masabi's offices:

We work out of a funky loft office in a converted brick warehouse shared with some PR types, a couple of blocks south of the Tate Modern in Southwark. It has excellent transport links, sitting equidistant from London Bridge, Southwark and Borough stations in an area which is being redeveloped with some great lunching facilities, nice bars, world class modern art and a convenient river. Proximity to Borough Market is excellent news for gastronomes, if less good for their wallets. See http://www.masabi.com/find-us/
Again, please, NO AGENCIES! Really. We mean it.
If you're confident you're not an agency and are in fact the perfect candidate for us, please email us at jobs@masabi.com with a CV and covering letter, or phone Ben for a chat on 0207 981 9781.