Imagine the year is 2001...
Relatively speaking, it's a bit of a Stone Age as far as mobile technology is concerned. It is time when colour screens on mobiles were rare, only 43% of us were texting each other, and we were all just discovering a really useful search engine called Google.

We're planning a train journey from London Marylebone to Birmingham Moor Street (a favourite among the Masabi testing team). It's roughly a two hour journey with no changes, so it should be simple enough...
OK, first we need to find out how much this journey will cost, since we like to be prepared and want to know how much money to bring to the station to buy a ticket. This is before the days of ticket machines that accept payment cards, and cash machines weren't as widespread as they are nowadays.
To find out the fare beforehand, we're going to have to use the National Fares Manual. This is an index – published twice a year – that details every single rail fare on the UK's Rail Network. Think of it as a sort of Domesday Book for the railways. To put it into perspective, there are over 200 million different rail fares in existence in the UK today. Yes, that's right, there are more rail fares in the UK than people! However, we don't need all of the rail fares, so let's just use the tome that covers the Midland region. That's still quite a challenge: it weighs in at over 1,000 pages. It will take us a while to find the journey and make the necessary discount calculations for our Young Person's Railcard.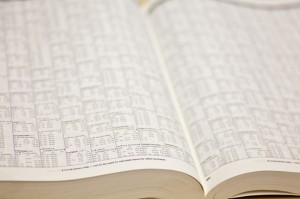 Anyway, now we've figured out the eventual price of the ticket and got enough money out, we still don't know what time our train leaves. We ring up National Rail Enquiries and find out what time the train is due. Then it's time to go down to the station.
When we get to the station, we need to use the ticket office to buy our ticket. Unfortunately it turns out to be quite a popular time to travel, and we have to stand in a lengthy queue. As the minutes pass, we massage to miss our train because we're still in the ticket queue.
We finally get to the front of the queue and buy our ticket in cash. Next, out on the platform, there are no departure boards and we want to find out what time the next train is due – time to check the timetables. Here's an example of a train timetable, which generally does a good job of arranging the data logically. However, the problem is that we don't actually need most of this information, and it's difficult to separate what's relevant from what isn't: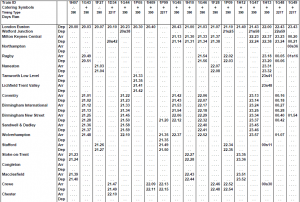 All in all, taking the train just wasn't that easy.
Back to the Future
10 years later, let's do the journey again... To speed the whole process up, we can download the Chiltern Railways app on our mobile, and look up fare prices and train times at the same time. Because we're buying our ticket in advance on our mobile, not only can we get much cheaper fares than buying them at the station on the day, we can also compare different fare prices and train times with each other. We've upgraded from a Young Person's Railcard to a Gold Card because we're a bit older now, but whatever the railcard, the app calculates all the discounts for us and shows us the total price that we will be paying.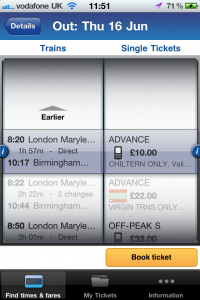 The interface also tells you which fares can't be used on a particular train by greying them out – and vice versa. In this way, you can easily see which tickets can and can't be used. However, if you really want a greyed-out fare, select it, and the interface will highlight the nearest appropriate train: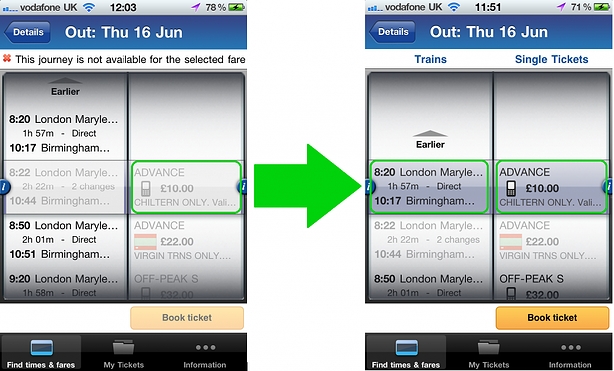 We can then securely pay for an mTicket (mobile ticket) using our card.
The mTicket is sent to our phone as an encrypted 2D barcode.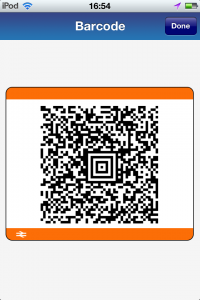 We have now successfully planned our journey and bought our ticket in minutes
In the taxi on the way to the station, we can even use the live departure board function to check if our train's on time. After arriving at the station, we can walk straight past the ticket machines and ticket office, scan our mTicket on the gate, and get straight on our train.
Masabi develops mobile technology that makes transport ticketing easier for passengers and more cost-effective for transport operators. The Chiltern Railways app was developed in conjunction with Chiltern Railways and Atos Origin and is available on most handsets. It can be downloaded by texting 'Chiltern' to 88600 or by visiting your device's official app store.
Contact us today on contact[at]masabi.com to discuss how we can help you.