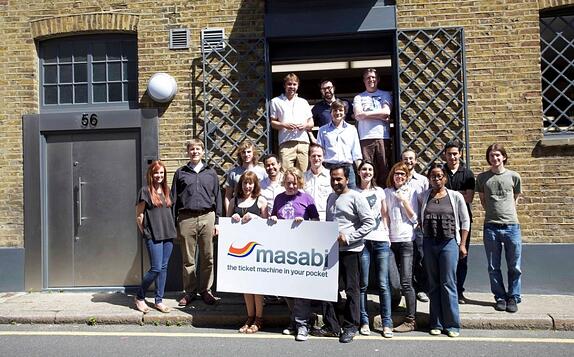 Following the rapid growth we've had as a company in the past year, Masabi has moved office!
What's your new address?
We have moved just two roads over from our old address, so exactly the same public transport connections apply. Our new full address is:
Masabi Ltd.
56 Ayres Street
London
SE1 1EU
UK
We also have a new telephone number:
+44 (0)20 7089 8860
You can find us here:
Why have you moved?
The move is due to the rapid growth we have experienced in the wake of the financial investment from m8 Capital, and the partnerships we have secured with thetrainline and Atos Origin to deliver apps for high-profile consumer brands such as thetrainline.com, Virgin Trains, Chiltern Railways and more.
Such has been the interest in Masabi that we have been taking on orders from some of the UK's leading Train Operating Companies to provide them with high quality mobile ticketing applications. Moreover, we are continuing to build on our existing projects.
So Masabi is expanding?
Exactly. To cope with the demand and to broaden our skills base as a mobile technology company, we have been on a recruitment drive since October. We've had some extraordinarily talented new members join the Masabi team and our ranks have swelled from about 10 people to over 20 in just a few months. We've been adding various mobile developers, testers, graphic designers and more, as well as expanding our existing roles to new areas of expertise. What's more, Masabi is more diverse than ever, which is what makes it such a fantastic and varied place to work – different people from different cultures all contributing their own unique qualities to solve problems, create new ideas and construct a world-class mTicketing ecosystem.
Unfortunately, our growth has meant that our old office was simply unable to hold us all, let alone give us more room to grow.
What's your new office like?
The new office will provide us with more than ample room for further expansion as we seek to extend our mobile technology to more transport companies both in the UK and internationally. The building is a renovated former factory of sorts, complete with the original antique lift placements and wood supporting beams. It's the perfect mix between the old and the new, which makes it the ideal place for Masabi to set up its new home.
What does this mean for me?
Not a great deal. We have set up a mail redirect so that any post will end up at the right place, and all of our new details are now up in the Find Us section of the website
Apart from that, be sure to come and see us at the new office!
If you have any further questions about Masabi's new address, please contact Will, who can be reached at will[at]masabi.com.