masabi's 2011 roundup
The past twelve months have been great for Masabi and the adoption of Transport mTicketing. As 2011 draws to a close we would like to take the opportunity to reflect some of our achievements and how our technology is helping make life easier for everyday transport users!
mTicketing goes live
2011 was the beachhead year for mTicketing in the UK transport network. This year, alongside our partners at thetrainline, Atos and numerous Train Operating Companies, Masabi successfully launched no fewer than 10 different mTicketing apps that enabled our partners' passengers to check train times and buy tickets on almost any mobile device. Launch highlights: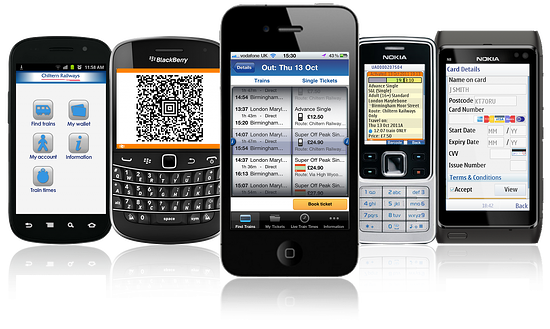 new features and updates
We have continued to evolve our services, adding new features and functionality, and responding to user feedback. Here are just some of the awesome new features that we've added over the course of the year:
Group Purchase – we've improved the app experience for passengers travelling together by adding the ability to buy tickets for up to eight people at a time. Group Railcards such as 'Family & Friends' can also now be used in the app.
Live Train Times – on selected apps, you can now – for free – get live information about your journey, such as platform numbers and estimated delay times, and you can even view your train's live progress as it goes along.
Readable mTickets – we invented a whole new way for staff to check passengers' mTickets securely without using a barcode scanner. All you do is activate your ticket just before you get on your train, and show your mTicket to the member of staff. They can check your mTicket visually with the help of the animated colours on the ticket, and let you carry on with your journey hassle-free!
Journey Planner 2.0 – we upgraded the journey planner with live information to help you make better decisions when you plan a journey. The upgraded journey planner lets you view live train times, delays and platform information next to ticket prices when you book a ticket for a train departing soon.
Seat Reservation – you can now reserve a seat when you book a ticket on the app. This is a great feature for passengers on long distance journeys, when getting a guaranteed seat can be a real life saver!
Improved Android Support – we added lots of great little features to allow our app to be used on the majority of Android phones. These include support for all Android screen sizes, support for Android versions 1.6 and above (Ice Cream Sandwich coming soon!), support for custom keyboards and the ability to save the app to SD card.
record haul of industry awards
It was a multi-award winning year for Masabi as we gained considerable recognition. Our biggest accolades:
rapid growth for team masabi
2011 was also a vintage year for Masabi in terms of company growth. Since January we have more than doubled in size and now have over 30 employees – and we're still looking for lots more! This eventually led to our office move across the road to 56 Ayres Street.
Moreover, to support our expansion overseas, and to grow the company even further, we made headlines in early November when we announced that we had secured $4m in Series B funding from our investors at m8 Capital.
on the horizon for 2012
2012 is shaping up to be a big year for Masabi. More launches in the pipeline - along with more great updates and additional features - are all driving mTicketing towards mass market adoption on UK rail networks.
Looking further afield, we're making plans to establish mTicketing in the US too, where Masabi is already receiving strong interest from a number of transport networks.
We look forward to seeing everyone in the New Year!