chiltern railways mticketing app by masabi one of 'best of british'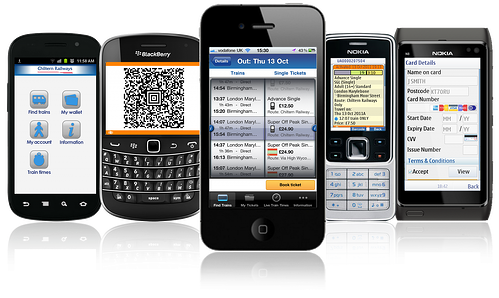 To celebrate Mobile World Congress 2012, which kicks off on Monday in Barcelona, The Appside have published a free report called Best of British Apps, in association with UKTI and the ICT Knowledge Transfer Network. The report highlights 50 innovative apps developed and/or published by UK companies in recent times.
Included in the list is the Chiltern Railways mTicketing app, developed by Masabi.
Here's why the Chiltern app made the list:
Another local startup, Masabi, has been quietly breaking new ground in mobile transport ticketing, working with a number of rail operators in the UK to allow their passengers to buy tickets on their phones.

The Chiltern Railways app is a very good example. The m-tickets are bought as barcodes, to be stored on the phone and shown to ticket inspectors and/or scanned at station barriers.

The app saves recent journeys and details to speed up the purchasing process, and there is an additional incentive to use the app: no booking fees.
We're really proud that the Chiltern app was included in this 'Best of British' list in the run up to MWC 2012, and we can't wait to be out in Barcelona meeting other developers and mobile technology innovators!
Download the Chiltern Railways app here or text CHILTERN to 88600.
Best of British Apps: 50 innovative mobile applications from the UK


Get in contact with us or leave a comment below to learn more about the Chiltern Railways mTicketing scheme.