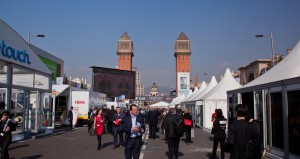 masabi developer team invades mobile world congress
It's always nice to get out of the office from time to time, and what better way to do it than by going to Barcelona! Masabi's development team flew out to Barcelona in February to attend Mobile World Congress 2012. The visit was designed to offer the Masabi developers the opportunity to meet people from all over the world working in mobile, see how the commercial side of the mobile industry operates, and attend developer meetings to see what's on the horizon for handsets and apps, and this is how we got on...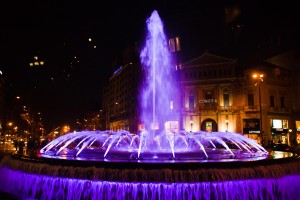 arriving in barcelona
We flew out to Barcelona on Monday afternoon and arrived safely at our hotel in time for a delicious meal at Sinatra's near Las Ramblas, during which we discussed what our ideal handset would be like. Unfortunately, we could not make the show in time to watch our CEO, Ben Whitaker, take to the main stage to talk on how mobiles apps are changing the world, speaking in a panel alongside representatives from the FT, Telefónica, Tripadvisor, Qualcomm and others. Ben also made it into the Show Daily on the Wednesday of the event. Click here and turn to p.14 to view the article online.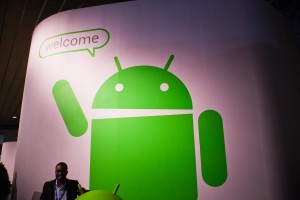 inside the show
The next day, we set out for the Congress, navigating our way across the city on the metro. Unsurprisingly, the show this year was bigger than ever, with around 60,000 attendees from over 200 countries, and all of the best-known mobile brands were drawing crowds onto their vibrant exhibition stands. Although, Apple was notable in its absence.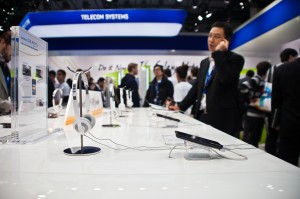 As tradition dictates, Tuesday is the busiest day of the event, with plenty of keynotes, seminars and developer conferences to occupy the masses. After a bit of queuing (which we sadly could not bust with our mTicketing apps!), the team was granted entry to the BlackBerry developer conference, where we learned about all the great new features planned for BB10 and the new Playbooks. We were especially intrigued by the variety of runtimes that will be supported on the upcoming BB10, making it an incredibly versatile development platform. As well as featuring the existing Java and native BB10 runtimes, BlackBerry's new platform will include HTML5 support and a runtime for Android apps!
To top off a great talk from BlackBerry, we were all given a free Playbook!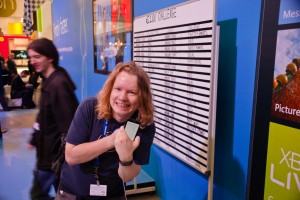 In the afternoon, a handful of us managed to get into the Samsung developer conference. They had a big presentation on the variety of things you can do with the stylus, a gadget they have brought back into fashion with the Galaxy Note, but what we really found impressive was the great looks and almost Android-like graphics displayed by their new range of Bada handsets.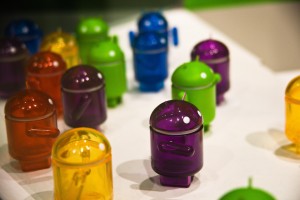 amazing mobile technology
Later on in the day, we had a wander around the Fira to check out some of the technology on show from the big names in mobile. Here's a rundown of the main things:
Nokia - showcased a 41 Megapixel camera, capturing amazing quality photos on such a tiny handset.
BlackBerry - great speaker presentations on the stand, including one from Ben on transport mTicketing as the catalyst for mCommerce.
Android - the stand was as colourful and fun as ever, with app developers, a slide, free smoothies and even a robot that made you a customised cover for your Nexus.
Samsung Galaxy Note - a huge screen and amazing battery life and great versatility make this Ben's new favourite phone.
Sony Playstation Vita - a device more powerful than the PS3 and it fits inside your hand. It can also run augmented reality games and map your face onto your avatar using the front mounted camera.
Windows Phone 7 - a cool competition from Microsoft saw you race your phone against their Windows Phones to see which was faster at completing certain tasks, and if you managed to beat the Windows Phone, you won €100. A quick look at the results board showed only about two people managed to beat the WP7 phones for speed. (Unhappy losers were thankfully consoled with a free t-shirt.)
NFC - lots of companies were demonstrating NFC as a centrepiece this year. The transaction times have improved and the technology is gaining more traction in payment and transport.
Quad core processors - incredibly rich and detailed gaming graphics running on the latest smartphones were on display on all the big handset manufacturer stands to show the power of the new quad cores processors that have entered the market.
Special mention goes to a Vancouver based company for building an awesome Heads Up Display device that fits inside your snowboarding goggles and gives you readouts on your speed, location, etc. and links to your phone via Bluetooth so you can play music and answer calls while knee deep in powder.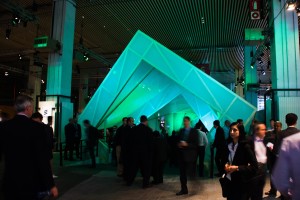 culture vultures
We rounded off a great stay in Barcelona with a meal in an authentic Spanish tapas restaurant and a trip to the Sagrada Família - the iconic cathedral designed by Gaudí that has been under construction since 1882.
The visit to MWC was a really edifying and valuable experience for the whole team. We got to see a side of the industry that we would not normally be involved in, and we also got a first-hand view of some of the upcoming technology that could influence our work in the near future. Moreover, it was a fantastic opportunity to meet and network with other companies and developers doing fascinating things in mobile, and we hope to follow up on some interesting leads!
Get in touch to learn more about our team trips and other developer opportunities at Masabi.