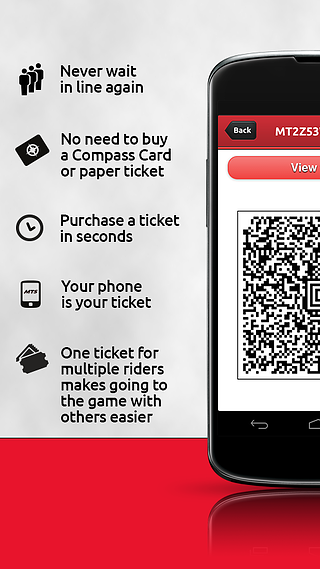 Your phone is now your Trolley ticket to the game!
SAN DIEGO – The Metropolitan Transit System (MTS) and Masabi, a leader in transit mobile ticketing, announced today the pilot launch of MTS mTicket, a mobile ticketing app that lets riders use their smartphone to purchase their day pass when riding the Trolley to Chargers and Aztecs football games this season.
MTS mTicket is available for the first Chargers game Monday, September 9, and can be used to purchase tickets in advance of travel. Riders can buy trolley day passes for one or multiple games. The mTicket trolley day passes will also be available for the Poinsettia and Holiday Bowls. MTS may make mTicket available for other special events including Comic-Con."This new product is a game changer for our riders," said Paul Jablonski, chief executive officer of MTS. "Now they don't need to wait in line to buy a ticket. They don't need a Compass Card. They can buy a Trolley pass to the game anywhere, anytime. It adds a level of convenience that our customers want."
The free app can be downloaded from Google Play for Android devices or the App Store for iPhone. Once downloaded, riders can securely purchase tickets in seconds with their smartphone using all major credit or debit cards. The cost of the MTS mTicket day pass for trolley travel is $5.50, which is less than the cost of paper tickets.
Once purchased, the ticket will appear on the smartphone for immediate activation or can be stored in the app for future use.
An added benefit of using the mTicket is that, when leaving the game, riders can avoid departure lines with exclusive access to the mTicket express lane, allowing rapid entry to the trolley platform.
The mTicket day pass is valid for unlimited rides on game days on all MTS Trolley lines. Fans should switch their phone screen on to show their active mTicket when boarding and when requested to by MTS Security and Code Enforcement. Riders should also ensure their phones are charged before starting their trip.
Last Saturday, during a trial launch of the new technology at the SDSU Trolley Station prior to the Aztec's game against Northern Illinois, more than 900 mTickets were sold. Dozens of riders downloaded the app and purchased tickets within minutes. After initial download and setup, subsequent purchases will take as little as 20 seconds.
This innovative pilot is a first step by MTS in delivering with new, exciting approaches to fare collection. By taking an innovative approach and leveraging Masabi's JustRide mobile ticketing system MTS was able to complete all development of this application within just two weeks of project kickoff.
"Masabi is excited to be working closely with MTS to revolutionize the experience of riding transit in San Diego," said Joshua Robin, Masabi's Vice President for North America. "Mobile ticketing makes riding the Trolley easier than ever by allowing MTS riders to skip the line and purchase tickets directly from the palm of their hand."
Masabi's JustRide is a cloud-based end-to-end mobile ticketing and fare collection system. The company provides mobile ticketing to 14 transit properties globally, including Boston's Massachusetts Bay Transit Authority and Virgin Trains in the UK
MTS will operate more frequent Green Line service for the Chargers game beginning at 3 p.m. on Monday, Sept. 9. Trains will depart Old Town and Grantville stations for Qualcomm every 7.5 minutes.
MTS operates more than 90 bus routes and three Trolley lines on 53 miles of double-tracked railway. Every day more than 275,000 passenger trips are taken on MTS services. For more information on how you can use public transportation and save money, go to www.sdmts.com.