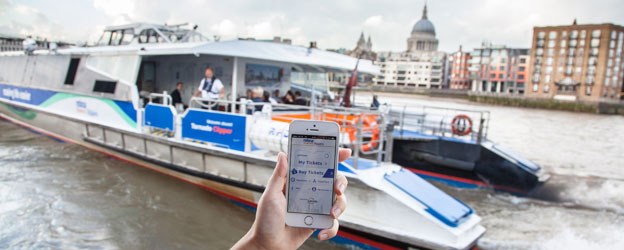 Stats gathered over last 12 months reveal key trends amongst 10,000's of London river travellers
London, 8th July, 2015 – London based mobile ticketing provider Masabi has revealed an insight into how MBNA Thames Clippers passengers purchase their trips to coincide with over 90,000 mobile ticket journeys being made on the river bus service in 12 months since launch. The data, for example found iOS users were far more likely to use the ferry service than Android users (84.1% vs 15.9%) and also revealed the most popular routes, destinations and origins out of a sample size of 33,697.
It has been a successful 12-month for the partnership between Masabi and MBNA Thames Clippers. The companies expect tickets sales for 2015 to top £1 million come December, as commuters become more familiar with the technology. In May alone 15,160 trips were taken using mobile tickets –– double December's figure, bringing the total number to over 90,000.
Masabi which works with city transport services in places like Boston, Athens, New York allows MBNA Thames Clippers commuters to buy tickets from anywhere at anytime, removing the need to join a queue and speeds up boarding and travel times.
After mining its ticketing data over the last 12 months, Masabi found that:
MBNA Thames Clippers has a large iOS customer base – far greater than other cities where Masabi's services are used on transport services. In total, iPhone users make up 84.1% of all mobile tickets sales. iPhone 6's are the most popular phone (35.4%) followed by the 5S (25.3%).
Android devices make up 15.9% of sales – with the most popular devices being Samsungs (8.5%), HTCs (3.1%) and LGs (1.9%)
Comparing this to other cities - in other European cities for example, Android devices prove more popular than iOS (55.8% vs 44.2%), while in a large US city 73.8% of tickets are purchases on iOS compared to Android (26.2%).
The vast majority of mobile ticket customers travel from the South West of London. Stats showed 17, 125 people travelled from the likes of Putney and Chelsea Harbour. Commuters from South East London (Woolwich, Greenwich etc) were second – 7,284.
There was also a strong demand for tickets from non-Londoners – 5,862 people from the sample didn't live in the capital. Travellers from east, west and north London sat at 2,061, 703 and 662 respectively.
Commenting on the findings and its milestone in ticket sales for MBNA Thames Clippers, Ben Whitaker, Head of Innovation, Masabi said: "The smartphone has become an integral part of millions of people's daily lives is confirmed by the sheer volume of journey purchases by MBNA Thames Clippers customers over the last 12 months. Unlike traditional ticketing methods, mobile services are able to provide exceptionally accurate data on things like location, routes and peak demand. Access to such information is invaluable to transport operators in providing the best services possible to their customers."
Geoff Symonds, COO, MBNA Thames Clippers added:
"We have been extremely pleased with the success of the ticketing App in its first year. This has proved particularly popular for our regular commuters who welcome the convenience of a self-serve ticket application. We hope that this pattern continues as we look forward to developing the product further with Masabi."