More than 150 Masabi people from around the world gathered at London's Barbican Centre for the inaugural 'All Aboard' Masabi conference and a day of socialising, team building and celebration.
This milestone event celebrated 10 years since the Justride platform went live, clocking up billions of fare revenue since entering service with the Massachusetts Bay Transportation Authority in 2012, the first agency to launch mobile ticketing in the United States.
From a small but highly motivated project team focused on solving a specific fare collection challenge (Mobile Ticketing), Masabi's mission has expanded into a global movement to transform fare collection systems around the world by moving cities away from bespoke systems to using shared (Multi-Agency) platforms and a Fare Payments-as-a-Service approach, saving agencies a huge amount of money that can be put into running services, as well as delivering innovation quickly and providing constant feature updates and continuous innovations.
Masabi CEO, Brian Zanghi, flew in from Boston to make a keynote speech highlighting defining moments along the way and outlining the company's roadmap for the years ahead – and how employees can shape Masabi's mission going forward.
Brian said: "In the two and a half years since we last got everyone together, we are now processing more fare revenue each month than we were before the pandemic.
"The business is strong and growing, we're hiring and we are a better, stronger company than we were three years ago.
"Two thirds of the people here were hired during Covid and that's why the most important part of today's event is connecting with each other."
"What gets me really excited is not how far we've come – although that's something I'm so proud of – it's how far we can go.
"The talent we continue to attract is amazing. This is a very special place to work. The common thread, the founding principle that Ben and Tom handed to us – the common denominator is: 'yes we can'. It's that attitude that initially attracted me to Masabi.
"And it's what empowered a small company of just 25 people to bid for and win the contract with MBTA – one of the largest public transit agencies in the world – against some of the largest companies in the fare payment technology sector."
10 Years of Masabi's Justride Platform
Company founder Ben Whitaker looked back on the major milestones in Masabi's journey over the last decade:
"When we started the company, the industry believed that everyone had to have bespoke fare collection systems, everyone had to have legacy smart cards and everyone had to have ticket machines.We set out to make passengers happier and halve the cost of fare collection and gradually we have persuaded the industry to dematerialise and get away from long projects, lots of risk and lots of money."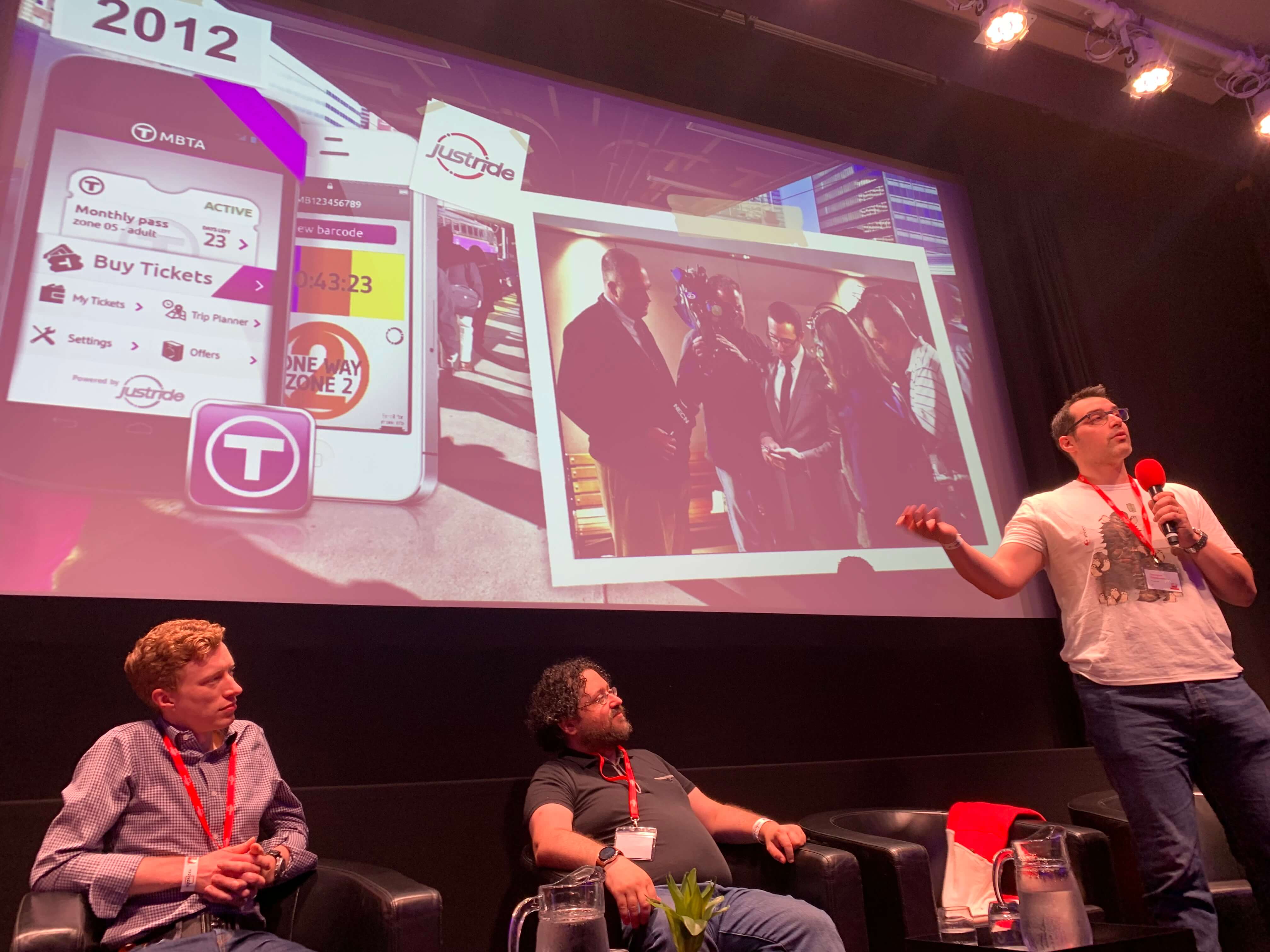 The Future Roadmap
Masabi's new Chief Product Officer, Taya Laybman, outlined her vision for communicating the Justride proposition, making it easier for transit agencies and riders to clearly understand the benefits.
Drawing on her own experience of landing at Gatwick Airport, knowing that she
could use a contactless credit card to tap and ride into London, Taya reminded people just how empowering smart ticketing could be for riders.
"When I arrived in the ticket hall, I knew what I was doing, I tapped my card and it worked. It felt like I owned the city!
"But riding public transit can be stressful - especially if you are travelling with young children. What we are about is empowering agencies to help people move around and live their lives more easily.
"And it's really important to remember that the people who find using public transit hard are the people we really need to focus on serving."
Taya highlighted the main areas of Masabi's future product focus. In the longer term, Justride is likely to deliver more first- and last-mile mobility solutions beyond the traditional remit of public transit agencies and - working with a wider ecosystem of MaaS partners.
Employee Value Proposition
Masabi is working with Wiser to develop a robust and transparent EVP: Employee Value Proposition to recruit and retain the best talent in the smart mobility space.
Wiser works with some of the world's leading brands – including Tesla, ASOS, Amex and Nike – to excite and engage experienced talent about joining Masabi.
Wiser took a deep dive into both internal and external perceptions of the Masabi brand to identify the key drivers that persuade prospective employees to join a new employer, including:
Purpose
Wellbeing and belonging
Psychological safety
Flexibility
Progression
Internal focus grouping and 1-2-1 interviews surfaced some interesting insights from Masabi people:
"I believe in the product… it's one that has a really positive contribution on the world."
"I think there's a real, genuine focus on people and their mental health. That isn't just lip service. There is actual action around that stuff."
"It's not a big corporate so there's a lot more flexibility — they're not driving us back to go into the office. Our work-from-home policy is really good."
"You don't get micromanaged. You come in, you prove to the business that you can do it, and they give you a trust level of 10 out of 10."
"It's a place where you can address issues and people are really open to hearing it."
"It is an environment where you're empowered to succeed, you're enabled to really progress. If you want to solve a problem, no one's going to get in your way, you can solve that problem."
So what sets Masabi apart from other employers?
Based on the Wiser research, team members and prospective employees can clearly see how Masabi's mission has a positive impact on wider society.
They are excited by the opportunity to build a tangible product within a trusting environment that empowers employees to develop their own career path within an open, supportive culture that encourages two-way communication.
And after a lively and inspiring conference at the Barbican, maybe this comment best captures Masabi's Employee Value Proposition:
"Everyone wants to work for a company that's disrupting an industry. Few businesses actually do."
#WeAreMasabi