Boston - March 6th 2018 - MBTA Commuter Rail and Ferry customers can now purchase fares using Apple Pay on the MBTA mTicket app.
"We are pleased to offer an enhanced platform for fare payment for our commuter rail and ferry customers," said MBTA General Manager Luis Manuel Ramírez. "By linking Apple Pay and the mTicket app, the process of purchasing tickets can now be done in a speedier, more secure, and simplified manner."
"Boston's MBTA was the world's first deployment of our Justride platform and the first mobile ticketing deployment for an agency in the United States—giving riders an easy and convenient way to buy tickets—anywhere, anytime," said CEO of Masabi Brian Zanghi. "The system has seen huge growth since its launch, and we have continued to innovate and evolve the product to improve the experience for riders. The addition of Apple Pay makes purchasing a ticket even easier, and we are delighted to be bringing the convenience to riders in Boston."
Customers will be prompted on March 6 to update the app, which will include Apple Pay as a payment option. To use Apple Pay on mTicket, customers can select the single ride fare or monthly pass they wish to purchase, select "Pay with Apple Pay," and complete the payment using the Touch or Face ID feature. Apple Pay is easy to set up, and customers will continue to receive the rewards and benefits offered by their respective credit or debit cards.
The introduction of Apple Pay enables customers to purchase fares with just a tap, reducing the amount of time to make a purchase and eliminating the need to type in credit card numbers, billing information, or security codes to complete a transaction, making purchasing fares or monthly passes easier and more secure. There continues to be no convenience fees when using mTicket and no need for customers to carry cash while riding the MBTA Commuter Rail or Ferry.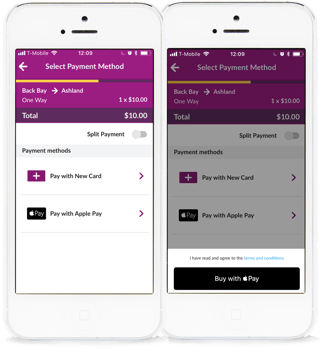 Adding Apple Pay as an option is an example of the MBTA's commitment toward the goals of AFC 2.0, which include the use of digital wallets for security and convenience, more payment options for MBTA customers, and an added layer of security.
The MBTA and Masabi deployed the MBTA's mTicket app in 2012 with mTicket as the first mobile ticketing deployment for an agency in the United States. mTicket has seen strong adoption since it went live in 2012 with over 50% of available tickets now sold via the app.
About Masabi
Masabi is a global transit payments innovator enabling best-of-breed mobility-as-a-service for public transit. Masabi's Justride is a cloud-based mobility platform unifying account-based and pre-pay ticketing into a single configurable solution. Justride's SaaS architecture, 'Mobile First' approach and BYOT philosophy, allow transport providers of all sizes around the globe to deliver innovation quickly, delighting passengers and reducing costs, while increasing efficiency and data insights.

The company works in partnership with more than thirty leading transit agencies and operators in North America, Europe, Australia and around the globe, including; New York MTA, Arriva, National Express, Keolis, Thames Clippers, Boston MBTA, LA Metrolink, The Hague and Las Vegas RTC. Masabi has offices in London, New York, Boston and Cluj and investors include Mastercard and Keolis.