New Contactless Solution Includes Mobile Ticketing, Electronic Validation and Cash Digitization Powered by Masabi's Justride Fare Payments as a Service Platform, Available in Transit's All-In-One App for Real-Time Trip Planning and Payment
Duluth, MN 19 May 2021 – Duluth Transit Authority (DTA) today announced the launch of its new MyDTA fare payment system, in partnership with Masabi and Transit. Riders will be able to purchase mobile fares anytime, anywhere, using either the new MyDTA app or Transit, DTA's recommended real-time trip planning app. The new MyDTA app makes the ticket purchasing process easier, safer and more convenient. With Transit, DTA customers now have access to an all-in-one experience that combines mobile ticketing from Masabi's Fare Payments-as-a-Service platform with trip planning, real-time tracking and connections to first-mile/last-mile services.
Those who prefer using cash can visit the Duluth Transportation Center (DTC) Information Booth, where DTA staff are using Masabi's Vendor Portal, a web-based solution allowing staff to look up customer accounts using a handheld scanner and issue mobile tickets or stored value directly to riders' phones. Tickets will also be available for cash purchase at retail outlets within InComm Payments' VanillaDirect cash-in payment network, enabling riders to preload cash onto their MyDTA or Transit account at several regional and national retailers with convenient locations throughout the Northland.
For this integration, Transit worked closely with DTA to build a new feature that will further simplify riders' commutes. DTA users can now preview the cost of every DTA trip in Transit's trip planner at the moment they are deciding how and when to ride. The fares feature takes peak and off-peak pricing into account, ensuring DTA riders know exactly how much their ride will cost, at any time of day, before they buy their ticket in Transit.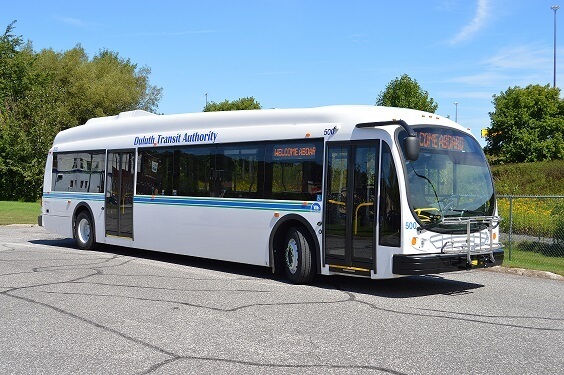 As part of the project, 80 Justride validation devices have been installed across DTA's bus network. Passengers tap their phone when boarding, which scans their mobile passes and identifies the ticket as valid for use, differentiating between DTA's peak and off-peak fares. The validation units will help speed up boarding times, making riding DTA services more efficient and safer for riders and operators, and gives DTA the flexibility to turn on Account-Based Ticketing and other account-based features. This platform also prepares the DTA to implement innovative and equitable Fare Capping, which allows passengers to get the best deal on fares at any time, using tracking to manage the process.
DTA staff also have access to the Justride Hub, the cloud-based back-office management suite which allows DTA's staff to manage the new system
"The COVID-19 pandemic has accelerated the development and deployment of contactless solutions not only for payment in general, but especially for public transportation. These solutions are not just convenient for our riders but instil a sense of trust and comfort that their safety – and the safety of our workers – is being taken into account," said DTA Interim General Manager Rod Fournier. "MyDTA utilizes the very best technology available on the market to offer a solution that is second to none, easy to use, and available to everyone whether they choose to pay by card or cash."
MyDTA and Transit are both available to download from Google Play and the App Store. Visit www.DuluthTransit.com for more details.
"Masabi is committed to making public transit journeys as simple as possible," said Brian Zanghi, CEO of Masabi. "Simplifying the process of boarding and payment for public transit increases the appeal and utility to those using it, while creating a more efficient service with shorter dwell times and quicker journeys. We're delighted to be working with such an innovative organization as DTA with our partners Transit and InComm Payments to help improve the experience for riders in Duluth."
"We make riding public transit as simple and stress-free as possible," said David Block-Schachter, Chief Business Officer at Transit. "DTA passengers already rely on Transit to plan their next trip and track their ride in real time. Adding the ability to buy transit fares with credit, debit or cash gives riders everything they need in one app."
"Our partnership empowers riders to load funds to their accounts while at the neighborhood stores where they already run their errands," said Michael Herold, Vice President of Business Development for Tolling and Transit at InComm Payments. "It's an efficient, convenient experience, not to mention an easy way for cash-preferred riders to manage their fares."
Masabi is leading the movement away from bespoke ticketing systems by enabling Fare Payments-as-a-Service providing transit agencies with access to the latest fare payment innovations quickly and cost-effectively by using a multi-tenant platform, like Masabi's Justride, which is constantly updating and adding new features.