What is Account-Based Ticketing?
Account-Based Ticketing (ABT) is a 'ticketless' way of allowing people to travel on public transport. ABT enables passengers to simply tap or scan a secure token (contactless bank card, phone or smartcard), linked to an account in the back-office to make a journey. Account-Based Ticketing means that riders no longer need to buy a ticket in advance or understand fares before traveling.
The fare is automatically calculated based on a number of factors, such as location and amount of taps during a time window, and is then charged to the passenger post journey.
Due to the way account-based fares are calculated post-journey, this also provides the transit agency or operator the option to implement 'fare capping'/'best fare finding' rules. Here, instead of simply charging customers for every journey they take, the Account Based Ticketing system calculates the best fare the customer could have pre-purchased and allocates this fare to the passenger as they travel and caps their cost. This makes public transport more attractive by allowing for more flexible travel behaviour, giving the customer the comfort they will never be overcharged for their trips. Because fares are calculated in the back-office, new fares can also be introduced quickly which could be particularly interesting as transport authorities and agencies look to attract passenger back to public transit post-COVID19.
How Does Account-Based Ticketing Work?
With Account-Based Ticketing, the right to travel is managed by the central platform's back office. The 'ticket' the passenger holds acts as a 'token' or proof of the right to travel and identifier of a customer's account. As a customer taps their token around a system, those taps are collected and passed to the back office, which stores the token's usage patterns and settles the transaction based on usage to create a product that is charged for. As such, the back office is the primary source of truth, unlike in a card centric system where it is the card.
Passengers are able to use a range of things as a 'token' and typically are not issued new fare media but are encouraged to use what they already have in their pocket to travel, be it a contactless bank card (cEMV), smartcard (NFC), phone or a smart wearable and the payment will link with their 'account' residing in the back office.
Selecting the right token(s) to use for an Account-Based Ticketing system is an important decision. Tokens need to be widely available to passengers across the entire transit network. Smartphones and contactless bank cards (cEMV) are particularly good for this, depending upon penetration rates within an agency's ridership.
Passengers already having a token in their pocket or wallet is extremely convenient and also means the agency does not incur the expense of issuing plastic tokens (like smartcards). However, it is worth noting that if an agency already has a smartcard or an ID card in circulation, these could both make ideal tokens for people to use. (This is the case in Fort Collins where we run account-based fares for Transfort.) There are two ways to enable ABT which we define below.
Account-Based Ticketing: Contactless Payments (cEMV)
Contactless bank cards, or Contactless EMV (cEMV) cards, represent a secure 'open-loop' token which has been proven to work well to enable Account-Based Ticketing. 'Open Loop' means that the ticketing system leverages existing open tokens and processes that are not proprietary to the transport network in question (unlike most smarcards, which are considered 'Closed Loop' due to the fact they can only be used on the transit network).
Using contactless EMV cards offers many advantages to passengers due to the fact they are both a secure token and authenticatable payment method in one. Due to this, EMV cards allow people to tap-and-ride without having to create an account or get a ticket, which is a great way of enabling people to travel with minimal friction. This can also be enabled on people's smartphones and smart devices through services such as Apple Pay and Google Pay.
Account Based Ticketing: Stored Value Accounts
Passengers can also use a stored value account linked to a secure token to enable Account-Based Ticketing. Stored value tokens can be a dynamic barcode generated from a mobile phone, a Smartcard, an ID card or a Private Label cEMV card.
But what differentiates stored value tokens from cEMV payments? Well, stored value tokens usually require the user to create an account prior to their first journey and put some funds into the account (which can then auto top up, if required). This is not the case with cEMV payments which can remove funds directly from the associated bank account.
However, stored value tokens do come with some interesting advantages as they allow transit agencies to easily implement and apply concessions (entitlements) which are very useful for user groups such as students, or alternatively issue mobility credit to an account. Account-Based Ticketing using stored value also benefits cash riders through cash digitisation, allowing riders to exchange cash for credit and enabling people without a bank account to tap and ride around a transport network.
What Are the Benefits of Account-Based Ticketing?
From a ticketing point of view, there are two major issues with the legacy way of running fare collection services for passengers. These being:
The friction involved with having to get hold of a physical ticket.
The problem of having to select the right pass (or fare) when you may not know your schedule or your plans change and you end up wasting money (I relate to this from personal experience and no longer buy a monthly pass as I kept on overspending).
Account-based fare payment systems remove these issues by giving riders the most convenient and frictionless ticketing experience possible (today). A passenger using an account-based token can use public transport effortlessly and seamlessly without having to even think about the fare they need or buy a ticket.
Running a ticketing system this way not only provides better experience for riders but encourages more people to ride, as the barriers to accessing transit are significantly reduced. Account-Based Ticketing offers many benefits, including the following:
Benefit 1: Improved rider experiences
There is no need to purchase a ticket when you have an account. Simply tap (scan) using a contactless credit/debit card or virtual EMV token, mobile barcode, or use another token such as a smartcard.
Benefit 2: Multiple token optionality
Passengers can use the token most suited to their needs or preferences, whether that be a barcode generated from their phone, contactless bank card (cEMV), smartcard or virtual EMV token.
Benefit 3: Best possible fare
With Account-Based Ticketing passengers just tap (scan) and ride. Because the system works by associating taps to a rider's account and then calculating the fare based on those taps, agencies can then implement rules enabling best-priced fares for riders like fare-capping.
Benefit 4: Fare model optionality and flexible transfers
ABT enables the quick implementation of new fares and transfer rules for different modes of transit, such as discounted fares when continuing journeys from subway to bus.
Benefit 5: Concession enablement
Concessions can be enabled through a central back office permitting / restricting access to entitlements on an account-by-account basis.
Benefit 6: Easy to maintain – fare engine in the back office not on the reader
Fare calculations are processed in the back office instead of on the validation unit. This means the system is easier to maintain as it is a single back office instead of a network of locally-hosted devices each of which requires maintenance.
Benefit 7: Easy to upgrade – reduced lock-in
Because the fare logic is managed and calculated in the back-office, there is no fare calculation logic in the hardware. This means that the system can be updated with things like new prices quickly from a central location and, with a platform-based system, is able to much more easily meet the evolution of technology.
For more information on the benefits of Account Based Ticketing, check out our blog on the benefits of Account Based Ticketing.
How Far Has Account-Based Ticketing Come?
Masabi issued a 'State of Fare Collection' survey to transport agency professionals in the Fall/Autumn of 2019. We wanted to better understand where the market was in the awareness and understanding of Account Based Ticketing and the results proved to be very interesting.
When asked "What are your plans for Account-Based Ticketing?", 62 percent of agencies declared that they have either deployed, want to, or will deploy an Account-Based Ticketing system for riders.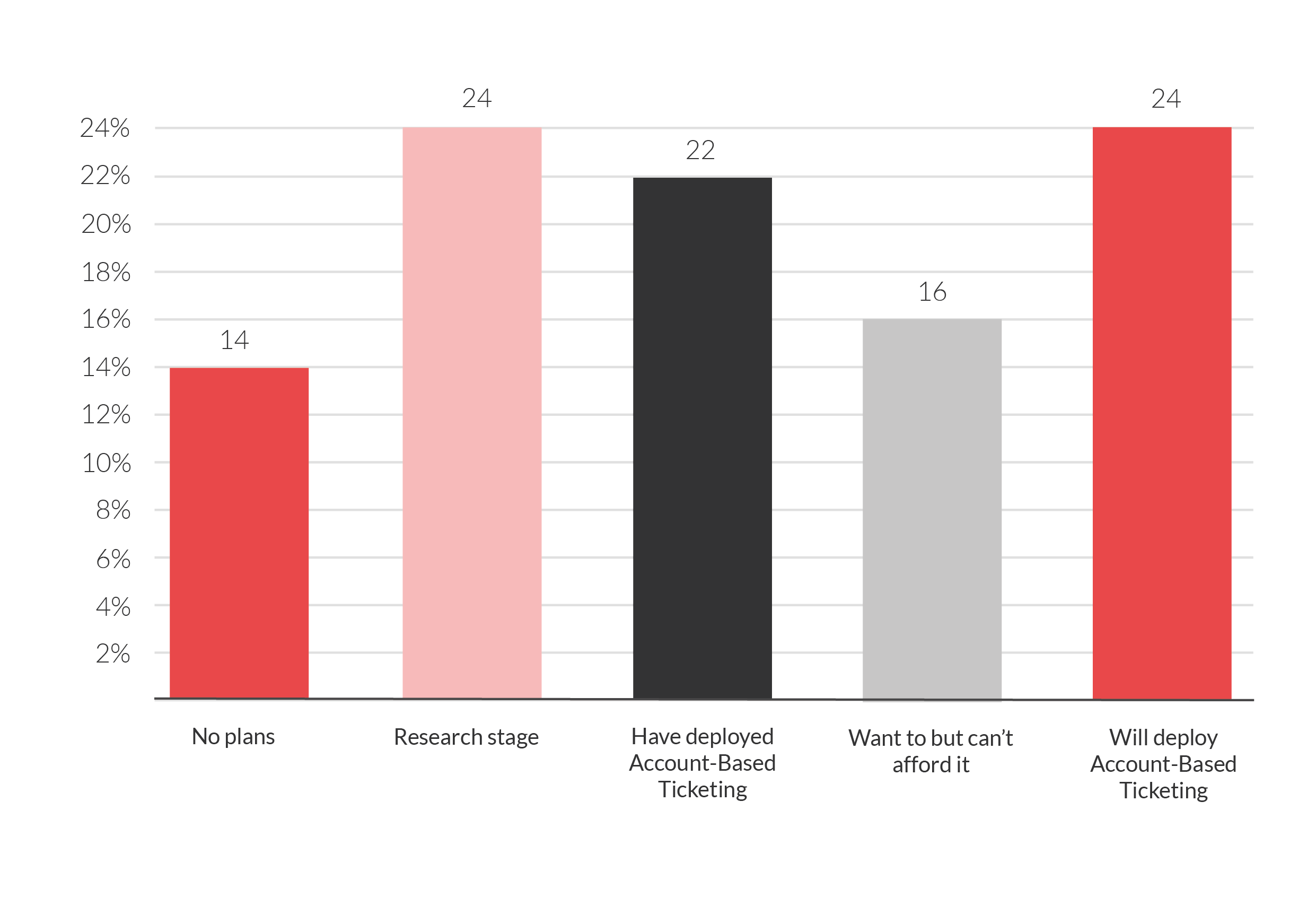 A further 24 percent of respondents are still researching Account Based Ticketing, which actually means the true number of respondents that might want to deploy Account Based Ticketing could realistically be closer to 85 percent.
To gain a deeper understanding of the future of ticketing and the positions of transit agencies and operators in relation to their existing fare collection infrastructure, please read our latest ebook Transit Agency Research Report: The State of Fare Collection.
Account-Based Ticketing Without the Expensive Price Tag
Fare Payments as a Service (FPaaS) is a better way of delivering ticketing systems to transit agencies, operators and passengers. Instead of purchasing an expensive bespoke Automatic Fare Collection (AFC) system, agencies can now sign up to a service delivered via a multi-agency fare payments platform.
Fare Payments-as-a-Service enables the the latest 'tap and ride' (ABT) innovations for passengers extremely quickly and gives agencies the ability to grow capabilities as they get released onto the platform, removing the complexity of running ticketing services.
Further reading:
Masabi's Justride Fare Payments Platform enables Account-Based Ticketing. If you would like to learn more please request a demo.