Masabi issued a survey in the late summer of 2021 to professionals working for transit agencies and operators around the globe, with a particular focus on fare collection teams. We wanted to better understand the fare collection market, the current trends and the challenges agencies and operators are facing.
The complete State of Fare Collection 2021 Report can be downloaded here.
One of the important takeaways from interviewing over 50 transit agencies worldwide is that the fare collection landscape is changing dramatically and so are agencies' choices for how they run their fare payment systems.
Agencies 'Core' Automatic Fare Collection (AFC) systems are still dominated by heavily customized solutions which are designed, built and then in operation for years (even decades) using a 'Design-Build-Operate-Maintain' (DBOM) model for systems delivery.
When asked: "How is your Automatic Fare Collection (AFC) system infrastructure deployed?", 37 per cent of agencies were still paying the significant costs of maintaining their own system and server infrastructure in-house. A further 22 per cent had their own bespoke systems hosted in the cloud, with 10 per cent aware it was cloud-based but unsure how it was hosted.
Interestingly, 10 per cent of respondents are instead now using 'Cloud Native' platforms, which are shared platforms -multiple agencies using the same platform- architected and hosted in the cloud.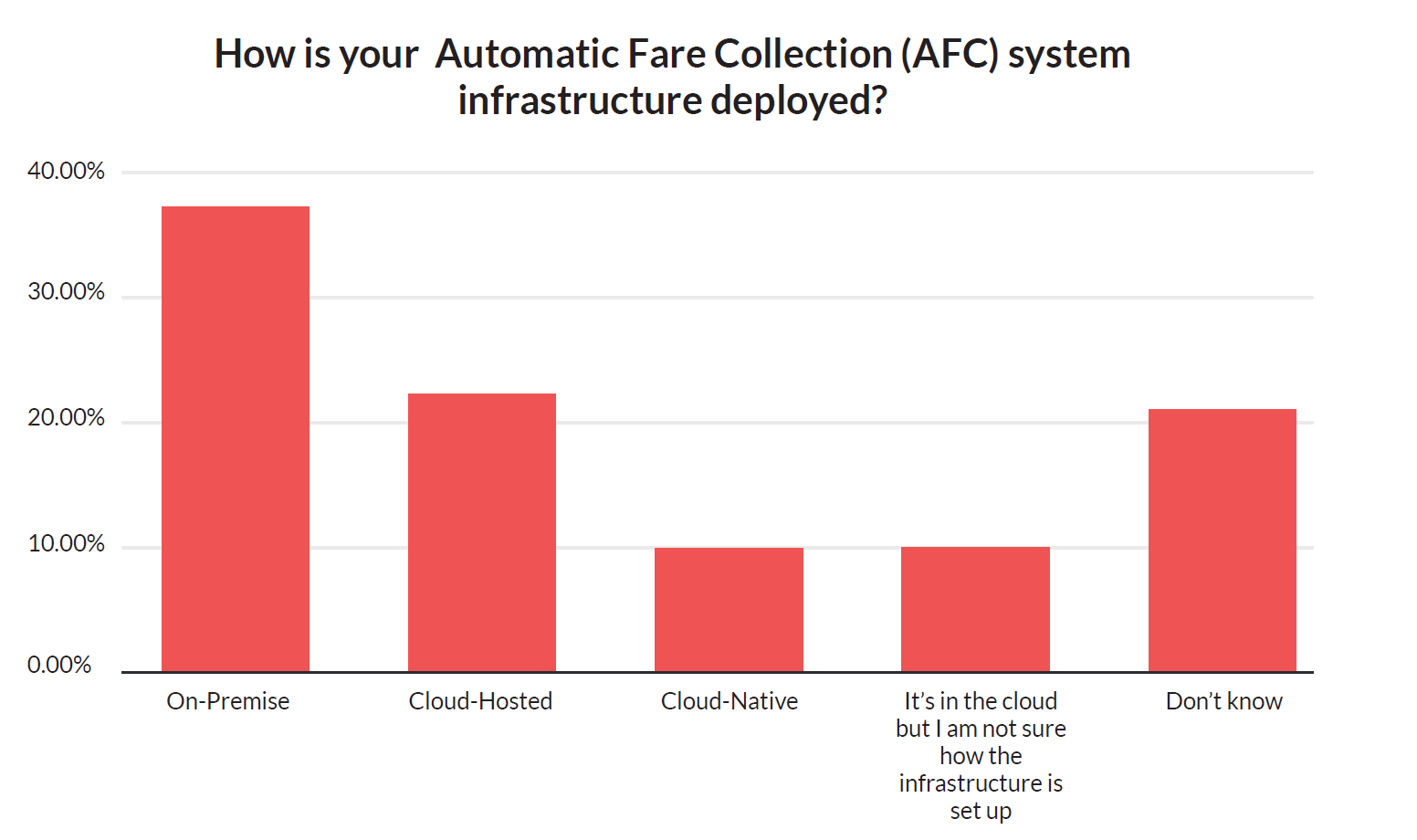 However, agencies are increasingly changing their preferences when it comes to how they operate their next fare payment solution.
When we asked respondents whether they would opt to continue to design and build their own bespoke systems or switch to a Fare Payments-as-a-Service approach, by adopting a shared platform, the results were revealing.
Only 17 per cent of the agencies interviewed said they planned to continue to implement and operate their own bespoke fare collection systems.
However, 42 per cent said they would move to a Fare Payments-as-a-Service model for their next system, or were in the process of migrating.
These responses strongly suggest that the trend towards adopting shared platforms and a Fare Payments-as-a-Service approach and away from bespoke systems is gaining significant momentum.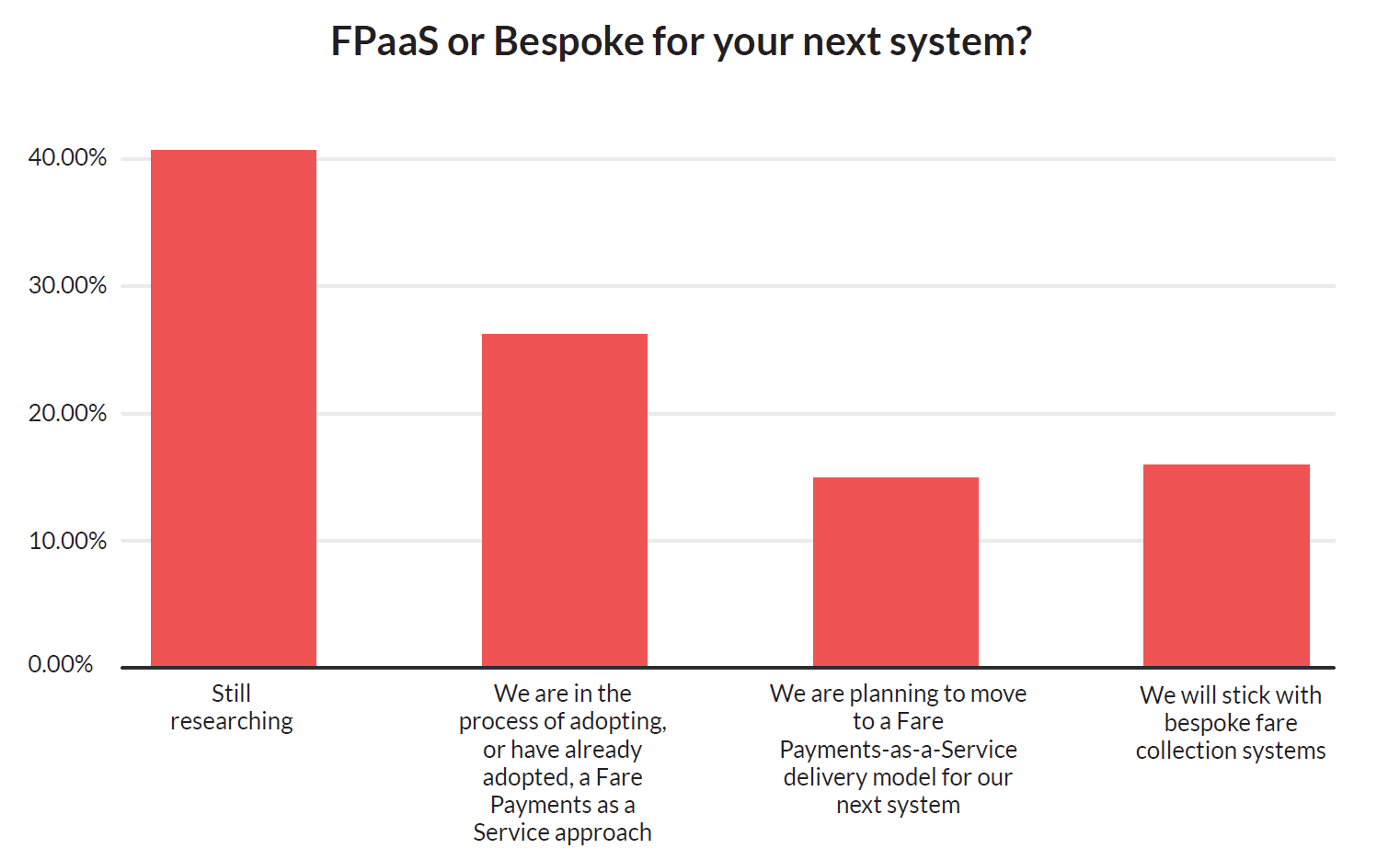 So why are agencies of all sizes moving away from designing, building, operating and maintaining their own bespoke fare collection systems?
The benefits of switching to a shared platform and adopting a Fare Payments-as-a-Service approach are compelling:
Cost-effective. FPaaS is more cost-effective to deploy than DBOM. A customer isn't fronting the full cost for software development as the costs are shared between all the agencies on the platform.
Less Risky. FPaaS is less risky because it is an already tested and proven solution that is live rather than BDOM systems built from scratch.
Quick to deploy. FPaaS platforms are rapidly deployable because they are already live and in use whereas DBOM solutions tend to take years to build and deliver.
Constant updates. All agencies are on the same platform and new features are constantly added to a single code-base underpinning the platform, meaning each agency gets access to new features. (Agencies receive on average 3 updates a day on Masabi's Justride platform, for example.)
To learn more about the survey findings you can download the complete State of Fare Collection 2021 Report.
At Masabi, we're bringing the benefits of Fare Payments-as-a-Service to transit agencies around the world.
Masabi's shared platform, Justride, is currently delivering fare payments for riders at more than 100 transit agencies and transport authorities of all sizes worldwide.
If you would like to see the Justride platform in action and learn about the benefits of switching to a Fare Payments-as-a-Service approach, request a demo session.