Percentage of Monthly MTA eTix Pass Purchases Triples and Percentage of Weekly MTA eTix Pass Purchases Quadruples Since August Launch
Governor Andrew M. Cuomo this week announced strong early growth and use of the MTA eTix mobile ticketing app with impressive download, sales, and usage data. Since the app launched system-wide in August, more than 280,000 new MTA eTix accounts have been created by Metro-North and Long Island Rail Road customers and cumulative sales through the app have surpassed $47 million.
"To remain competitive in the 21st century economy, we are reimagining and rebuilding our public transit system to improve the overall experience of travelers across New York,"Governor Cuomo said. "With the launch of the free MTA eTix app, we have transformed the ticket machine into a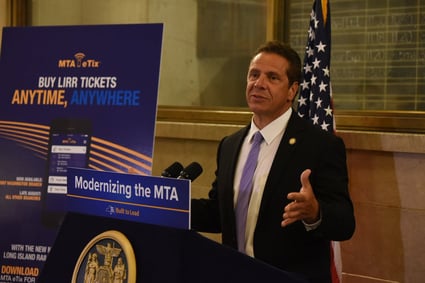 user-friendly mobile app, making it easier than ever before for LIRR and Metro-North riders to purchase tickets and travel around the region. This early momentum makes clear that MTA riders are excited to use technology to improve their commute and we look forward to the continued success of the eTix app."
"The rapid growth of MTA eTix among monthly and weekly ticket holders suggests extremely strong support for the new app among our core riders,"said MTA Chairman and CEO Thomas F. Prendergast."We look forward to finding ways to get the word out about this convenient, easy to use app to even more of our customers, and further build usage."
Monthly Ticket Sales
In November, the percentage of monthly MTA eTix passes purchased by Metro-North and LIRR riders tripled as compared to the app's launch in August. Monthly eTix sales increased from 2.9 percent of total monthly pass sales for the first month to 9.6 percent in November. Out of the 205,159 MTA monthly passes, 19,678 were purchased using the eTix app in November – up from 5,401 eTix of the 186,972 total passes purchased in August.
Weekly Ticket Sales
In November, the percentage of weekly MTA eTix passes purchased by Metro-North and LIRR riders quadrupled as compared to the first month of availability. Weekly eTix sales increased from 4.1 percent of total weekly pass sales in August to 17 percent in November. Out of the 21,842 MTA weekly passes, 3,722 were purchased using the eTix app in November – up from 2,075 eTix of the 51,142 total passes purchased in August.
Watch our new MTA eTix passenger feedback video:
Apple Pay and Masterpass
The free MTA eTix app allows customers to purchase train tickets at any time, enhancing the MTA rider experience and making transactions easier than ever before. In early October, Governor Cuomo announced the addition of Apple Pay and Masterpass digital wallet technologies to MTA eTix, providing thousands of eTix customers more payment options to choose from.
The LIRR averages 151,632 weekday customers and Metro-North averages 137,755 weekday customers, making MTA's average weekday ridership approximately 289,387.
About Masabi
Masabi is the global leader in mobile ticketing and fare collection for transportation. We deliver transit ticketing solutions that delight passengers and reduce costs for agencies and operators. Masabi's JustRide is a scalable mobile ticketing and fare management platform. The company works in partnership with more than twenty-five leading transit agencies and operators in the US, Europe and around the globe, including; the Massachusetts Bay Transportation Authority (MBTA), Keolis, National Express Bus, Virgin Trains, Abellio, MBNA Thames Clippers, New Orleans RTA, Metrolink in Los Angeles, Transport for Athens, and New York's MTA. With offices in Boston and London, Masabi's investors include MasterCard and Keolis.