According to a recent report by tech consultants and transit specialists Hyperion, Transit Agencies and authorities can cut fare collection costs by up to 73 per cent by adopting a Shared Platform.
However, there are other cost-saving areas not factored into the report that can further reduce the cost of fare collection and increase agency revenues.
Here are the top three ways to reduce the cost of fare collection which we break out in more detail in the chapters below:
Deploy a Fare Payments as a Service platform
Implement a Fare Payments-as-a-Service platform solution instead of a design-build AFC system.
Promote Bring Your Own Ticket (BYOT)
Encourage passengers to bring their own tickets by utilizing something in their pockets – like a smartphone, bank card, or ID card – reducing the costs associated with producing and issuing physical tickets.
Reduce cash transactions
Reduce cash handling and the associated costs while ensuring cash-paying riders are fully supported.
Cost Saving 1.
Implement a Fare Payments-as-a-Service Platform instead of a Design-Build AFC system.
The Hyperion study looked specifically at the cost of fare collection systems delivered to large, medium and small transit agencies operating in different cities across the United States to determine if the Shared Platform model is economically the best option for transit agencies over the long term.
Using real-world operating data from eight recently procured fare collection solutions – including agencies that followed the Design-Build approach as well as the Shared Platform approach – Hyperion researchers calculated the Total Cost of Ownership (TCO) of each system.
This data was used to establish benchmark costs for Shared Platforms and analysed against the costs of the five agencies who selected to design and build their own fare collection solution. The Hyperion research indicated that each of the five agencies involved could have saved between 42 per cent and 73 per cent on fare collection costs if they moved to the Shared Platform solution and adopted Fare Payments as a Service.
The research conclusively demonstrated the opportunity for substantial savings for agencies of all sizes which choose a Shared Platform over the Bespoke Design-Build approach.
Hyperion analyst and report author Simon Laker said: "Generally, the more legacy and the more cash handled, the greater the cost of fare collection. If this can be replaced by a more digital, Shared Platform approach, there is an opportunity to drive to low single digit operation costs."
How does adopting a shared Shared Platform deliver cost savings for transit agencies over designing and building their own system?
A Shared Platform (FPaaS approach) sidesteps the up-front cost and risk of designing a more complex fare collection system with all of the additional modern functionality expected – such as Open Payments, Account Based Ticketing, Fare Capping, mTicketing, retail network sales, cash digitization, MaaS partnerships, and more.
And because a shared platform is constantly updated (up to three times a day in the case of Masabi's Justride Shared Platform) it will evolve to meet the changing demands of the market and riders' expectations in terms of how they pay for transit.
This takes the guesswork and risk out of the design phase, where an agency commissioning a bespoke AFC system must attempt to future-proof their solution at the time of procurement by predicting what the market will look like in 10 or 20 years' time (the typical lifespan of a bespoke Design-Build fare collection system based on the RFPs analyzed in the Hyperion report).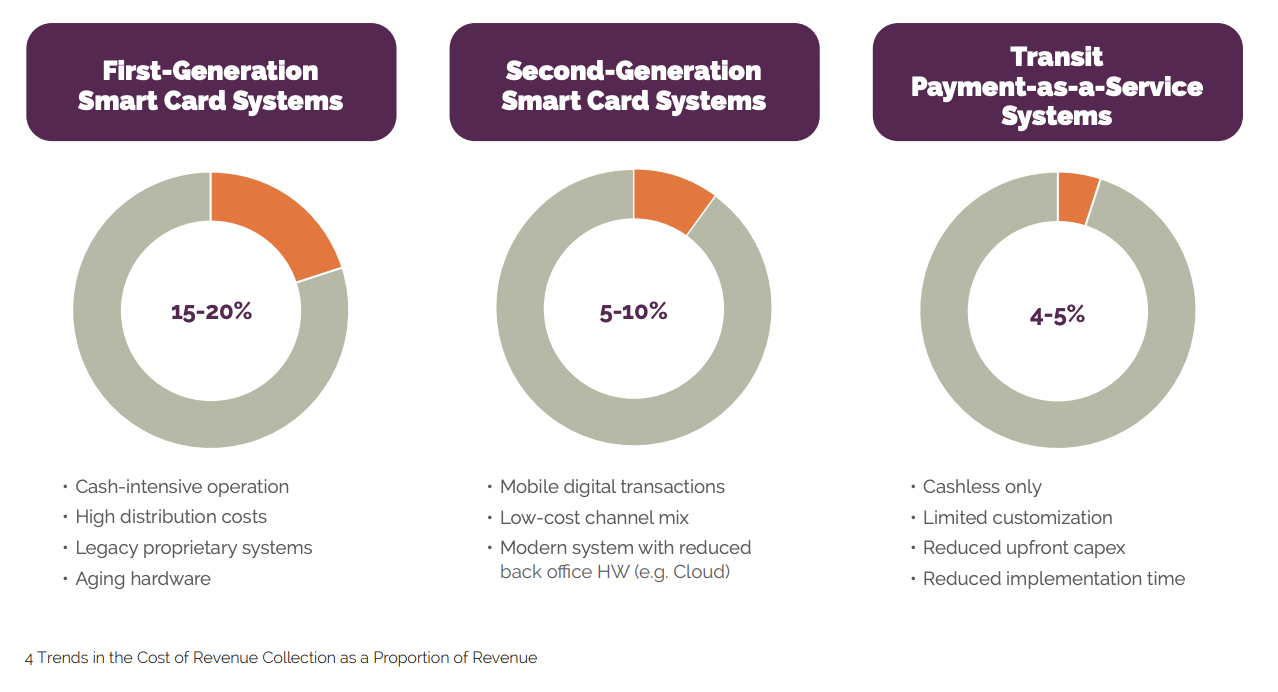 Image from CHYP report. Source from LEK report.
So instead of going back to the system vendor to request costly change orders to upgrade the system to ensure compatibility with new technology as it emerges, a shared platform adapts to changing technology and public expectation as it evolves.
Cost saving 2.
Bring Your Own Ticket: reducing the costs of producing and issuing tickets
Issuing tickets costs money. There's the paper or plastic cards, the printing or manufacturing, the hardware and the associated maintenance overhead of keeping all this infrastructure in working order and managing obsolescence of all the components in the ticketing system as the technology is worn out or superseded.
Yet increasingly, both regular and occasional riders expect to pay with whatever they have in their pocket. We call this trend 'Bring Your Own Ticket' or 'BYOT' and Masabi has been championing this concept for over ten years.
Maybe your regular riders already carry some sort of plastic ID card, their smartphone or contactless bank card. If this is the case and these riders can be encouraged to use this as a form of payment token, the cost of issuing cards and passes can be significantly reduced.
Essentially, encouraging riders to 'Bring their own Tickets' – within an app on their smartphones or by converting their smartcards or credit cards into secure tokens for travel – has the potential to save agencies significant sums of money by streamlining their fare collection processes.
We call this approach dematerialization – removing physical tickets from the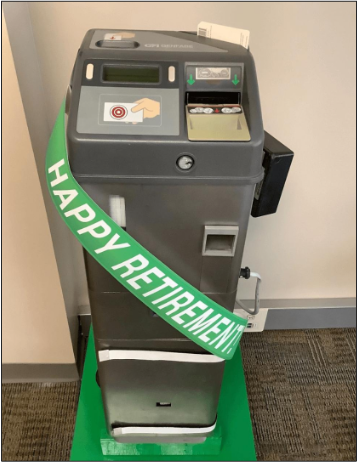 fare collection process and the associated hardware. Over time, as more and more riders embrace the convenience of bringing their own ticket, transit agencies and transport authorities can remove (or reduce) much of the infrastructure needed to issue tickets, such as automated Ticket Vending Machines.
Cost savings include:
Reduced cost of printing or manufacturing paper or plastic tickets and cards
Reduced cost of issuing cards
Reduced cost of bespoke hardware to issue and manage tickets such as Ticket Vending Machines and Fareboxes
Cost Saving 3.
Reducing cash handling costs
Handling cash is expensive. Research has found that transit agencies and operators spend around 3.5 times more on the physical collection of fares versus digital fares (14.5 cents a physical Dollar versus 4.2 cents a digital Dollar).
But why is this?
There are a number of costly processes required to process cash. First of all, you need the machinery to collect cash securely. You then need the right infrastructure to store the cash once it's off the bus and a security team for collecting and transferring cash to your bank. Bank fees for large cash sums can also add to the costs of cash.

Image source: Visa report
Theft, shortages, and counterfeit money can also be a challenge and increase the cost of cash handling. According to a Visa report 'Businesses lose an equivalent of 4 per cent of their revenues per month due to theft, counterfeit money, and cash register shortages. While the amounts tend to be lower in developed market cities such as Chicago (1 per cent) and Tokyo (2 per cent), they can be very high in emerging market cities such as São Paulo and Lagos (9 per cent each).'
Then there is the issue of added labor for the agency or authority to manage the cash process and keep tabs on cash volumes and reporting.
Reducing Costs: A case study from Dayton's RTA
In 2021 Dayton Regional Transit Authority (RTA) implemented a platform solution to power their next fare payment system which championed a BYOT approach for riders and led to Dayton, Ohio, becoming the first agency in the US to remove cash from its buses.
Deploying Masabi's Justride Shared Platform enabled Dayton to implement this bold move while enhancing fare equity and support for cash-paying riders without the need for excessive expense on bespoke hardware.
RTA was able to remove fareboxes from its buses after the introduction of an Account Based Ticketing system – which was quickly accepted by all riders – including those who previously paid cash.
RTA's Tapp Pay Account-Based system had already gained acceptance among regular riders, who either used reloadable smart cards or a smartphone app to pay for transit via stored value accounts.
This Account Based Ticketing approach allowed all riders – including those who previously paid cash on the bus – to add funds to their Tapp Pay accounts using cash at local retailers or Ticket Vending Machines and tapping their Tapp Pay card or smartphone to travel.
When riders 'tap in' on boarding the bus, Justride's back office charges the best possible fare using fare capping technology. This means all riders – including those who previously paid for single tickets with cash – only pay for what they use when they use it and are never overcharged for their trip.
The launch of Tapp Pay saw an immediate transition to mobile ticketing and a reduction in riders using cash media and fares which started out at 43 per cent in May 2020 before falling to 28 per cent in December 2020 and then to just 10 per cent in July 2021.
Fareboxes were subsequently removed from Dayton RTA's buses in November 2021.
Conclusion
Adopting a shared platform solution and utilizing a platform like Justride from Masabi can help realize three important cost reduction wins for agencies:
Win #1: Lower upfront capital investment and ongoing maintenance costs of running the fare collection solution.
Win #2: Reduced cost of printing and issuing tickets and maintaining bespoke hardware.
Win #3: Reduced cash handling costs.
The cost savings available to agencies are significant and – as demonstrated by the Consult Hyperion study – can help dramatically reduce costs and increase agency revenues, over both the short and longer terms if they explore the wider opportunities presented by Fare Payments as a Service.