Keolis successfully launched its all-in-all digital solution which allows users to plan their journey, purchase and validate tickets via a single app
The transport network of Orléans is the first network to use the complete version of the Keolis "Plan Book Ticket" app to manage mobility from start to finish on all transport modes
This illustrates Keolis' strategy to place innovation at the heart of public transport and strengthens its leading position in connected mobility
Keolis announces today the availability of its "Plan Book Ticket" solution, a "3-in-1" digital app enabling passengers to plan, book, buy and validate their tickets using their smartphones. The solution, which has several of its functions in use on other networks in France, is now complete with the inclusion of M-Ticket, a digital tool that allows passengers to purchase and validate their tickets on a whole transport network, making public transport simple and easy to use. The first network to use the app in its complete version is TAO[1] (bus and trams) in Orléans, France.
With the digital transformation, over 35 billion digital transport tickets are expected to be used on mobile phones by 2019[2]. Keolis, as a leader in connected mobility, has developed the "Plan Book Ticket" app enabling smarter transportation by simplifying ticket purchases and validation and management of the transport system. It enables commuters to plan their travel, buy tickets anywhere, anytime and store them on their smartphone to be validated as needed. The benefits of the app for the network include improvements to punctuality, travel times, boarding speeds and reductions in fare evasion rates.
Functions of the "Plan Book Ticket" solution are already in use on French transport networks. The "Plan" function is available in more than a dozen cities including Lille, Bordeaux, Montargis, Orléans, Brest, Amiens, Quimper and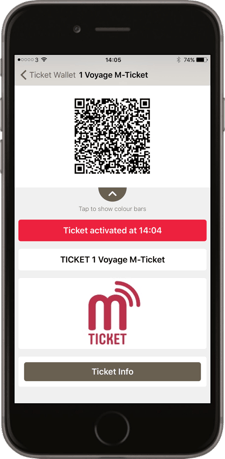 Chateauroux. This solution calculates the best route by combining all transport modes from buses, trams and metro to coaches, bikes and walking. The "Book" function, an online store connected to a network's ticketing system, is already in use at Montargis, Orléans and Saint-Malo. From now on, the app will feature M-ticket payment technology, developed by Keolis' subsidiary Kisio Digital in partnership with Masabi, the global leader in mobile ticketing for transportation. The "Ticket" function enables passengers to stop using paper tickets and use their smartphone to validate their ticket. This app is the world's first to use Masabi's JustRide SDK to deliver mobile ticketing using the same technology already deployed in more than 25 cities worldwide including London, New York, Los Angeles, Boston and Athens[3].
Similar digital apps have been developed by Keolis locally in different part of the world through its subsidiaries in Boston (US), Montreal (Canada), and the Netherlands (networks operated by Syntus / Keolis Netherlands).
About Masabi
Masabi is the global leader in mobile ticketing and fare collection for transportation. We deliver transit ticketing solutions that delight passengers and reduce costs for agencies and operators. Masabi's JustRide is a scalable mobile ticketing and fare management platform. The company works in partnership with more than twenty-five leading transit agencies and operators in the US, Europe and around the globe, including; Boston's MBTA, Keolis, National Express Bus, Thames Clippers, New Orleans RTA, LA Metrolink, Transport for Athens and New York's MTA. Masabi has offices in London, New York and Boston and investors include MasterCard and Keolis.
About Keolis
Keolis is one of the world's leading public transport operators. The company is majority owned (70%) by the French state railway SNCF, the other shareholder being Caisse de dépôt et placement du Québec (CDPQ). Present in 16 countries* with 58,300 employees, Keolis operates 15 different transport modes (including automated metros, trams, trains, buses, ferries, bicycles and private driver services) and develops tailored mobility solutions for each of its networks. The Group offers solutions and services via its subsidiary, Kisio. It is also the second leading car park operator in France thanks to its subsidiary EFFIA.
In 2016, Keolis transported 3 billion passengers and generated €5.1 billion in revenue.
*Originally established in France, Keolis has expanded its operations to Australia, Belgium, Canada, China, Denmark, Germany, India, Middle East, Luxembourg, Netherlands, Norway, Portugal, Sweden, UK and USA
[1] Transports Agglomérations Orléanaise
[2] Source : ABI research
[3] Masabi is also providing its JustRide Inspect Validator software for use on trams in Orleans.