rideRTC platform provider, Masabi, and InComm Payments partner to deliver cash-to-mobile functionality available at retailers nationwide
Las Vegas' transit authority, the Regional Transportation Commission of Southern Nevada (RTC) and Masabi, the company bringing Fare Payments-as-a-Service (FPaaS) to public transit, today announced that riders can now use cash to buy bus passes on the rideRTC mobile ticketing app by depositing funds into their account at nearly 350 convenient locations across Las Vegas, and at thousands of locations throughout Nevada and nationwide. This cash-to-mobile contactless mobile ticketing service has been made possible by a partnership between rideRTC platform provider Masabi and InComm Payments, a leading global payments technology company.
RTC riders can visit any retail outlet signed up to InComm Payments' Vanilla Direct cash-in payment platform to preload cash onto their rideRTC mobile app. Retailers can now add credit to riders' accounts by accepting a cash payment and then scanning the barcode in the user's rideRTC app. The rider can then use the cash deposited to buy, store and display tickets in their in-app wallet and enjoy a safe and convenient mobile ticketing experience.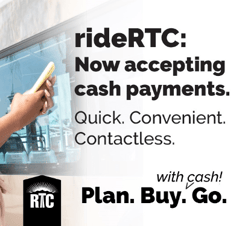 "As we transition towards a contactless and COVID-safe transit environment, it is essential that we don't leave anyone behind," said MJ Maynard, RTC CEO. "Our world-class mobile ticketing app rideRTC is now available to those who might not have access to a credit or debit card and provides them with a contactless way to ride."
"Las Vegas, and the world-famous Strip in particular, is a heavily cash-based economy. So much so that we see more than 60% of RTC riders choosing to pay in cash on the bus for their ticket. This makes cash digitization a key requirement in enabling all riders - from key workers on the COVID-frontline to visitors passing through - to enjoy the benefits of mobile ticketing," said Brian Zanghi, CEO at Masabi. "Through our integration with InComm Payments, RTC riders will be able to walk into a local retailer to add cash funds to their rideRTC app, ensuring a safe, contactless service and removing the need for the agency to handle cash and issue tickets."
"We're transforming the country's major retailers into cash-fare load stations," said Michael Herold, Vice President of Business Development for Tolling and Transit at InComm Payments. "This is convenient and time-saving for riders while allowing retailers to better serve their customers and benefit from the additional foot traffic."
This new service provides a safe way to pay for riders across Las Vegas who have a phone but want or need to pay their fare using cash. It will help reduce the burden on the existing ticketing infrastructure and fare boxes by allowing riders to add cash to their mobile account and then store it for later use, reducing cash handling costs and transaction fees for the agency. Since its launch, rideRTC has been downloaded more than 360,000 times, and customers have purchased more than 1.8 million passes on the app.
If you would like to learn more about Justride and cash digitization then please get in contact with us.