Lurraldebus extends its pioneering mobile ticketing service LurTicket to the long distance lines San Sebastián-Bilbao, San Sebastián Vitoria-Gasteiz and the line connecting Bilbao airport with Eibar, Bergara, Arrasate and Oñati, as a fast and direct alternative to automatic ticket machines and window tellers.
Following the success of the Lurraldebus's mobile ticketing App LurTicket for ticket retailing on the line connecting San Sebastián with Bilbao airport, live since July with nearly 3.000 tickets sold, the Foral Mobility Department led by Marisol Garmendia has decided to extend this pioneering system to other lines so that more Lurraldebus users can benefit of the convenience of purchasing their tickets from the App.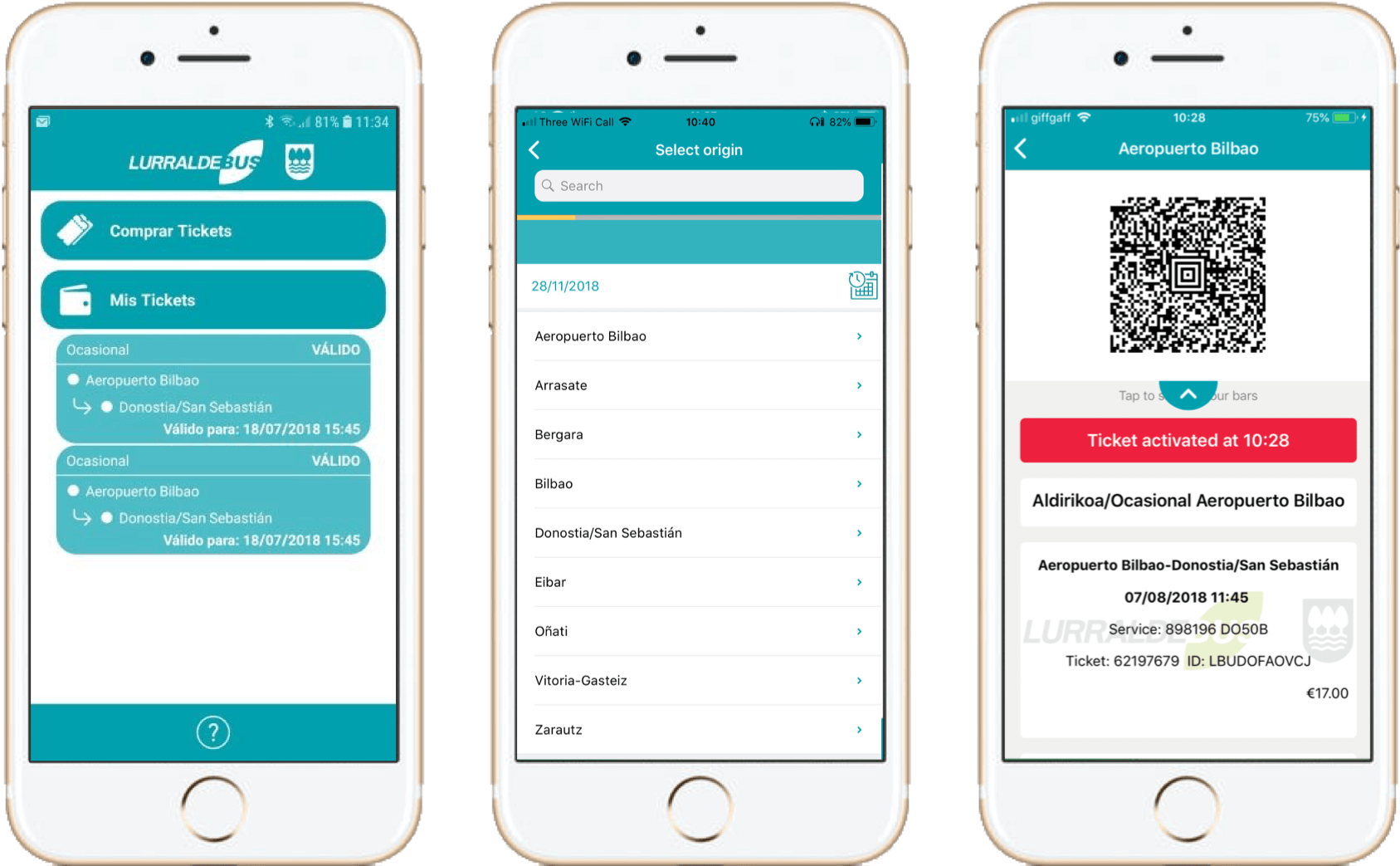 Starting today, Lurraldebus has extended the 'LurTicket' App to the long distance lines San Sebastián-Bilbao and San Sebastián Vitoria-Gasteiz, and the line connecting Bilbao airport with Eibar, Bergara, Arrasate and Oñati. In these lines, 30% of the users are not the MUGI system to travel, meaning that 335,000 people every year can now purchase tickets anytime, anywhere on their phones with LurTicket. With regards to the service Arrasate-Bilbao airport, over 26,000 used this line in 2017.
The LurTicket system allows passengers to download an app onto their smartphones which can be used to purchase tickets and display them on screen as a dynamic and encrypted barcode which is scanned by the driver when boarding the bus. Tickets, that are paid using a bank card, can be purchased up to one month in advance, and have to be activated before boarding the bus.
"This is another step forward in the technological upgrade that Lurraldebus is implementing to improve the service and our passenger's experience," said Marisol Garmendia, Deputy for Mobility and Spatial Planning at Diputación Foral de Gipuzkoa. "We are proud to be the first public transport service in Spain going live with this pioneering ticket retailing technology using mobile phones, that allows us to offer an modern and advance intercity service, and that allows people to purchase tickets in a direct, fast, simple and convenient way. It is another milestone in a process that needs to continue, to address the needs of the Integrated Public Transport System in Gipuzkoa."
'LurTicket' is now launched on lines between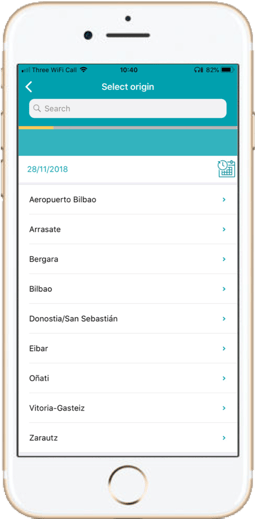 San Sebastián and Bilbao and between San Sebastián and Vitoria-Gasteiz, both for day and night services, that during 2017 were used by more than 1.1 million people. Furthermore, this completes the deployment started last summer of LurTicket in the Bilbao airport line and San Sebastian with the line between Bilbao airport, Eibar, Bergara and Arrasate. The use of the mobile ticketing app is seeing continuous growth, going from 2.4% of all the tickets sold in July up to 5% currently, with 3,000 tickets purchased with LurTicket.
This mobile ticketing App substantially improves the user experience on these lines, especially in the Bilbao airport and long distance lines connecting the capital cities, and adding maximum ease and convenience to passengers as they no longer need to use the ticket vending machines or purchase their tickets onboard, removing the hassle of, for example, having to carry cash. On the other hand, the fact that LurTicket is available in Spanish, Euskera, and English, makes the purchase of a ticket in something simple and accessible for both local and the numerous visitors and tourists that use these bus services.
The app has been developed by the Basque company Gertek using the Justride SDK from Masabi, the market leading ticketing technology, that offers multi-language support, with Euskera, Spanish and English and is already in use with over 40 transport operators across 4 continents around the globe, including in major cities such as New York, London, Las Vegas, Los Angeles, Boston, Sydney and in countries such as France and the Netherlands.
About Masabi
Masabi provides Software-as-a-Service (SaaS) ticketing and payments to public transport agencies around the globe. Its cloud-based fare collection platform, Justride, unifies account-based and pre-pay ticketing into a single configurable solution. Justride's SaaS architecture, 'Mobile First' approach and BYOT philosophy, allow transport providers of all sizes to deliver innovation quickly, delighting passengers and reducing costs, while increasing efficiency and data insights.
Masabi is the category creator for transit mobile ticketing and with over 40 clients across 4 continents the Justride Mobility Platform is the most widely deployed end-to-end mobile and account-based ticketing solution in operation, serving the largest agency in the USA to the smallest bus operator.
The company's Justride SDK is the world's first and only mobile ticketing SDK for public transport allowing partners such as Uber, Kisio and Transit to request fare types, make payments, and deliver visual and barcode mobile tickets to a passenger within their applications. It has offices in London, New York, Boston and Cluj and investors include Mastercard and Keolis.
About Gertek
Gertek is an integrating company in solutions that allow progress in the digital transformation of mobility. Based on the experience gained in the management of urban mobility services, tools and products have been integrated to improve the mobility of people and materials.
Gertek brings new ways of solving problems, experience and cutting-edge tools to improve the use experience of our customers. Gertek has in its area development and implementation of mobility solutions with a team of more than 70 highly qualified professionals