Companies combine market-leading journey planning and mobile ticketing offerings to make public transport more convenient for passengers across India
London, UK and Mumbai, India – 18th April 2018 - Masabi, the global leader in mobile ticketing and Software-as-a-Service (SaaS) based fare collection, and Chalo (previously Zophop), India's leading provider of journey planning and in-bus ticketing solutions for transport, today announced a partnership to bring a comprehensive mobile, digital fare collection and journey planning solution to the Indian public transport market, designed to revolutionise the travel experience.
Out of the $73Bn that Indians spend on buses, metros, trains and taxis each year, $66.5Bn (or 91%) is spent on public transport modes such as buses and metros (Source: NSSO, Govt. of India). However, commuters continue to face daily hassles when buying tickets, with nearly 95% still being paid for in cash. Through this partnership, Masabi and Chalo will enable public transport operators to offer smarter digital ticketing solutions to commuters and facilitate a seamless and convenient ticketing experience via mobile.
Commuters will be able to purchase tickets and store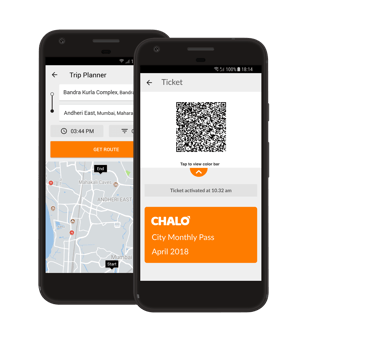 them in their secure mobile ticket wallet. When boarding, the tickets can be activated and shown to the conductor or scanned via a validation device. The mobile ticket wallet works offline meaning passengers can use it even without a data connection. Transport operators will also gain access to a wealth of passenger and real-time vehicle information, helping to optimise transport services across their networks.
Under the terms of the partnership, Chalo will integrate Masabi's Justride Mobile Ticketing SDK, allowing passengers to purchase and display tickets in the Chalo app. Chalo will also license Masabi's validation software and bundle it together with Chalo's existing solution to provide a comprehensive and cost-effective offering. The two companies will cooperate to market the solution to transport corporations, financial institutions and bus operators across India.
"Developed markets have moved to smart cards, but 95% of India's public transport tickets are still bought with cash. With this partnership we can leapfrog to mobile ticketing, bringing us ahead of many developed markets, and saving the entire investment required for smart cards. Transport corporations also gain with automated revenue collection," said Mohit Dubey, CEO of Chalo. "In a country with one billion mobile phones, mobile ticketing is an obvious and compelling offering, and will make transportation one of the leading categories in our Digital India and cashless payments initiatives."
"This announcement again underlines the power of the Justride Mobile Ticketing Platform. By combining our offering with widely deployed complimentary applications we are able to rapidly provide a highly compelling and convenient offering into different markets globally," said Brian Zanghi, CEO of Masabi. "We are delighted to welcome Chalo to our SDK partner family and look forward to working with them to bring Justride to the Indian market."
About Chalo
Recently rebranded from Zophop, Chalo is making daily transport easier for millions of Indians. With a comprehensive suite of solutions for transport operators and commuters, Chalo is redefining how users discover, transact and experience public transport, especially city buses. Today, Chalo operates across 8 cities, 13,500 buses and facilitates 130 million transactions monthly. The Chalo mobile application is the #1 bus tracking app in the country offering users a unique 'live' bus experience and reducing travel times by 15 min each trip. The Chalo app is available as a free download from the Google Play Store.
About Masabi
Masabi is the global leader in mobile ticketing and Software-as-a-Service (SaaS) based fare collection for transit. Masabi's Justride is a cloud-based mobility platform unifying account-based and pre-pay ticketing into a single configurable solution. Justride's SaaS architecture, 'Mobile First' approach and BYOT philosophy, allow transport providers of all sizes around the globe to deliver innovation quickly, delighting passengers and reducing costs, while increasing efficiency and data insights.
The company's Justride SDK, the world's first and only mobile ticketing SDK for public transport, allows partners such as Uber, Kisio and Transit App to request fare types, make payments, and deliver visual and barcode mobile tickets to a passenger within their applications.
Masabi works in partnership with more than thirty leading transit agencies and operators in North America, Europe, Australia and around the globe, including; New York MTA, Arriva, National Express, Keolis, Thames Clippers, Boston MBTA, LA Metrolink, The Hague and Las Vegas RTC. It has offices in London, New York, Boston and Cluj and investors include Mastercard and Keolis.