UK ticketing technology leader's Japanese Mobility-as-a-Service partnership takes total deployments in country to 29 with launch of services in cities of Kitami, Sado, Nara, Iwate, Nanjo, Gifu, Oshima, Tokachi and Nikko
London, UK & Tokyo, JP 1st September 2021 Masabi, the company bringing Fare Payments as-a-Service to public transport, and Jorudan, Japan's leading trip planning service, have announced the launch of in-app mobile ticketing within Jorudan's two MaaS apps in nine additional locations across Japan. Tickets for transit services in the cities of Kitami, Sado, Nara, Iwate, Nanjo, Gifu, Oshima, Tokachi and Nikko are now available via the Japan Transit Planner and Norikae Annai apps.
This latest tranche of deployments sees Masabi and Jorudan continue to build out MaaS mobile ticketing in cities across Japan, providing alternative purchase options on popular ticketing options in densely populated large cities and prefecture capitals. Jorudan has integrated the Justride mobile ticketing SDK into its market-leading MaaS apps, meaning once operators sign up to the service, tickets can quickly and easily be made available in the Jorudan's Japan Transit Planner and Norikae Annai applications.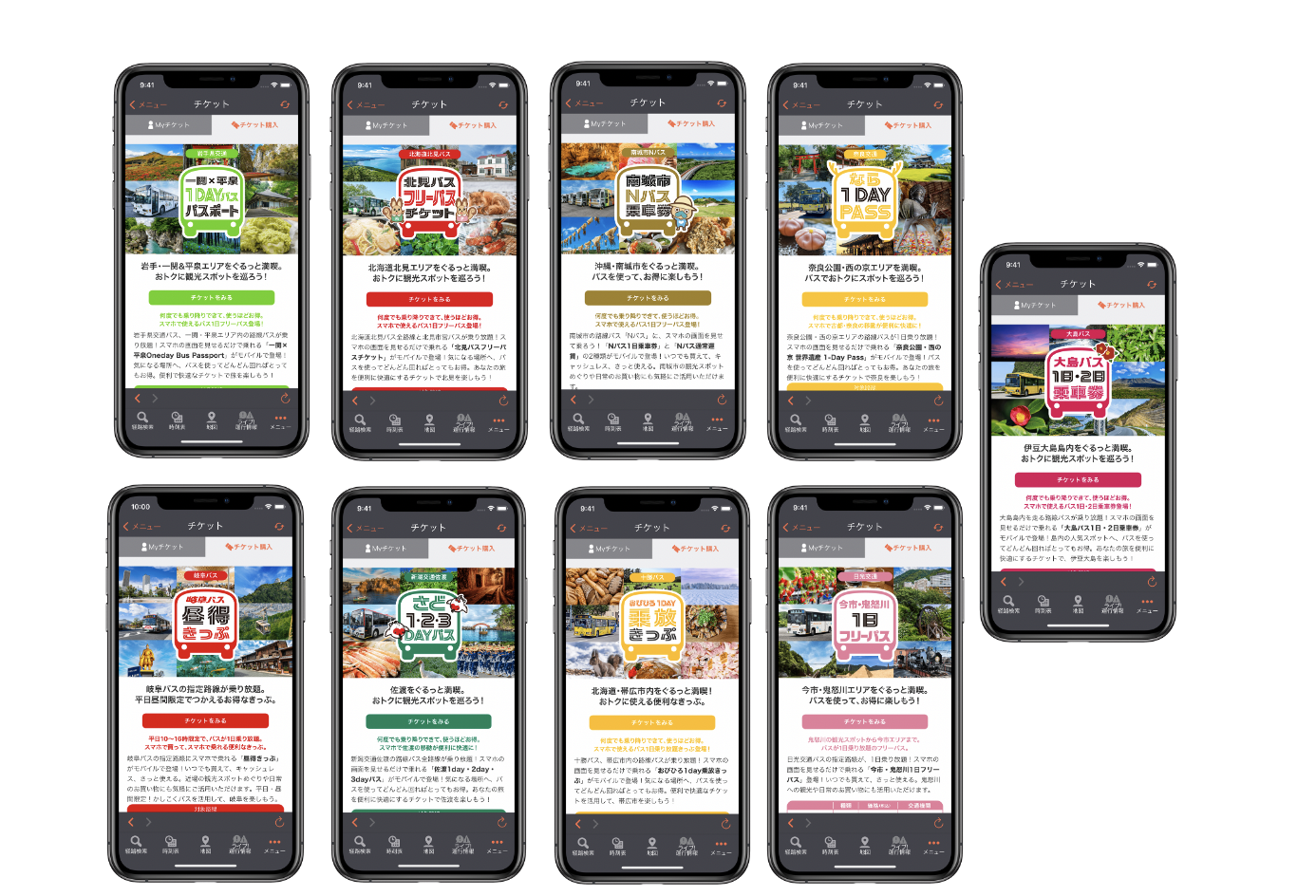 "2021 has seen an acceleration in our work with Jorudan, building on the success of our mobile ticketing deployments across Japan since the launch of our partnership in 2019. The concept has been proven and passengers have responded enthusiastically to processes that enhance their transport experience," said Brian Zanghi, CEO at Masabi. "We are delighted to continue our work to simplify access to public transport across Japan, making it easier, safer and more convenient to access for all passengers."
In Kitami, Hokkaido Kitami Bus passengers can now purchase Kitami Bus 1-day passes. In Sado, One, Two and Three-day Passes are available for the Niigata Kotsu Sado bus company. Passengers on Nara Kotsu Bus Lines are now able to purchase Nara Park Nishinokyo, Nishinokyo Horyuji 1-day Passes and Nara Yamatoji 2-day Passes. Iwate's Iwatekenkotsu offers Ichinoseki Hiraizumi 1-day Bus Passport tickets across their entire network. Nanjo City N Bus offers N Bus 1-day Pass and regular fare tickets via the apps. Meanwhile, Gifu Bus Co., Ltd. has made Hirutoku Daytime Tickets available. The Tokachi Bus Corporation and Oshima Bus 1 and 2-day tickets are now accessible too. Finally, Nikko Kotsu offers its Imaichi / Kinugawa 1-Day Pass and Heikenosato to Mizunosato 2-Days Pass via the Jorudan apps.
"Transport agencies across Japan continue to benefit from the work we are doing with Masabi to provide quicker, easier and safer payment options and riding experiences for bus, rail and subway services in towns and cities across Japan," said Toshikazu Sato, CEO of Jorudan. "Whether you're an everyday commuter, an occasional rider or just a visitor to the country, we want to make sure that people can simply and quickly plan their journeys, buy their transport ticket and safely navigate the transport network. We have great plans for the future with Masabi, and we are excited to continue rolling out this functionality."
Jorudan's Japan Transit Planner and Norikae Annai journey-planning apps are available to download from Google Play and the App Store.