We are thrilled to announce that Ben Whitaker has been appointed the position of Chief Evangelist here at Masabi. Ben's new role will include responsibilities such as highlighting to governments, transit agencies and partners globally how to reduce cost, waste and risk through shared platforms and lightweight Bring Your Own Ticket (BYOT) options. He will also promote the delivery of more rapid and continuous improvements to citizens from Fare Payments-as-a-Service platforms that get continuous upgrades without expensive change orders.
Being a co-founder of Masabi, Ben is a familiar face on both the ticketing and transit industry circuits. He is regularly invited to interviews and speaking slots at major industry events worldwide, having helped define the UK rail mobile ticketing standard and lobbied the weight of industry opinion behind it, when previously smartcards were the only innovation available.
Ben is also the host of the upcoming 'Transit Voices' podcast, which looks to amplify the voices of those who have pushed the envelope and worked tirelessly to make public transit the backbone of people's mobility. A common thread throughout the episodes is the 'Boondoggle vs The Underdog' section, focusing on how the industry should not fall prey to technological overhype and instead look for practical solutions that will bring genuine value to transit agencies and riders alike.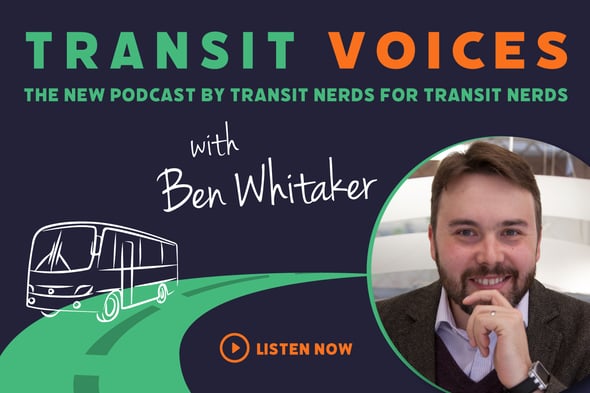 "A sustainable future for towns and cities requires more active travel and effective mass transit. However, because of the increasing pace of innovation and complexity of modern fare collection systems it is no longer cost-effective or reasonable to design, build and maintain bespoke software solutions every time with each city taking on the risk and expense of one-off design, debug and upgrades. Like in almost every other industry in the world, the introduction of shared software platforms has changed the game, allowing multiple agencies to share the same core systems and updates, increasing efficiency of operations and bringing cutting-edge features to end users of both large and small agencies – all at a significantly lower cost and risk," says Ben Whitaker, Chief Evangelist of Masabi. "This is true not just in fare collection, but also across a myriad of other systems which are critical to the day-to-day operation of a transit agency. I am excited to be taking on this new role within Masabi to promote shared platforms and educate the industry on its benefits."
"Ben is globally acknowledged as the pioneer of mobile ticketing and the introduction of SaaS and BYOT to the industry, having helped shape the early development of the technology from the concept stage through to widespread adoption," Brian Zanghi, CEO of Masabi. "His vision and enthusiasm played a critical role in the success of that technology, and we are delighted that he is now bringing his expertise and enthusiasm to this new role where once again he will be driving a revolution in the global ticketing and fare collection markets."
We're excited to see the impact Ben will make to the transit industry in this new role! To start it all off, check out Ben's new podcast 'Transit Voices' for all things public transit and some amazing guest stars. Podcast will be going live on the first Thursday of every month!