Global leader in mobile ticketing deploys system in just three weeks
New York and Fire Island, NY – June 14th, 2017. Masabi, the global leader in transport mobile ticketing and innovative fare collection, today announced that Fire Island Ferries, the ferry and water taxi operator serving Fire Island, New York, has adopted the JustRide Platform to deliver mobile ticketing to its riders. The ticketing app is available for download from Google Play and the Apple App store. The system will initially support water taxi services with ferries being added later in the year.
Masabi will be deploying its end-to-end mobile ticketing system, JustRide, which has been successfully deployed in cities around the world including: Athens, Boston, New Orleans, Las Vegas, London and with New York's MTA, the largest agency in the United States. It comprises award-winning apps for ticket purchase, display and inspection together with back-end infrastructure for secure payments, ticket and fare management, customer service, reporting and real-time analytics.
"Mobile ticketing has been a long time goal for both our ferry and water taxi operations. When looking at the many options out there, none were able to compete with Masabi's offering and could not meet our deadline of just one month." said Anthony Bonventre, Head of Technical Development at Fire Island Ferries. "Using the Just Ride visual validation technique has allowed us to avoid having to invest in a complex build out of handhelds and wireless communication. The visual validation technique will allow us to maintain ticket collection times during the most hectic of trips. We are excited to be able to offer the convenience of purchasing tickets anywhere, anytime, and with a credit card to our customers."
"JustRide is revolutionising ticketing for a whole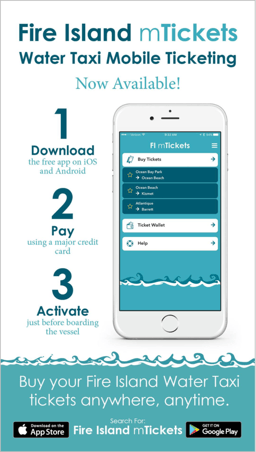 new segment of transport operators, providing Masabi's proven technology used by cities like New York and Boston, at a price the mid-market can afford." said Brian Zanghi, CEO of Masabi. "At Fire Island, we have gone live less than a month after contract signature, demonstrating the flexibility and rapid deployment capabilities of our platform."
To Learn more about JustRide visit http://www.masabi.com/justride-mobile-ticketing/ or email James.Gooch@masabi.com
About Masabi

Masabi is the global leader in mobile ticketing and fare collection for transportation. We deliver transit ticketing solutions that delight passengers and reduce costs for agencies and operators. Masabi's JustRide is a scalable mobile ticketing and fare management platform. The company works in partnership with more than twenty-five leading transit agencies and operators in the US, Europe and around the globe, including; the Massachusetts Bay Transportation Authority (MBTA), Keolis, National Express Bus, Virgin Trains, Abellio, MBNA Thames Clippers, New Orleans RTA, Metrolink in Los Angeles, Transport for Athens, and New York's MTA. With offices in Boston and London, Masabi's investors include Mastercard and Keolis.