Guest blog post by Ben Whitaker, Chief Evangelist and Co-Founder of Masabi.
The transit industry has seen numerous technological advancements and increases in integration complexity over the years, with the integration of fare collection systems and CAD/AVL systems being one. It allows fare collection devices to correctly record with each ticket validation event which route and stop a vehicle is on, as well as applying route, mode, zonal and distance-based logic to accepting or denying tickets that are all accessed from the CAD/AVL system or driver MDT.
The Myth...
A common misconception persists that the more cost-effective shared software platforms for fare collection like FPaaS cannot be used when a transit agency has legacy systems to integrate with, such as a CAD/AVL system, and that shared FPaaS systems are standalone with no ability to integrate. But nothing could be further from the truth.
The Reality...
Pre-built integrations with common platforms are already available, as well as APIs available for new integrations.
Contrary to popular belief, many of Masabi's customers already have their CAD/AVL systems integrated with our shared software platform. Integrations (some in-vehicle, some in the back office) are already in place for customers using CAD/AVL or MDT systems from Vontas, Trapeze, Conduent, Avail, Equans, Clever Devices and Init including support for ITxPT integrations. More are being added all of the time, including supporting some customers that swap or upgrade their CAD/AVL providers mid-project.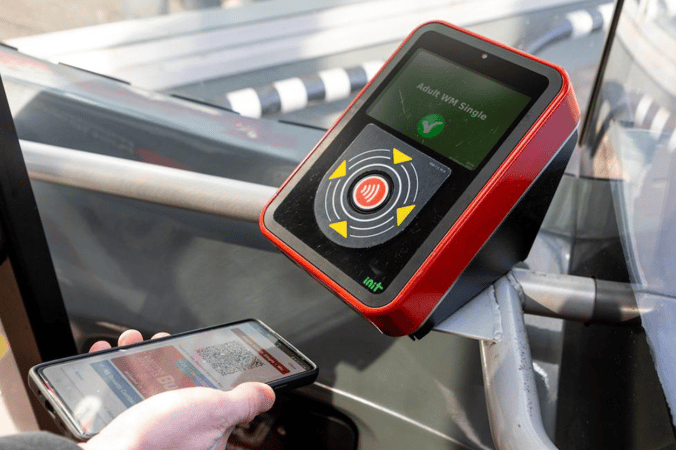 Masabi's Justride platform integrated with Init validators for National Express Westmidlands Bus
Advantages of Using a Pre-Built and Pre-Integrated Platform
Reduced Upfront Integration Effort: With a shared software platform like Masabi's, the initial integration work is already done in advance. Transit agencies can save valuable time and resources by leveraging existing integrations rather than starting from scratch.

Debugging and De-Snagging Completed: The pre-integrated platform has been thoroughly tested, debugged, and refined in other deployments, ensuring that any potential issues have been addressed. This minimizes the risk of unexpected problems arising during the rollout process at new agencies.

Shared Maintenance Overheads: The ongoing maintenance of the platform is managed by Masabi and amortized among all customers, reducing the financial burden on individual transit agencies. This cost-sharing model enables transit agencies to focus on their core mission – providing efficient and reliable transit services.

Simplified Future CAD/AVL System Changes: If a transit agency decides to change their CAD/AVL system in the future, they may be able to choose from other pre-integrated CAD/AVL systems within the Masabi platform. This eliminates the need for a new, custom integration, saving time, risk and agency resources.
Just CAD/AVL integrations?
Nope - there are many APIs to integrate and extend many aspects of an FPaaS platform - whether it is to add different validation devices, retail websites and apps, new reporting systems, customer service centers, payment systems, TVMs, gates, concession issuing systems, MaaS apps, passenger info, ticket office interfaces, enforcement systems, scheduling, feedback, ABT pass management, legacy pass activation/deactivation, 3rd party retail and top-up networks, bulk issuing, student passes, smart card issuing and more.
These APIs are managed and maintained as long-term core functions of the shared platform, rather than being maintained for a single agency, resulting in higher quality, continuous maintenance, and better documentation support than any bespoke system would ever justify.

Agencies can easily use APIs to create new functions:
An example of a transit operator extending some of the APIs for new functionality would be National Express West Midlands Bus in the UK, who used the platform's pass-issuing APIs to create their own concessionary mobile pass issuing and control system to use with local colleges and universities so that they could discontinue their historic physical pass printing and mail-out program.
This web interface that they created in-house at National Express allowed them to enable and disable passes in real-time, and was used by college staff directly to self-serve and disable passes for students that had completed courses. The colleges even used the system to "pause" passes for students whose class attendance fell below a prescribed level, and they found that this brought student attendance back up, as the value of the transit pass to their social lives was significant. Although they only served a few colleges to start with, the value of the "nudge" of pass disabling to drive class attendance has caused their pass program to be adopted by almost all of the local universities and colleges. The colleges also use aggregated and anonymized data from the pass program to report on sustainability goals by showing how many students now use public transit on a daily or weekly basis.
This is a great example of value add and customization without the transit agency having to procure a bespoke core system, or procure a whole fare collection system in a bespoke way just to get a few extra features added.
The current - and expanded every month- list of platforms and partners with integrations with Justride looks a bit like the following:

In conclusion, it's time to put the myth to rest
Shared software platforms for fare collection, like Masabi's, can indeed be used when integrating with CAD/AVL systems. By leveraging a pre-built and pre-integrated platform, transit agencies can enjoy the benefits of reduced integration efforts, shared maintenance costs, and the ability to switch CAD/AVL systems more easily in the future. Embrace the power of shared software platforms for fare collection and unlock the potential of seamless CAD/AVL integration for your transit agency today.