13 transit agencies to go live with EZfare app and Ticketing in Transit
Ohio and New York – October 9 2019 – NEORide, a council of governments comprised of 13 transit systems dedicated to the development and promotion of regional public transportation services, and Masabi, the company bringing Fare Payments as a Service to public transit, today ignited a new era in public transportation as 13 transit agencies join forces to launch EZfare, a cashless, multi-app, fare payment solution that will make riding public transit across agencies and states easier and more convenient than ever before. This month will see 12 transit systems launch EZfare with the 13th planned for January 2020.
Eight systems will launch EZfare on Monday, October 14:
Laketran (Lake County) MCPT (Medina County)
METRO RTA (Summit County) PARTA (Portage County)
Sandusky Transit (Erie County) SARTA (Stark County)
TARTA (Lucas County) WRTA (Mahoning County)
Three will launch on Wednesday, October 23:
BCRTA (Butler County) SORTA (Hamilton County)
TANK (Northern Kentucky)
The Cincinnati Bell Connector (Cincinnati Streetcar) is launching October 30th
The Lancaster-Fairfield Transit system is launching on January 2020.
The app is available from both the App Store and Google Play by searching for "EZfare". Once downloaded, transit riders can use the app to pay fares or purchase tickets for any of the participating transit systems.
EZfare tickets are also available within Transit, North America's leading real-time journey planning app. Transit's integration of the EZfare platform via Masabi's Justride SDK enables transit ticketing from within Transit's existing application, reducing both time and cost for agencies wanting to offer a seamless experience to their passengers, and powering an increase in public transit ridership through improved access and discoverability of services.
All participating transit agencies are members of NEORide, a council of governments comprised of 13 transit systems dedicated to the development and promotion of regional public transportation services.
Ben Capelle, Laketran CEO and NEORide Board President, commented: "We set out to create a seamless payment and mobile ticketing system that will vastly improve the service we offer existing riders and help our agencies attract new ones. We recognize that standing in line at a transit center can be time consuming and frustrating for regular riders and totally bewildering for people who have never used public transit, especially if a trip involves using multiple systems to reach a location in another county. EZfare eliminates those challenges by eliminating the need to obtain paper tickets and transfers."
"Once a customer downloads EZfare their smartphone or tablet becomes their ticket to ride to any of the thousands of destinations served by our systems," Mr. Capelle continued. "EZfare is, quite simply, the easiest way to pay for and use public transit. That's why we're excited about the launch and eager for the public to take the app for a spin."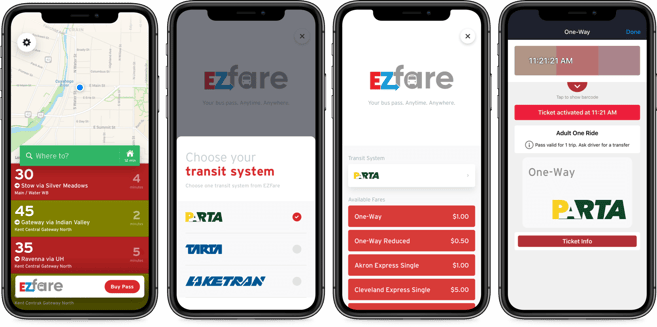 (Image, EZFare in Transit)
Along with improving the rider experience, Mr. Capelle said EZfare will enable NEORide and its member agencies to accomplish one of their primary goals: developing regional transportation networks that make it easy for people to use public transit to travel from county to county and community to community for any reason at any time.
"It shouldn't be difficult for someone who lives in southern Stark County to ride the bus to and from their job in northern Summit County," he said. "The same goes for students, seniors, shoppers, anyone who needs to go anywhere in the communities we serve should be able to use public transit to get there. We're already the most affordable transportation option, EZfare represents a significant step forward in making us the most convenient."
Experience, talent and innovation played major roles in the creation of EZfare. "NEORide's members knew what they wanted and Masabi, a global leader in the development of Fare Payments as a Service possessed the expertise needed to make our practical MaaS vision a reality," Mr. Capelle said. "Transit users across the state are going to benefit from our collaboration today and well into the future."
Detailed information about the app and download links may be found at www.EZfare.us. The app can be found in the App Store and Google Play by searching for "EZfare" and is also available via Transit App, the leading trip planning app.
For general information about EZfare and NEORide please contact Katherine Conrad, NEORide, 330-334-6877; katherinec@otrp.org.
ABOUT MASABI
Masabi is bringing Fare Payments-as-a-Service to public transit agencies of all sizes around the globe. Through our Fare Payments platform, Justride, agencies receive the latest innovations quickly, using a platform which is constantly updating and adding new features. This not only improves the journey experience for passengers but also helps agencies keep up with the pace of technology change while reducing the total cost of fare collection, meaning more money can be put back into running transit services.
With over sixty five transit agencies and operators of all sizes across ten countries, Justride is the world's leading Fare Payments platform, serving the largest transit agency in the US to local bus operators. Masabi has offices in New York, Denver, London and Cluj, and investors include Mastercard and Keolis. To learn more visit www.masabi.com
ABOUT NEORide
NEORide is a Council of Governments with the goals of breaking down artificial boundaries, streamlining opportunities and making it easier for riders to use public transit across the region. Current members include: Butler County RTA, Laketran, Lancaster-Fairfield Public Transit, Medina County Public Transit, Akron METRO (Summit County), PARTA (Portage County), SARTA (Stark County), SORTA (Hamilton County), TARTA (Lucas County) and WRTA (Mahoning County).
ABOUT TRANSIT
Transit solves the urban commute in more than 200 cities worldwide. Users can easily navigate public transit with accurate real-time predictions, simple trip planning, step-by-step navigation and mobile ticketing. The app also integrates other transport modes — bikesharing, carsharing, scooters and ridehail — so users can determine the best way to get from A to B. The company is based in Montréal, QC. You can learn more by visiting www.transitapp.com.