We are delighted to share that Northern, Fujitsu and Masabi have won a Highly Commended award for their partnership around integrated ticket inspection at the prestigious Transport Ticketing Global Awards 2023.
The Transport Ticketing Global Awards recognize transport innovators around the world who are revolutionising the passenger experience through ground-breaking new ticketing systems.
Northern received the Highly Commended award for its barcode scanning system, which has streamlined the process for ticket inspection and validation for Northern's staff across the Northern network.
Barcode scanning on Fujitsu STARmobile is powered by Masabi's Justride Inspect SDK. The Inspect SDK and eTVD service allows UK Rail operators to inspect mobile tickets in 3rd party applications with scanning and decoding taking place in a fraction of a second.
Using a simple hand-held device, Northern staff can efficiently scan the ever-increasing number of barcode tickets used on Northern trains, which is now the dominant sale channel with digital tickets accounting for 66% of the overall volume sold, providing on-board staff with a powerful tool that allows them to check and validate tickets aboard their services quickly and effectively.
This superior means of delivering fare collection technology isn't radical: it's an application of software best practices delivered in almost every other enterprise technology vertical. This delivery model is called Fare Payments-as-a-Service (FPaaS) and Masabi's Justride platform is the leading FPaaS provider in the market.
The FPaaS delivery model provides a number of benefits by moving the industry away from bespoke 'standalone' systems to one where multiple agencies all use the same platform. These benefits include: reduced cost of ownership and risk, increased speed to market and providing regular system and fare payment updates and innovations, thereby reducing costly change orders.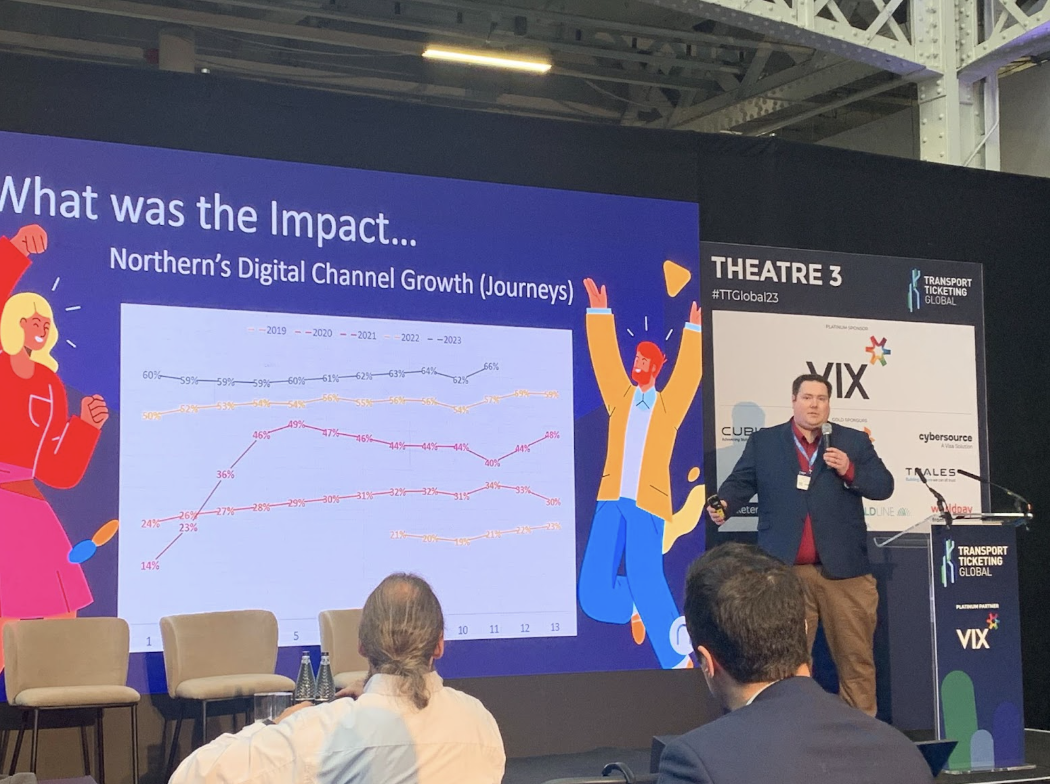 (Adrian Higgs, Digital Retailing Strategy Manager at Northern, speaking at Transport Ticketing Global 2023)
As more and more rail passengers embrace mobile ticketing, Train Operating Companies (TOCs) require more sophisticated ticket inspection systems which can recognise and validate a wider spectrum of tickets and passes.
Northern Train Ltd's recognition at the Transport Ticketing Global Awards is testament to the hard work and dedication of their team, and we are proud to have played a part in their success. As we continue to work together to improve the transportation experience for everyone, we look forward to seeing what the future holds for fare payments and transportation innovation as a whole.

Brian Zanghi, CEO of Masabi said: "Barcode scanning done via theInspect SDK means that Northern Trains now have a complete suite of ticketing and information services in a single lightweight device – making life easier for passengers and on-board staff. Receiving awards and recognition for our work in the transportation industry is a great honour, as it highlights the positive impact that our solutions have on the fare collection experience. At the same time, it is also testament to how we are helping transport authorities and operators stay current with the ever-evolving pace of technological advancements."
Masabi launched the first ever UK Rail mobile ticketing application with Chiltern Railways in 2007 and currently works with several UK TOCs to provide various fare payment solutions.
The Justride Inspect SDK is part of Masabi's wider Validation Suite, offering a range of fast, reliable and robust solutions for scanning barcodes, smartcards, cEMV and paper tickets. Available across all modes of public transport, including gate retrofitting, Inspect combines optimal user experience with a multi-format future-proof design.
Interested in finding more about the Justride SDK and Masabi's Validation Suite? Get in contact with us.