Companies Working with Japan's Biggest Elevated Rail Network to Provide Cutting-edge Fare-Payments-as-a-Service solution
Osaka, Japan & London UK 4th of November 2021 - Masabi, the company bringing Fare Payments as a Service to public transport, and Jorudan, Japan's leading trip planning service, have today announced the launch of mobile ticketing for Osaka Monorail, Japan's largest elevated rail network, covering 18 stations in the country's third largest city. The initial 3 month pilot deployment sees the two companies deployed in a major Japanese city, offering a proven mobile ticketing solution on a high-density transit service with high passenger volumes.
From today, passengers can purchase Enjoy Holiday 1-Day Mobile Tickets and off-peak Mobile Tickets valid for use across the entire network using Jorudan's two MaaS apps - Japan Transit Planner and Norikae Annai journey planning. The Japanese company has integrated the Justride mobile ticketing SDK K into its market-leading MaaS apps, meaning once operators sign up to the service, tickets can quickly and easily be made available to all users of both apps.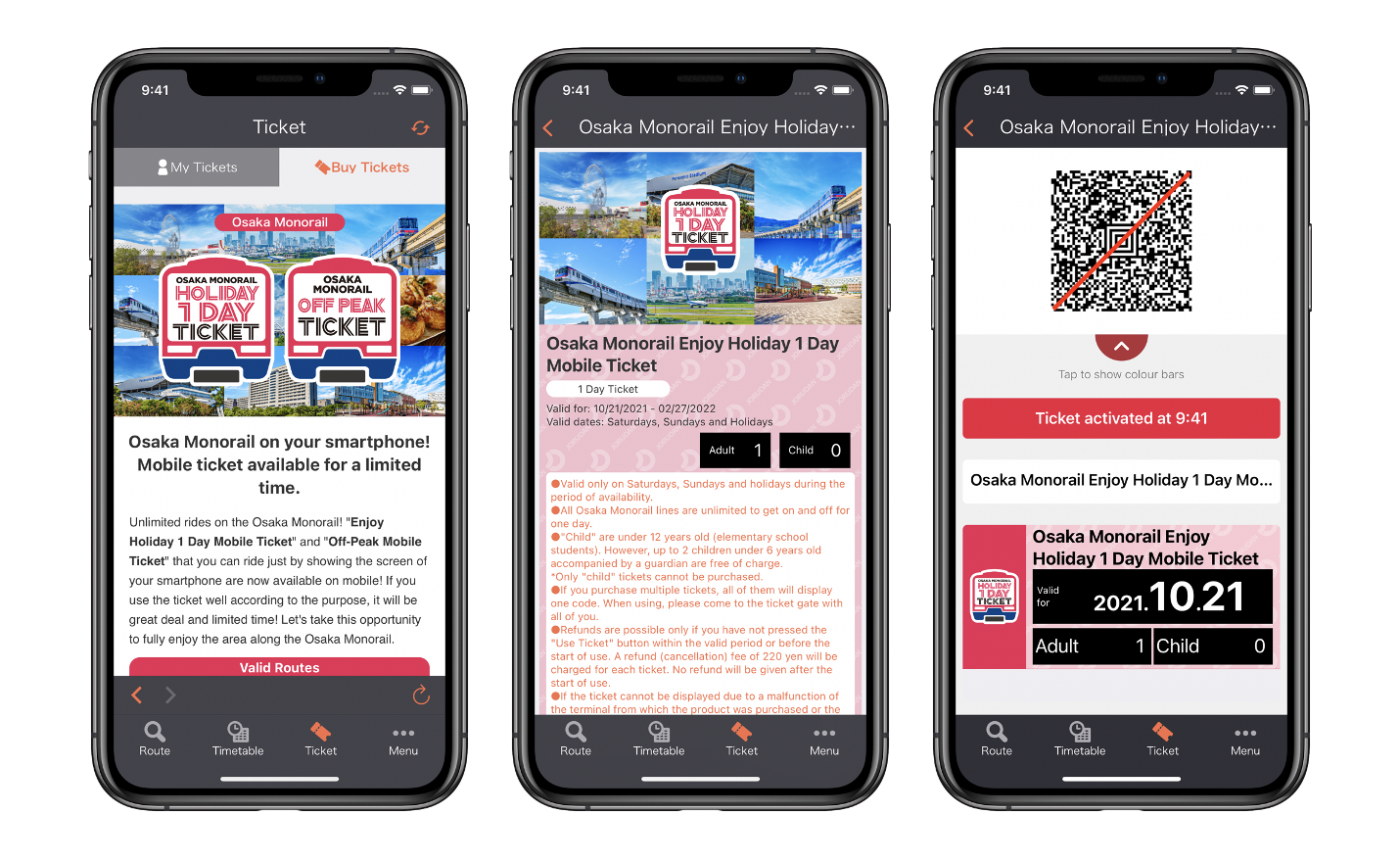 During the initial pilot, ticket validation will be carried out at stations by Osaka Monorail staff using Masabi's Handheld Inspect App which runs on standard Android and iOS smartphones.
"Our partnership in Japan with Jorudan continues to go from strength-to-strength, and we are now working with more than 28 transit agencies in the country. This deployment with Osaka marks another landmark as we deploy network-wide with a major transport mode in one of the biggest cities in the country," said Brian Zanghi, CEO at Masabi. "With public transport at the heart of every city, it stands to reason that it should be as modern and efficient as possible. We're proud to be working with Jorudan and the Osaka Monorail to bring a world class transport ticketing and payments experience to yet another Japanese city."
"Having proven the value of Masabi and Jorudan's partnership in towns and cities across Japan, this pilot will help demonstrate the benefits that mobile ticketing can provide both to transport operators and their passengers'," said Toshikazu Sato, CEO of Jorudan. "With this system we expect waiting times to be reduced, and the quality of service is improved. This will help trips on the Osaka Monorail to become safer and more agile."
Thanks to Masabi's cloud-native and shared platform, Justride, transport operators no longer need to purchase their own design-and-build bespoke ticketing systems, which are expensive, slow, and risky to deploy, and do not update regularly with new features and functionality unless significant amounts of money are invested. Instead, using a Fare Payments-as-a-Service approach, they can benefit from the latest innovations delivered quickly and cost-effectively, with regular feature updates everyone benefits from.