Mobility-as-a-Service (MaaS) is the movement towards the integration of services that allows a customer to use whichever mobility service is the best fit for a journey (public and private) from the moment they leave their front door until they reach their destination, planning and paying seamlessly based on what, and how much they use.
MaaS promises to provide a real alternative to private car journeys and ultimately to car ownership, reducing congestion for all by making full first-last mile journeys using shared mobility options frictionless and convenient.
But MaaS starts to get complicated when people talk about how to implement it and the models used to operate MaaS within a mobility ecosystem. These issues are the result of the desire for 'mobility subscriptions' and for public transit operators to give discounts to MaaS providers. However, many of the tools required to enable MaaS without discounts or new business models are available today, meaning steps can be taken to turn this vision into a reality.
Masabi's approach to MaaS is fully focused on how public transport can be enabled within MaaS and puts the public transit agency, operator and city, at the centre of large and small MaaS ecosystems around the globe, helping to achieve mobility, social and environmental goals, without the need for subscriptions or discounted fares.
Enabling Mobility-as-a-Service - The 3 Different Approaches on Offer
A lot of attention in the transportation industry has been given to the 'Netflix' approach to Mobility-as-a-Service. This approach has been the dominant view of MaaS in Europe. However, is it the best approach to take? (Spoiler alert, it depends on who you are) and is this the only option available?
We see MaaS offerings as falling into three groups which we go in detail into below. These are:
Subscription-based MaaS
Practical MaaS
Account-based MaaS
MaaS The 'Netflix' for Public Transportation (Subscription-based MaaS)
Currently, the MaaS discourse is dominated by talk of it being the 'Netflix' for transportation (other TV services are available!) where you sign up and pay a monthly mobility bill/subscription for a bundle of transport options. The problem is that transport options are not infinite. You can't just make an unlimited amount of buses, cars or trains appear to fulfil peaks in demand or enforce all mobility options to agree to the price and financial packages.
A subscription-based approach to MaaS is promoted as a clean substitute for car finance/corporate plans and may help reduce car usage thanks to the commitment to packages. The concept being that you're more likely to use something you pay for every month and it provides a simple and attractive passenger proposition, but falls short in other ways. Subscriptions favour wealthier individuals that can afford to pre-pay for their transport with a higher upfront cost. They also create a barrier for customers who don't know in advance what package will fit their needs. Transport needs are often not rigid, as peoples' plans and destinations shift from week to week, which makes choosing the right package difficult and may put users off mixed mobility options.
Another major detraction for subscriptions is that it doesn't address the demand/response nature of transport. Surge-pricing, which can help reduce congestion in times of high demand by discouraging use via higher prices, is one example that would not be possible with a set subscription price. From an operator's point of view, the issue with this approach to date has been around the requirements for transport operators to give a discount on fares which they have been reluctant to do.
Accessing Public Transport Services in Leading Mobility Applications (Practical MaaS)
Masabi has developed the world's first mobile ticketing SDK for public transport, enabling 3rd party applications (like the ones provided by Transit, Uber, Jorudan, Moovit, Gertek and Kisio Digital) to integrate Justride into their existing applications.
This means passengers can now use these services to buy tickets and ride on public transport alongside their existing mobility options and services. This is an important step in helping make access to public transport available within urban mobility and MaaS applications around the globe, helping to increase the accessibility and discoverability of public transit while enabling seamless multimodal journeys.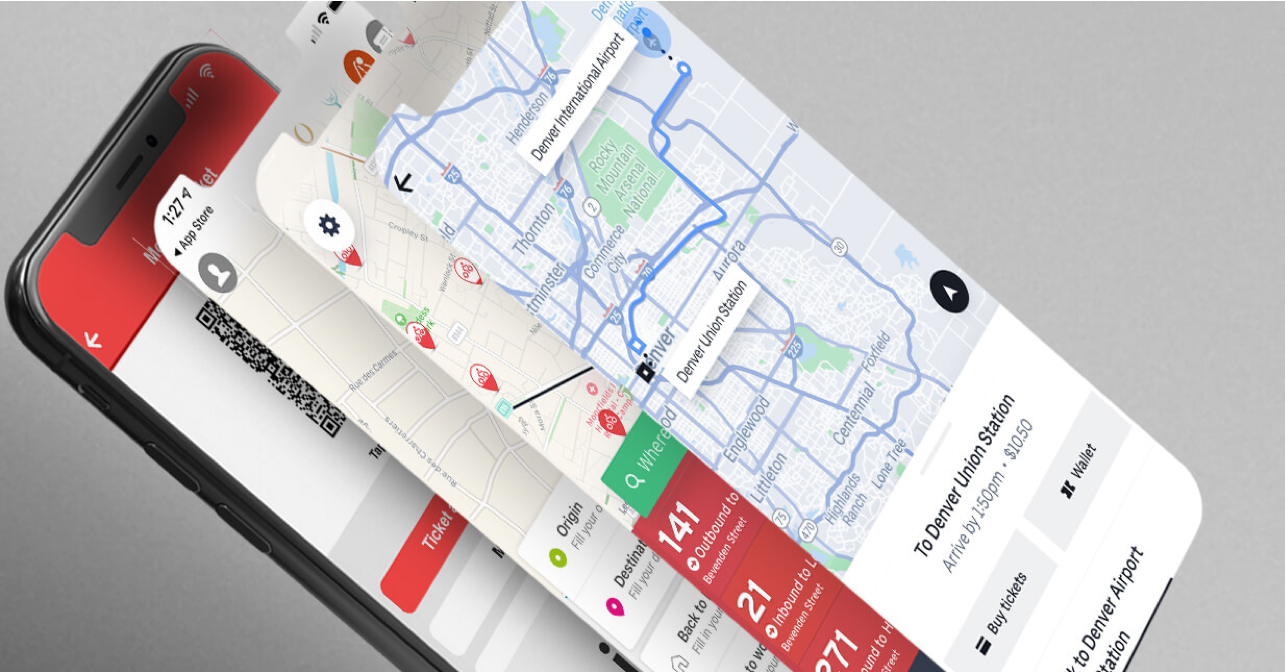 There is no subscription required and passengers purchase tickets as they normally would - selecting the pass they need, be it a single, daily, weekly, monthly or yearly pass. This solution means the transport operator gets their usual fee for a ticket and there is no need for a new business model to make it work. There is also no costs to set this up.The service can be up and running in weeks and enables public transport in best of breed apps people already use every day to take non-private car journeys. These apps can be consumer branded, but they can also be white label (agency/city branded) or within an ecosystem a mixture of both. In fact, we think the more apps enabled with public transport the better!
Currently, the Justride SDK is enabling Practical MaaS and issuing tickets in consumer and agency branded MaaS apps for 21 transport agencies and operators around the globe in 5 countries (France, Spain, Japan, USA, and Canada).


MaaS Mobility Accounts (Account-based MaaS)
Where subscription approaches to MaaS fall short in places and for certain user groups, we believe that the foundation many transit agencies are putting in place, Account-Based Ticketing systems, provide many of the tools required to most efficiently and equitably deliver MaaS. Account Based Ticketing uses a 'token' (a unique identifier such as a cEMV card, smartcard or mobile barcode) to track travel which links to a users mobility account and then calculates fares in the back-office based on usage. This gives the flexibility to charge using models such as 'best available fare' for a journey meaning a user earns their weekly/monthly pass (equivalent to a subscription) once they have used the service enough and are not overcharged, taking into account all the different modes used over a time period. It also allows cities to tie together services and hides the complexity of doing so from the customer, creating a seamless user experience.
Account-based MaaS puts the transit agency, and therefore the city at the centre of a MaaS ecosystem. In other words, the city retains the control needed to meet all the various players' - like private mobility companies and users - objectives and can use important MaaS levers for a city, like service provision, pricing and policy, to help solve issues like congestion caused by private vehicle usage.

Mobility as a Service - 3 for 1
The movement to enable Mobility a a Service is still in its infancy. We have highlighted three approaches to enable MaaS, but these options may not be mutually exclusive. In fact, some cities may well incorporate aspects of all three models. We can see a future where you use Account-Based MaaS and extend these services beyond a single app for the city in a practical way, while layering on subscription options for different user groups depending upon passengers needs.



Interested in learning more? Download our new ebook: Placing Public Transport at the Center of MaaS: Practical Steps Public Transit Agencies can take to move to MaaS.