Recognition by experts at one of the industry's leading transit publications is a testament to the partnerships between Rochester's RTS, Masabi and Transit, in bringing an innovative fare payment system to people living, working and visiting Rochester, NY.

RTS received the 2021 Innovative Solutions Awards, presented by METRO Magazine, for their launch of the world's first Account-Based Ticketing solution powered by Masabi's MaaS-enabled Fare Payments-as-a-Service platform.

The fare payment system, which is called RTS Go, was launched in July 2020 and provides riders with contactless fare payment experiences via the Transit app and smart card technology powered by Masabi's Justride fare payments platform.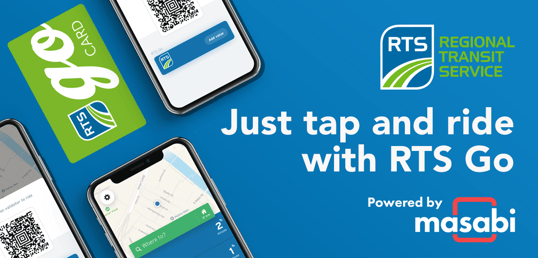 The launch of the Account-Based Ticketing system revolutionized the customer experience. Instead of riders having to buy tickets or selecting a fare beforehand, they can now simply tap their smart card, or the secure barcode in the Transit app, on the onboard validator when boarding the bus. The fare for the ride is then automatically calculated and deducted from the rider's account. Thanks to the introduction of fare capping riders can trust that they're always getting the best price for their ride.

The new system not only supports fare equity by ensuring riders have access to the benefits of period passes based on their usage, rather than whether they can afford to pay for them upfront, but ensures all riders are fully supported. Riders without a smartphone can use the RTS Go smart cards, and unbanked or underbanked riders can add value to their card or Transit account using cash at ticket vending machines or transit centers.

"The way our partnership with Masabi and Transit came together was like catching lightning in a bottle," explain RTS officials. "As a transportation authority created by New York State, we have to follow a very specific procurement process that often decides for us the vendors and partners we work with. The timing of that process happened to coincide with the innovative progress Masabi was making on integrating their product offerings with Transit, putting us on the cutting edge with this project."

"Transit agencies have traditionally purchased bespoke Automated Fare Collection (AFC) systems, which are built from scratch. These solutions are expensive to build, maintain, and update," explain Masabi officials. "Instead, the Fare Payments-as-a-Service model offers a better way of providing fare payment services. Transit agencies can reduce cost and risk by procuring for a platform that is already live and in use. In addition, if agencies want to prioritize technological relevance and stability over a bespoke system with a finite useful life, the FPaaS model benefits from regular updates and a future-proof roadmap."
Since the successful implementation in Rochester, Masabi has deployed Fare Payments-as-a-Service systems with Transit in cities, including Dayton, Ohio; San Antonio, Texas; Saskatoon, Canada; and many more.
Read here the full highlight article about the Innovative Solutions Award won by RTS Rochester, Masabi and Transit.