RTC joins more than a dozen cities offering multimodal payments with Transit, already used more than 3 million times every month across Southern Nevada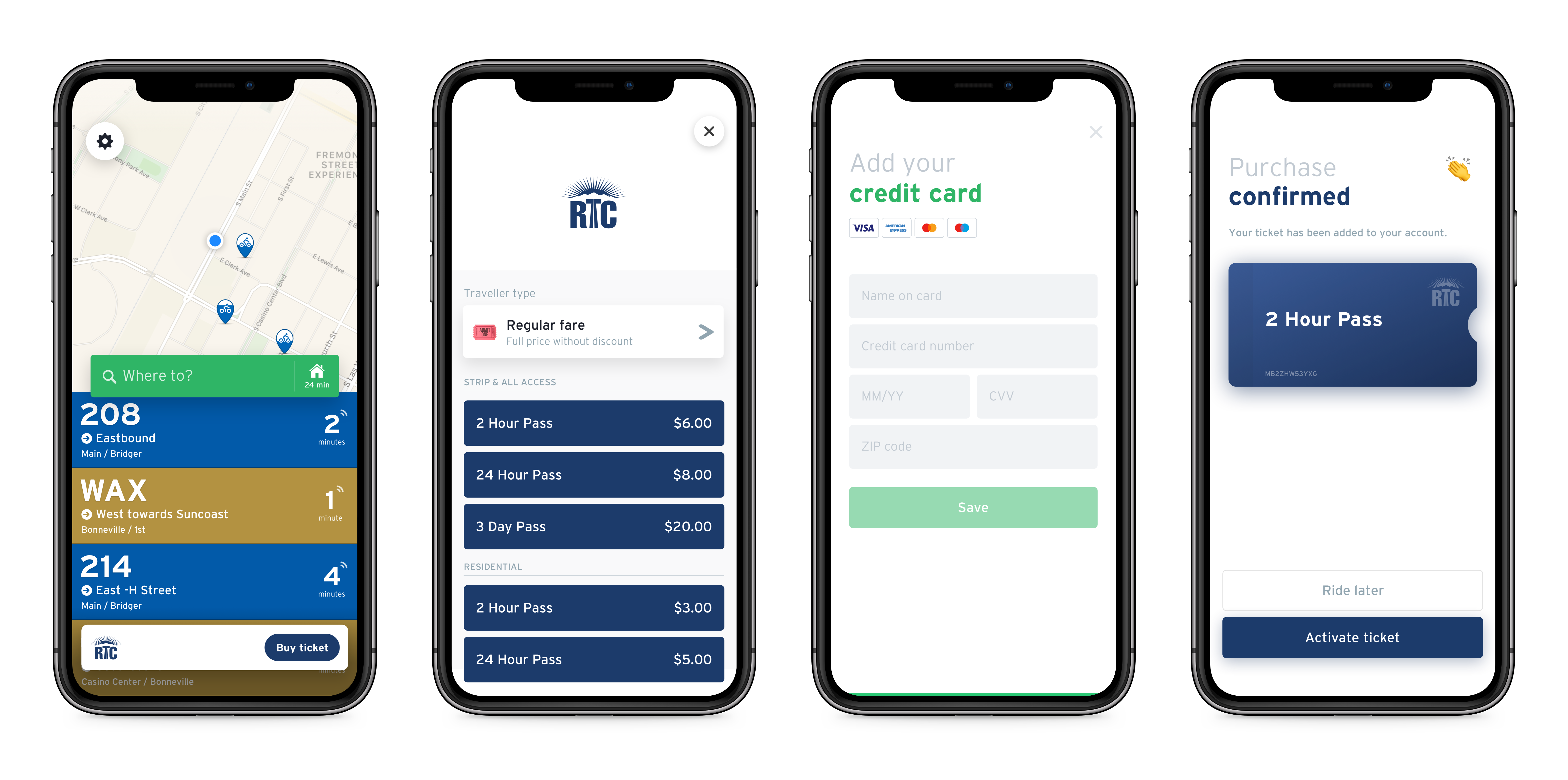 Starting today, passes for the Regional Transportation Commission of Southern Nevada (RTC) are now available in Transit, the popular mobile application used by 50,000 residents and visitors across Southern Nevada every month to plan their journey, track their ride, make multimodal connections — and now, pay for their trip.
Today's announcement builds upon Transit's longstanding partnership with the RTC, which already directs riders to Transit for trip planning and real-time information. Each month, Transit's users in the Las Vegas area open the app a combined 3 million times, making it an indispensable part of everyday commutes for more than 1 in 10 daily RTC riders. Transit helps people find new routes by combining RTC buses, the Las Vegas Monorail, and RTC Bike Share, as well as first- and last-mile operators like Uber and Lyft. The addition of RTC passes to Transit, in collaboration with RTC's fare payment provider Masabi, makes the app an even more helpful all-in-one solution for Southern Nevada's mobility needs.
To purchase a pass with Transit, tap the "Buy ticket" button next to the RTC logo inside the app. Transit guides users through a step-by-step process to choose a fare type, enter payment information, and activate their pass, which is then validated at a scanner onboard the bus. Transit users can purchase full-fare passes, as well as reduced fares and UNLV student passes using a valid card ID. Riders can also keep passes in a wallet inside Transit and use them when they're ready to ride.
When RTC riders purchase a pass in Transit, they're also gaining the ability to purchase tickets with a single tap when visiting more than a dozen other cities across North America. With a Transit account, riders have a unified sign-in that allows them to enter their payment information just once to purchase multimodal tickets from a growing family of operators and fare payment providers, like the RTC and Masabi, working towards an open and connected system of mobility options across the U.S. and Canada.
Cities that have already joined Transit accounts include transit systems in Denver, Cincinnati, and Santa Monica, as well as bikeshare systems in Chicago, Toronto, and Washington, DC. Additional cities and systems will be joining Transit's unified account in the coming months, making it easier to purchase tickets and passes in the more than 200 cities worldwide where people are already using Transit every day.
By working with its fare payment partner Masabi to open up its mobile ticketing system and becoming one of the earliest transit agencies to make passes available with a Transit account, RTC is establishing itself as a leader among North American transit operators. Today's announcement is a key step toward open "mobility as a service" standards that make it easy for the public to find, connect, and pay for mobility options from multiple providers, including public transportation, ridehail, bikeshare, carshare, scooters, and more, in a single app.
The addition of RTC passes in Transit is already having an impact. Since December 18, Transit has been rolling out RTC passes to a small subset of users, who have already purchased more than 400 passes over the holiday period. With today's announcement, RTC pass sales are available in Transit to all riders, who just need to download the latest version from the App Store or Google Play.
"We want to make it as easy as possible for people to ride public transportation. It's why we put it front-and-center in the app, and why we work so closely with the most innovative mobility operators across the continent, like the RTC, to open more real-time information and payment options for riders," said David Block-Schachter, Chief Business Officer at Transit. "So many people already use Transit to find their next trip and track their ride. Adding RTC passes to the app isn't just a natural next step, it's also a big win for riders who want a stress-free trip."
"Creating a seamless experience for our residents and visitors to move easily and conveniently among multiple modes of transportation is the future of public transit, and we're proud to be one of the first agencies to embrace it," said M.J. Maynard, CEO of the RTC. "Transit's journey planning system has been an integral part of rideRTC's success, and this new feature elevates our already fruitful partnership."
"This launch is a huge step forward in helping people living in and visiting Las Vegas to leave their cars at home and ride public transit," Said Brian Zanghi, Chief Executive Officer at Masabi. "By enabling access to public transit tickets via Masabi's Justride SDK in Transit, we are assisting innovative agencies like RTC of Southern Nevada in seamlessly connecting transit with private mobility options. This means Transit users can now use the app to more easily discover and ride bus services."
Transit is available to download for iPhone and Android at www.transitapp.com. ###
About Masabi: Masabi is bringing Fare Payments-as-a-Service to public transit agencies of all sizes around the globe, enabling them to receive the latest fare payment innovations quickly, using a platform which is constantly updating and adding new features. This not only improves the journey experience for passengers but helps agencies keep up with the pace of technology change, while reducing the total cost of fare collection. With over seventy agencies of all sizes across ten countries signed up, Masabi's Justride is the world's leading fare payments platform. Masabi has offices in New York, Denver, London and Cluj, and investors include Mastercard and Keolis. For more information, visit www.masabi.com.
About Transit: Transit solves the urban commute in more than 200 cities worldwide. Users can easily navigate public transit with accurate real-time predictions, simple trip planning, step-by-step navigation, and quick, easy payments. The app also integrates additional transport modes — bikesharing, scooters, carsharing and ridehail — so users can mix-and-match their options with transit to determine the best way to get from A to B. The company is based in Montréal, QC. Learn more by visiting www.transitapp.com.
About the RTC: The Regional Transportation Commission of Southern Nevada (RTC) is the transit authority, transportation planning organization, regional traffic management agency and administrator of Southern Nevada Strong, the regional planning effort for the Las Vegas valley. The RTC's vision is to provide a safe, convenient and effective regional transportation system that enhances mobility and air quality for citizens and visitors. The RTC encourages residents and visitors to use a variety of transportation choices to help reduce traffic congestion, clean the air and improve the quality of life in Southern Nevada. For more information about the RTC and its major initiatives, visit www.rtcsnv.com.