Cloud-native account-based ticketing system delivers mobile ticketing with upgrade path for open payments (contactless EMV), enabling passengers to simply tap to travel.
In March 2022 SkyBus, the award-winning airport bus service operating in cities across Australia, announced the launch of a next-generation Account-Based Ticketing (ABT) system for its airport transfer services, powered by Fujitsu and Masabi.
Prior to the COVID pandemic, SkyBus carried more than 5 million passengers each year across its 14 express airport transfer services. It will be rolling out the ABT system across its entire network over the coming months. The cloud-native solution is integrated and managed by Fujitsu using Masabi's Justride suite of application programming interfaces (APIs) and its mobile ticketing software development kit (SDK). Since December 2021, customers at Melbourne and Brisbane airports have been able to buy tickets and passes anytime, anywhere, using the existing SkyBus app and website, as well as via SkyBus e-kiosks and other points of sale.
The contract will also see Masabi Justride Validator (JRV) devices installed across the SkyBus fleet, greatly improving customer experience - with passengers simply tapping their mobile devices or printed tickets to travel, increasing passenger safety and helping speed up boarding times, making riding SkyBus services faster and more efficient.
The Fujitsu/Masabi partnership combines Fujitsu's experience and expertise in IT services, support, systems management and integration with Masabi's ABT fare payments platform to create a formidable alliance. The solution makes paying for public transport faster and more convenient, whilst also reducing the cost of ticketing systems. Masabi's Justride FPaaS (Fare Payments as a Service) platform is used by more than 140 transport operators and authorities across the EU, Europe, North America and Asia Pacific.
Michael Sewards, Co-CEO of SkyBus operator Kinetic, said, "SkyBus is the preferred mode of transport to access airports because we are a customer-focused brand and offer a world-class experience that is convenient and affordable.
"From developing the SkyBus app to introducing ticket e-kiosks, we are driven by technology and continue to invest in a seamless customer journey from the moment passengers step off the plane to when they jump aboard our services. We are excited to partner with world-leading brands Fujitsu and Masabi to make that experience even better with the introduction of on-board ticket validation and contactless payments."
Dave Lennon, Head of Industry – Public Sector, Fujitsu Australia and New Zealand, said, "Fujitsu is delighted to work with Masabi to deliver next generation fare payments via the Masabi Justride platform. By using Masabi's suite of APIs and mobile ticketing SDK, SkyBus is able to continue to serve customers via traditional printed and mobile tickets and easily introduce Apple Pay, Google Pay & contactless EMV (cEMV) bank card payments as well."
"User adoption has been high as the new system is intuitive and easy to learn. The ease at which new products and services can be managed and delivered is a major benefit with the new platform.
"The delivered solution was easily migrated to operate on the existing SkyBus Kiosk and driver bus hardware, allowing for a smooth transition. Being a cloud native solution provides Fujitsu and SkyBus confidence with reliability and the scalability of the new system."
Brian Zanghi, CEO at Masabi, said, "The Coronavirus pandemic has accelerated what was a pre-existing trend towards contactless ticketing solutions. We are delighted to be working with SkyBus and Fujitsu to expand our deployments in Australia, ensuring that passengers are provided a safe and convenient ticketing experience. Working with agile and flexible partners like Fujitsu means we can deploy solutions quickly and cost effectively wherever they're needed around the globe."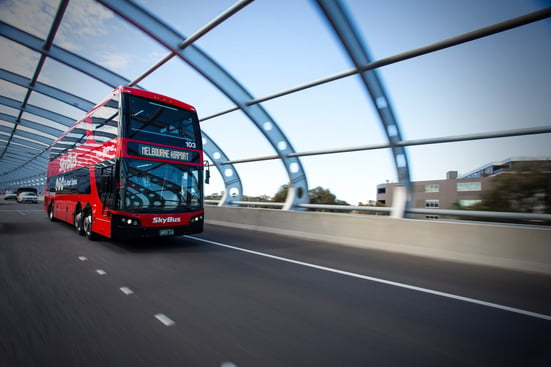 If you would like to lear more about how Masabi and Fujitsu can help your city, then please get in contact with us.