Number of tickets sold via mobile app increases by 146% in one year and now connects with ferry services into downtown San Francisco.
A recent study from Juniper Research found that mobile ticketing users will number 1.9 billion by 2023, so it's no surprise that we are seeing excellent adoption rates and stats from clients who have deployed a mobile ticketing app with Masabi. Here's the story behind the success of SMART's mobile ticketing app.
About SMART
SMART is the San Francisco Bay Area's newest passenger rail service, providing a safe, reliable and congestion-free transportation option for Marin and Sonoma counties. The current 45-mile system includes stations in the Sonoma County Airport area, Santa Rosa, Rohnert Park, Cotati, Petaluma, Novato, San Rafael, and Larkspur. The transit system features an open platform concept, presenting a unique opportunity for fare payment.
How it all began
SMART wanted a fare payment option for people who ride the train occasionally and are less inclined to purchase a Clipper Card or monthly pass. In 2017, SMART contracted Masabi to develop a mobile ticketing app that made it easy to purchase a ticket and get on board. The ticketing app is called SMART eTickets and is free for download from Google Play and the Apple App Store.
To make trip planning even more convenient, the SMART eTickets app is integrated with Transit allowing riders to locate transit routes and stations near their current location, get access to real-time departure information and plan trips that also include different forms and modes of transportation like buses, bikeshare and Uber.
The line doesn't end here!
In December, 2019, SMART added two new train stations to its system, in Larkspur and Downtown Novato. Larkspur is the new terminal station in the south, offering a convenient connection to the Bay Area for commuters and visitors alike via the Golden Gate Ferry. In order to make it easier for riders to use both SMART and Golden Gate Ferry services, SMART now offers the option for riders to buy both their train and their ferry ticket for one flat-rate, all within the SMART eTickets app, powered by Masabi's Justride platform. Traveling between Sonoma, Marin, and San Francisco has never been so easy!
The results speak for themselves
Between January 2019 and January 2020, the total number of tickets sold via the SMART eTickets app increased by 146%. This strong uptake illustrates transit riders' appetite for a technology that makes purchasing tickets quick and easy, saving them time and hassle. In February 2020, 20.3% of trips taken on SMART connected seamlessly into downtown San Francisco using the Golden Gate Ferry. It's also worth noting that between December 2019 and January 2020, SMART saw the number of ticket activations via the mobile app increase by 17.8%!
Mobile ticketing - key step to increase convenience for riders
Riders value convenience above all else when it comes to their transit experience. As ridership expands in cities around the world, convenience, combined with customer satisfaction, is becoming key for transit agencies. As a result, offering riders the option to purchase public transit tickets for several modes of transportation from different transit agencies via a single mobile app creates seamless connections and improved first-and last-mile experiences. With a mobile ticketing app, such as SMART eTickets, riders are freed from waiting in line at ticket vending machines and don't need to carry cash to use public transit services. They can purchase, save, and activate tickets directly through one app, anywhere, anytime, and even when offline.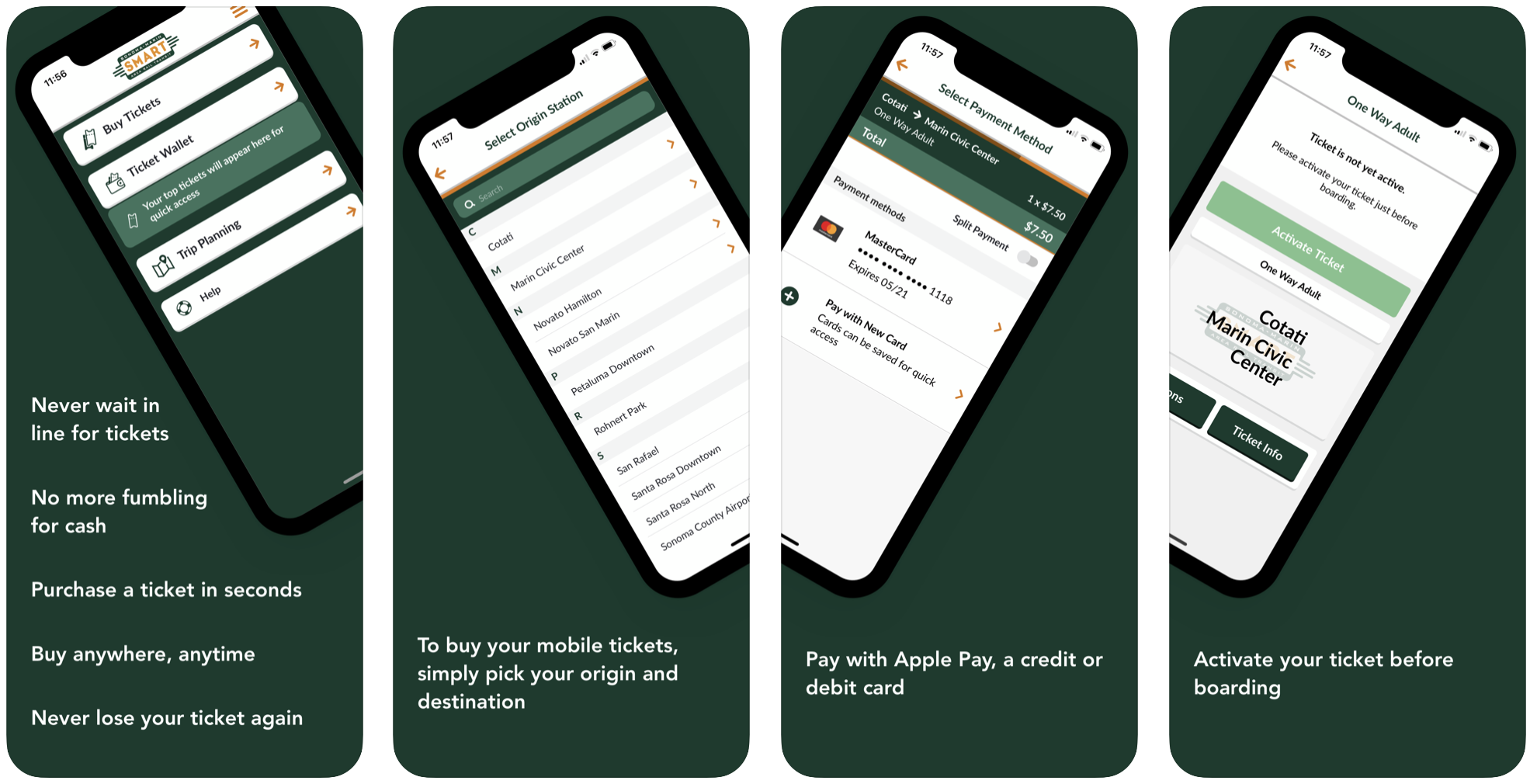 About Masabi's Justride platform
Masabi's Justride is the leading fare payments platform for public transit. Transit agencies and operators can sign up to mobile ticketing services, enable Mobility as a Service (MaaS) and deploy an account-based system allowing passengers to simply tap a contactless bank card, mobile device and smartcard to travel, without needing to buy a ticket or understand fares. With over 75 agencies of all sizes across 11 countries signed up, Justride is leading the movement away from bespoke and expensive ticketing systems.
Fare Payments-as-a-Service is a new and better way of delivering ticketing systems to transit agencies and riders. Instead of purchasing a bespoke and expensive Automatic Fare Collection (AFC) system, agencies can now sign up to a service delivered via a multi-tenant fare payments platform, removing the cost, risk and complexity of providing the latest fare payment innovations and allowing agencies to concentrate on what they do best, operating safe, reliable and convenient transit services to riders.
If you would like to find out more about the Justride platform or have any questions about SMART's success story please email james.gooch@masabi.com