There are two hot topics at the forefront of every transport ticketing event in the industry at the moment: Account-Based Ticketing and Mobility as a Service (MaaS). So when Masabi issued our 'State of Fare Collection' survey to transport agency professionals in the fall of 2019, we wanted to understand where agencies were in their deployment and understanding of both these trends.
Trends 1: Account- Based Ticketing
Account-Based Ticketing is a ticketless way of allowing people to travel, meaning riders simply tap or scan using a secure token (usually a contactless bank card, smartcard or mobile device), linked to an account in the back office, to make a journey. The amount of taps and location of these taps calculates the fare, which is charged to the passenger post journey. This means riders do not need to buy a ticket or understand fares and can benefit from best fare policies. Ultimately, ABT provides a frictionless and super convenient way to access transit.
When asked "What are your plans for Account-Based Ticketing?", it comes as no surprise that 62 percent of agencies declared that they have either deployed, want to, or will deploy an Account-Based Ticketing system for riders.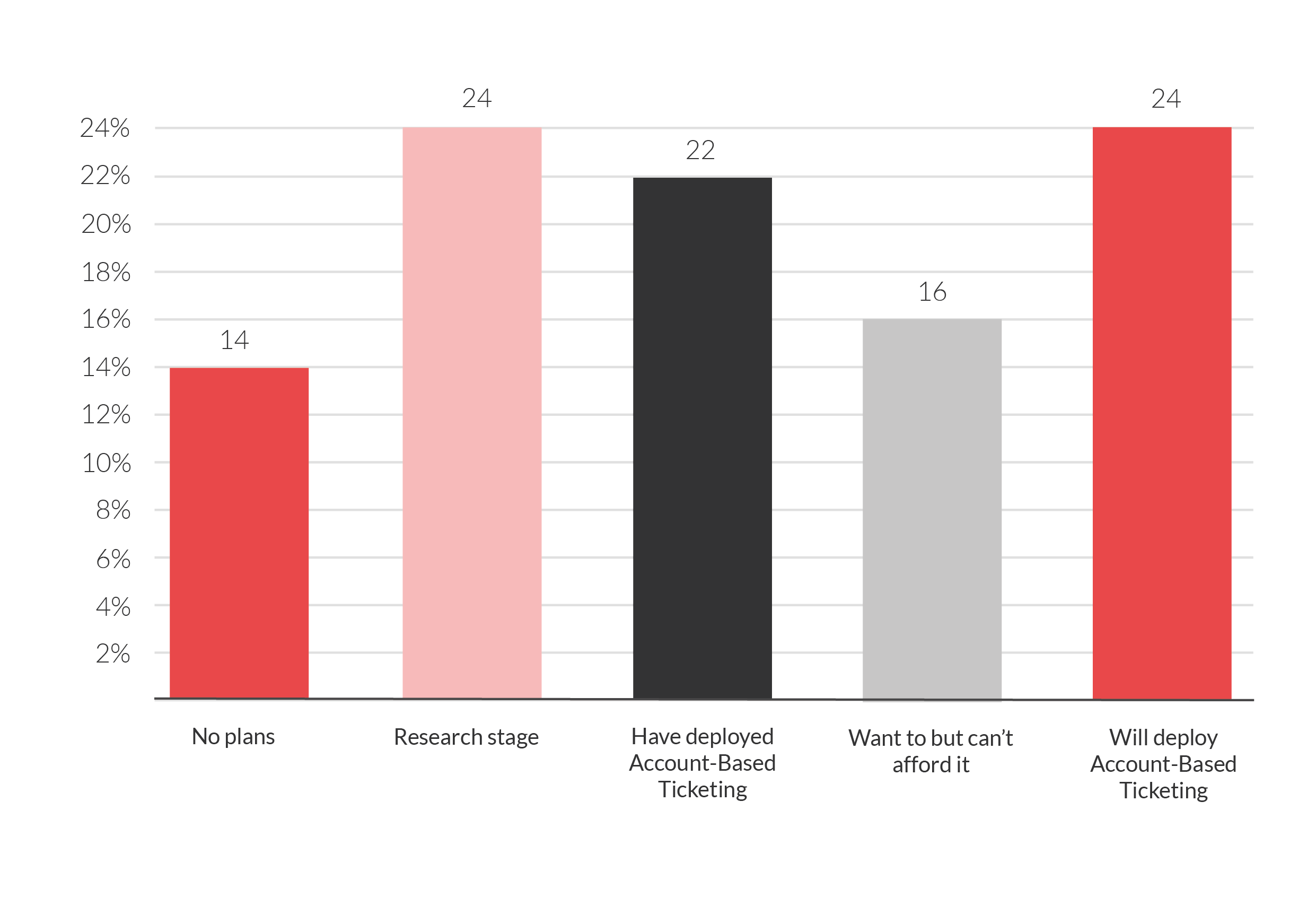 A further 24 percent of respondents are still researching Account-Based Ticketing meaning the true number of respondents that might want to deploy Account-Based Ticketing could realistically be closer to 85 percent.
Trends 2: Mobility as a Service (MaaS)
Mobility as a Service (MaaS) is the movement to full first/last mile journeys using private and public shared mobility services, allowing users to plan and pay seamlessly and will help move people away from private car usage, reducing congestion. In Masabi's view, there are currently three approaches to enabling MaaS for public transport which are not mutually exclusive.
1, Practical MaaS
Practical MaaS delivers public transit ticketing within consumer facing or white label MaaS apps such as; Uber, Transit, Moovit, Gertek and Kisio Digital. This connects public transit with private mobility services without the need for discounts on tickets or new business models.
2, Account-Based MaaS

Account-Based MaaS uses an Account-Based mobility card (Smartcard) or token (Mobile barcode, mobile payment or contactless bank card) to travel via tapping (or being) on public and private vehicles. Passes (like a monthly subscription) is earned based in usage over particular time periods, but does not exclude people unable, or not requiring, a subscription.
3. Subscription-Based MaaS
Subscription-Based MaaS connects public and private transit options through a time based subscription, be it a weekly or monthly time period, where users pay up front for a mobility package.
All these approaches have their pros and cons, but we have put them in the order we believe makes the most sense to deploy (although we would advocate Practical and Account-Based MaaS make the most sense for cities and agencies in order to provide social equity and facilitate demand-based pricing and better policy control levers). A staged approach to MaaS can be achieved by introducing Practical MaaS in a cost-effective way today. Agencies can then enable Account-Based MaaS once the right Account-Based infrastructure and partnerships are in place, and layer in Subscription-Based MaaS to serve the more affluent ridership base who may be persuaded to switch from private car usage through corporate schemes.
We asked our survey respondents "What are your plans for Mobility as a Service (MaaS)?" One of the most popular answers was Account-Based MaaS (24 percent) which we believe is a positive city-centric approach to enabling MaaS, while Practical MaaS was of interest to 22 percent of respondents. Subscription-Based MaaS was only of interest to 5 percent of agencies.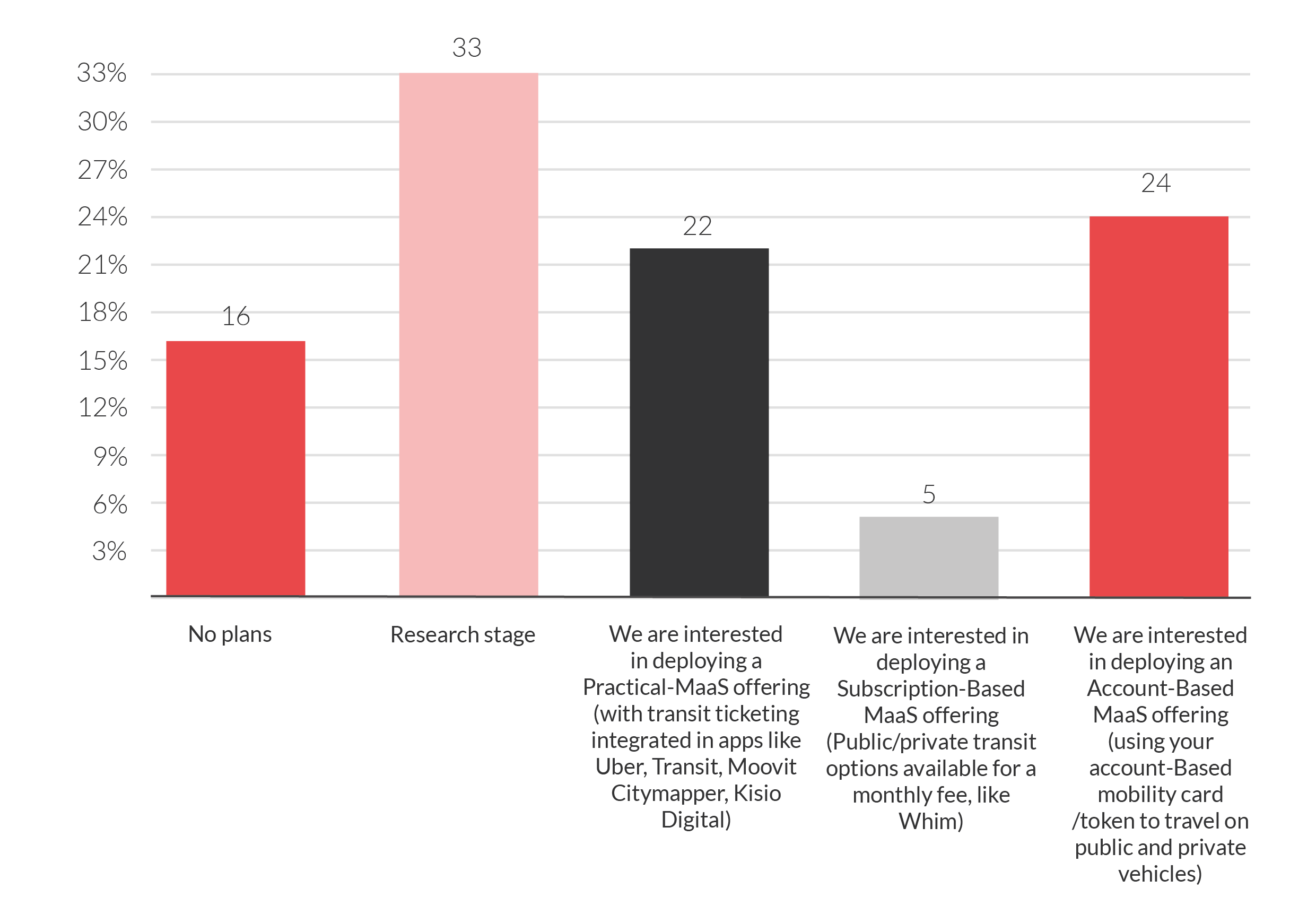 For more information on the future of ticketing and where transit agencies and operators stand with their existing fare collection infrastructure read our latest ebook; Transit Agency Research Report: The State of Fare Collection.