To better understand the
current fare collection challenges
transit agencies
are facing,
we
conducted a survey in partnership with The Transit Wire.
The survey was geared toward transit agencies and the consultants who work with them. Over 100 transit professionals completed the survey. The majority of respondents (71%) worked at transit agencies, 23% were consultants, and 6% worked at other government agencies.
The survey presented a list of potential challenges and respondents were asked to select as many as applied to their agency. Most respondents indicated that their agency encountered multiple challenges, and 71% identified at least three issues. Major concerns focused on the cost of upgrading or maintaining a fare collection system, cash handling, fare evasion, and managing expectations.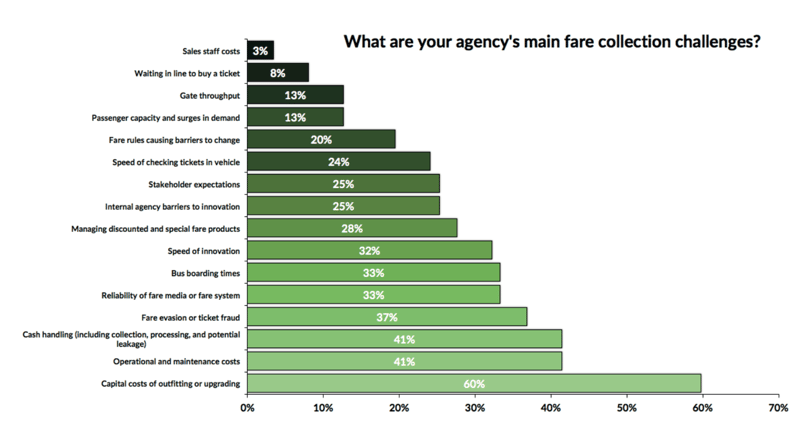 Concerns About Costs
The capital cost of introducing or upgrading a fare collection system was by far the most commonly cited concern, with 60% of respondents saying that this was a challenge for their agency.
Capital costs for installing or upgrading a fare collection system, including new fareboxes and fare- gates, can run into the millions – and hundreds of millions for very large regional systems – and not every agency is in a position to make the investment. One respondent from a rural agency echoed this concern, writing: "while getting away from the traditional cash farebox [is desirable], the cap- ital costs to retrofit our fleet don't justify the transition."
And the costs don't end with installation. Respondents cited concerns over the operational and maintenance costs of legacy fare collection systems (41%). Depending on the extant technology, agencies may have to maintain turnstiles, fareboxes, and ticket vending machines along with the software that supports the fare system. One in three respondents (33%) identified issues with reliability of fare media or the fare system, both of which clearly affect the costs of maintaining the payment system.
Collecting and Counting Cash
Respondents also reported challenges with handling cash. Defined broadly as collection, processing, and potential leakage, some 41% identified this as a concern. At the same time, some agencies flagged the equity issues of going cashless. One commenter described the situation: "social equity with limited english-speaking populations which prefer to use cash instead of a transit card and/or not having a credit card to load fare or pass onto a card."
Given the high reliance on visual inspection, it is not surprising that fare evasion or ticket fraud was one of the top five challenges identified (39%). In the words of one respondent, for some agencies the issue is "insufficient resources for proper fare enforcement." Another put it this way: "our accepted mantra: 'Drivers can't be fare cops.'"
Managing Expectations
Transit managers have to address the needs of multiple stakeholders when introducing or upgrading a fare collection system. Some 32% of respondents expressed frustration with the speed of innovation, and equal numbers cited internal barriers to innovation and stakeholder expectations as challenges (25% for each). Several comments helped illustrate the issues:
"Customer needs/expectations are changing at a rapid pace - our current older smartcard system does not allow us to leverage new opportunities."
"our customers (many, not all) want mobile fare payment and instant card top up from smartphones, but regional fare system isn't there yet and we can't launch our own without permission."
"Coordination of electronic fare systems and fares/transfers across multiple transit agencies in the region"
"rapidly changing technology created passenger demand for fare media that we are not yet prepared to support."
As these comments suggest, fare technology and customer expectations are changing faster than some transit agencies can keep up.
The full results of this survey are featured in The Transit Wire Research Report: The State of Transit Fare Collection. To download the report click on the image below.