In addition to mobile ticketing new service allows students to use their existing ID card to tap and ride powered by the Justride account-based back office
Fort Collins, CO and New York - August 1 2019 – Masabi, the company bringing Fare Payments as-a-Service to public transit and Transfort, the transit agency for the City of Fort Collins, Colorado, today announced the launch of a new fare collection system for Fort Collins' riders. The system will help remove the need for passengers to carry cash or wait in line to buy a ticket when boarding the bus, improving the rider experience and helping to reduce wait times. The service is available on all Flex and other bus routes, with the MAX BRT line being enabled later in the year.
The solution allows Colorado State University (CSU) students to use their existing student ID card (RamCard) to simply tap to travel when boarding bus services. As a primary transit mode for the CSU community, this added level of convenience will further aid students in easily navigating their campus and the greater Fort Collins area. The system uses Masabi's Justride Account-Based back office and gives Transfort the ability to turn on Account-Based fares for all riders when required.
Transfort E-ticket gives riders the ability to buy tickets via their mobile device before they travel. Single, Round Trip, Day Passes, 7-Day Passes, 31-Day Passes and Annual Adult Passes are available through the app. Passengers who qualify for discounted Senior or Disabled passes may also use the app by purchasing their passes from a customer service agent at one of Transfort's three transit centers. Riders then simply scan their mobile barcode tickets on the new electronic validation devices when boarding the bus. For more information regarding the Transfort E-Ticket app please visit ridetransfort.com or download Transfort E-Ticket in your app store. Existing fare media such as paper tickets will continue to be offered.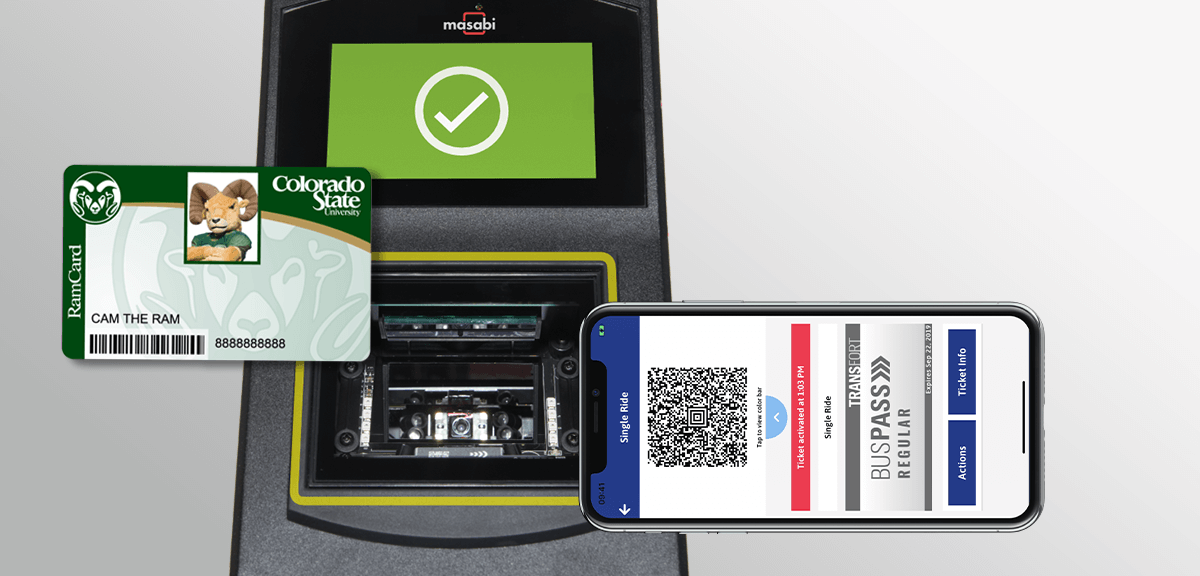 "We're always looking for options to bring Transfort riders the best quality service and are looking forward to working with Masabi to modernize and simplify the payment process for our riders," said Drew Brooks, Director of Transfort. "The new mobile ticketing app and validation units will enhance our fleet and bring a more seamless experience for riders."
"In today's ever-connected world, riders are demanding technology upgrades that make their travel seamless and more convenient," said Brian Zanghi, CEO of Masabi. "We're excited to partner with Transfort to bring our industry-leading ticketing technology to the riders of Fort Collins, so they can access their transit system hassle-free."
The Justride platform is already in use with over 60 transport authorities and operators around the globe including in major cities such as New York, London, Las Vegas, Denver, Los Angeles, Boston, Tokyo and Sydney. You can learn more about Masabi's industry-leading Fare Payments-as-a-Service platform here.
About Masabi
Masabi is bringing Fare Payments to public transit agencies of all sizes around the globe. Through our Fare Payments-as-a-Service platform, Justride, agencies can sign up to mobile ticketing services, enable Mobility as a Service (MaaS), or deploy an account-based full fare collection solution using contactless bank cards, mobile devices and smartcards.
With over sixty clients across ten countries, Justride is the world's leading Fare Payments platform, serving the largest transit agency in the US to local bus operators. Masabi has offices in New York, Denver, London and Cluj, and investors include Mastercard and Keolis. For more information, visit www.masabi.com.