Masabi is leading the movement away from expensive, standalone, fare collection technology towards scalable, platform-based fare payment solutions delivered to agencies of all sizes 'as-a-Service', for a fraction of the cost of bespoke systems.
This superior means of delivering fare collection technology isn't radical: it's an application of software best practices delivered in almost every other enterprise technology vertical. This delivery model is called Fare Payments-as-a-Service (FPaaS) and Masabi's Justride platform is the leading FPaaS provider in the market.
The FPaaS delivery model provides a number of benefits by moving the industry away from bespoke 'standalone' systems to one where multiple agencies all use the same platform. These benefits include: reduced cost of ownership and risk, increased speed to market and providing regular system and fare payment updates and innovations, thereby reducing costly change orders.
What's the difference between Fare Payments-as-a-Service, Ticketing-as-a-Service and Fare Collection-as-a-Service?
In short, nothing. As long as the system uses a shared multi-tenant (multi-agency) platform and the vendor is not using the phrase to simply describe hosting a system in the cloud, or to describe a change in how agencies pay for the service, then they mean the same thing.
It would be misleading to describe a bespoke 'design and build' fare collection system that is simply hosted on a remote cloud server as using a Fare Payments as a Service model.
At Masabi we use the term Fare Payments-as-a-Service because – in our view – the future of 'ticketing' is not focused on issuing 'tickets' or 'collecting' cash, it's about enabling fares and payments (fare payments) using 'secure tokens' and Account Based Ticketing to deliver a frictionless digital experience for all passengers.
Secure tokens could be phones, bank cards or account-based smart cards – but the overriding priority for transit agencies and operators is to enable the best possible fare payment experience for everyone – including unbanked riders who continue to rely on cash.
We believe the most equitable way to achieve this is by providing riders with a convenient way to convert cash into mobility credit (sometimes called 'cash digitization') and ensure cash-paying riders enjoy exactly the same digital experiences as those with a bank account or phone.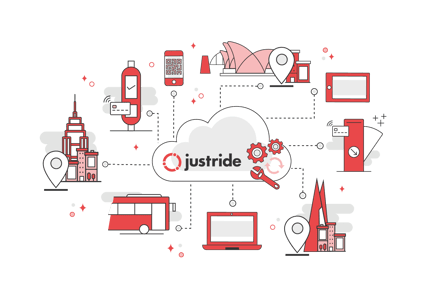 Is a 'shared' or 'multi-tenant' platform important?
In short, yes. This is key to unlocking all the benefits of the 'as-a-Service' approach. Each agency uses the same platform configured in slightly different ways to meet their specific needs.
This makes it far more cost-effective because costs are shared between all the agencies who subscribe to the platform. It is also quicker to deploy because it's already live and being constantly updated, so by pooling resources and expertise, every agency benefits from a system that is being constantly updated with the costs - and the benefits - shared.
The reality is that – at any given time – hundreds of transit agencies around the world are in the process of reviewing increasingly outdated fare collection systems and working out the best way to procure a new system that can deliver the latest payments technology solutions such as mobile ticketing, contactless payments and integrated Mobility as a Service.
Masabi's market-leading Justride FPaaS platform is being adopted by an ever-growing number of public transit agencies and authorities of all sizes around the globe. Today, Masabi operates across 4 continents, with more than 150 customers in cities such as Denver, Las Vegas, Boston, Los Angeles, San Antonio, Columbus, Calgary, Birmingham, Valencia, Bilbao and Osaka.