14th November 2007 – Encryption software for mobile phones which makes e-commerce much more secure has won a prestigious global award for innovation at the IET's annual Innovation in Engineering Awards.
London based company Masabi won the Security award for their EncryptME technology, the world's only certified mobile Java cryptography.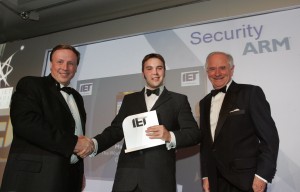 EncryptMe technology is a 3kb Java code library providing end-to-end encryption on all Java enabled mobile phones. Masabi is supplying the software for Chiltern Railways trial of mobile phone train tickets using this Java security technology. Historically, mobile phones, while a convenient device for worldwide commerce and communication, didn't have enough memory to store the security needed. This innovation tackles that issue.
A total of 15 awards, each sponsored by a major company, were presented and at a ceremony at the Marriott Hotel, Grosvenor Square, London hosted by TV personality and science enthusiast Johnny Ball.
The host of 'Think of a Number' said: "What makes a great innovator? Perhaps a little eccentricity, a desire for improvement, plus vision and the determination to see it through. All that equals the type of projects recognised through these awards. Innovators always ask 'Why can't it be better?' If it wasn't for innovation we would still have black and white television and mono radio."
He continued: "Innovation is at the heart of business and wealth creation. It is right that we acknowledge those who push the boundaries of science, engineering and technology and it will be exciting to see how the innovations awarded this year will make their mark in the future."
Robin McGill, CEO of the IET said: "These awards recognise the vital role that innovation in engineering plays in the global economy. On behalf of the IET I would like to congratulate all the winners who have displayed outstanding innovation in their respective categories." He added that because of the huge interest in the awards this year details of the 2008 awards would be available immediately on the IET web site at: www.theiet.org/innovationawards
The judges said: "EncryptME technology is truly innovative. Small, fast and easy to deploy and using certified algorithms, it has the potential to have a significant impact on both users and the market."
The Security Category is sponsored by ARM.
The awards have been supported by the Department for Innovation Universities and Skills and Make Your Mark in Manufacturing & Engineering.
ENDS
about The Institution of Engineering and Technology
The Institution of Engineering and Technology (IET) is one of the world's leading professional societies for the engineering and technology community. The IET has more than 150,000 members in 127 countries and has offices in Europe, North America and Asia-Pacific. The Institution provides a global knowledge network to facilitate the exchange of knowledge and ideas and promotes the positive role of Science, Engineering and Technology in the world. For more information visit
www.theiet.org.
Media Contacts for IET
Sian Weaver
Media and PR
+44 (0)20 7344 5443
+44 (0)7725 498116