First of its kind app for Colorado Springs, powered by Masabi's Justride platform, now available for riders to download.
Colorado Springs Mountain Metropolitan Transit (MMT) today announced the launch of RideMMT, a new mobile ticketing application, deployed in partnership with Masabi, the company bringing Fare Payments-as-a-Service to public transit. RideMMT can be used by riders on all 27 MMT routes throughout downtown Colorado Springs and the surrounding areas within city limits and to the cities of Manitou Springs, Widefield and Security.
The cash-free, contactless, and COVID-19 safe, mobile ticketing app allows riders to purchase fares and display tickets on their smartphone device anytime, anywhere and is available to download from Google Play and the App Store. Riders have the option of purchasing single ride, day pass, 31-day pass and 20-ride tickets using a debit or credit card or via digital payment services such as Apple Pay. Once purchased, riders simply activate their tickets on their phones and present them to the driver for inspection when boarding.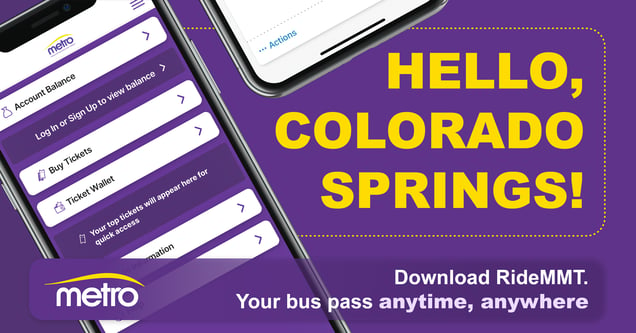 "As a forward-looking transit agency, our focus is on using technology to help us deliver MMT riders a safe, modern and efficient travel experience that puts their needs first," said Craig Blewitt, Transit Services Manager at Colorado Springs Mountain Metropolitan Transit. "We are excited to begin rolling out the RideMMT app across our services and have big plans for the future, including the installation of electronic validation devices across our fleet along with services enabling riders to use cash to purchase tickets using the RideMMT app, ensuring access to mobile ticketing for all."
"The last few years have demonstrated the critical importance of the smartphone in our everyday lives, and rolling out RideMMT is a fantastic example of how this technology can be used to really make a difference to the people of Colorado Springs," said Brian Zanghi, CEO of Masabi. "Masabi is delivering market-leading fare payment technology to forward-thinking cities by providing Fare Payment-as-a-Service, in a fraction of the time and at a fraction of the cost of bespoke ticketing systems. As our platform is constantly being updated with new features and functionality, we are helping to keep agencies like MMT on the cutting edge, delivering the latest innovations to their riders."
To find out how Masabi can help your agency deliver the fare payments experience your riders will love, get in touch: contact@masabi.com
Other news you may like: