We are absolutely delighted to announce that NEORide's EZfare and National Express West Midlands both won awards at this year's prestigious Transport Ticketing Awards.
The Awards – held online this year and streamed to a global audience of transport ticketing professionals – saw Masabi's partners collecting two of the eight awards available – both for Best Smart Ticketing Programme 2021.
Widely regarded as the 'Oscars' of the transport ticketing industry, this year's awards attracted a record number of entries – reflecting the innovation on display in this dynamic sector of the transport industry.
What makes this awards so special is the exceptional independent judging panel drawn from transport systems around the world, including: Carme Fabregas, CTO & Innovation Officer at ATM Barcelona, Robin O'Hara, Executive Officer of TAP Smart Card program, Los Angeles and Andrew Anderson, Head of Transformation Portfolio, Payments, Transport for London.
We're honoured to receive recognition from industry experts of this calibre, so let's shed a little light on these projects.

Best Smart Ticketing Programme

(200k - 1m Daily Journeys)
Award Winner -
NEORide EZfare
Winner of two awards to date in 2021, the innovative regional EZfare ticketing system involves 14 transit agencies dedicated to the development and promotion of accessibility, interoperability and improving the passenger experience across their collective services in Michigan, Ohio and Kentucky.
EZfare is a multi-agency offering, simplifying the experience for users and putting inter-agency collaboration at the core of fare payments. The EZfare smart ticketing system, powered by Masabi's Justride platform, exists as a standalone EZfare app and is also available via the Uber, Transit, and Moovit applications enabling a Mobility-as-a-Service experience.
Working closely with Masabi, NEORide has a roadmap to expand EZfare functionality to include onboard validation, with units currently being installed across agencies, along with cash digitization services and stored value accounts. This will be followed by smartcards, fare capping and more contactless ticketing options fulfilling the vision of a full Account-Based Ticketing system across the NEORide network.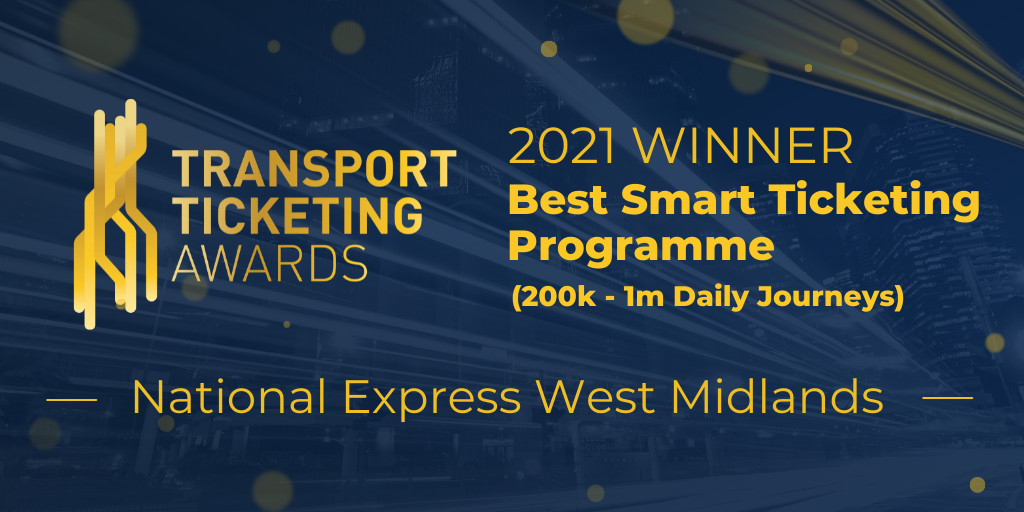 Best Smart Ticketing Programme

(>1m Daily Journeys)
Award Winner -
National Express West Midlands
National Express West Midlands partnered with Masabi to launch the NX Bus mTicket mobile ticketing app for all passengers, but with a particular focus on allowing students to order student travel passes online and get them sent directly to the NX Bus mTicket app for use on their smartphones.
In 2018, National Express and Masabi were recognised with a prestigious Transport Ticketing Global Award for 'Most innovative customer serving operator' for helping enable access to education and helping to reduce deprivation.
This has been followed this year with another award for 'Best Smart Ticketing Programme (>1m Daily Journeys)' thanks to a new innovative solution working with Masabi and Payzone. Passengers who have a smartphone can now buy tickets on their mTicket account using cash at more than 1300 retail locations across the West Midlands through Payzone's retail network. They simply present their Account ID barcode when they pay for their ticket.
The new Payzone integration uses Masabi's Justride External Orders API to securely send tickets directly to passengers using the National Express mTicket app and provides a great way to pay and travel using mobile tickets without excluding passengers who don't carry credit or debit cards.
National Express customers are now also able to purchase the 'nBus' regional ticket on their mobile phones – which works across bus operators in the West Midlands – via the NX Bus mTicket app, providing a convenient and safe way to travel across the region.
Masabi's has also scooped the following honours in 2021:
American Public Transportation Association AdWheel Awards 2021
Award Winner - Best Marketing & Communications on Covid-19:
EZfare (NEORide)
The Ohio Transit Risk Pool won a First Place Award in the 2021 Annual AdWheel Awards competition run by the American Public Transit Association (APTA). The "EZfare the Safe Way to Pay" marketing campaign won "Best Marketing and Communications on COVID-19" for the work done to help promote EZfare as a safe way to pay and ride public transit.

National Association of Regional Councils Achievement Award
Award Winner
- EZHub (With San Joaquin Council of Governments)
The San Joaquin Council of Governments (SJCOG) received a prestigious National Association of Regional Councils Achievement Award for EZHub, a cashless mobile ticketing and fare payment system available in the Vamos Mobility trip planning app. It's an EZ way to plan, pay, and ride transit in San Joaquin County.
EZHub, created in partnership with fare payments-as-a-service developer Masabi, was launched November 2020 and is used by seven transit operators in San Joaquin County. It allows users to plan trips across all seven transit networks and pay fares via a smartphone. It provides a contactless payment option and allows for ticket promotions, stored value accounts, and future possibilities to expand for carsharing reservations.
Public transit riders using San Joaquin Regional Transit District (RTD), Manteca Transit, Tracy Tracer, Escalon eTrans, Altamont Corridor Express, Lodi GrapeLine, and Ripon Blossom Express can use EZHub to purchase tickets via the Vamos Mobility app and ride across the networks of all seven transit operators throughout San Joaquin County, south of Sacramento, California.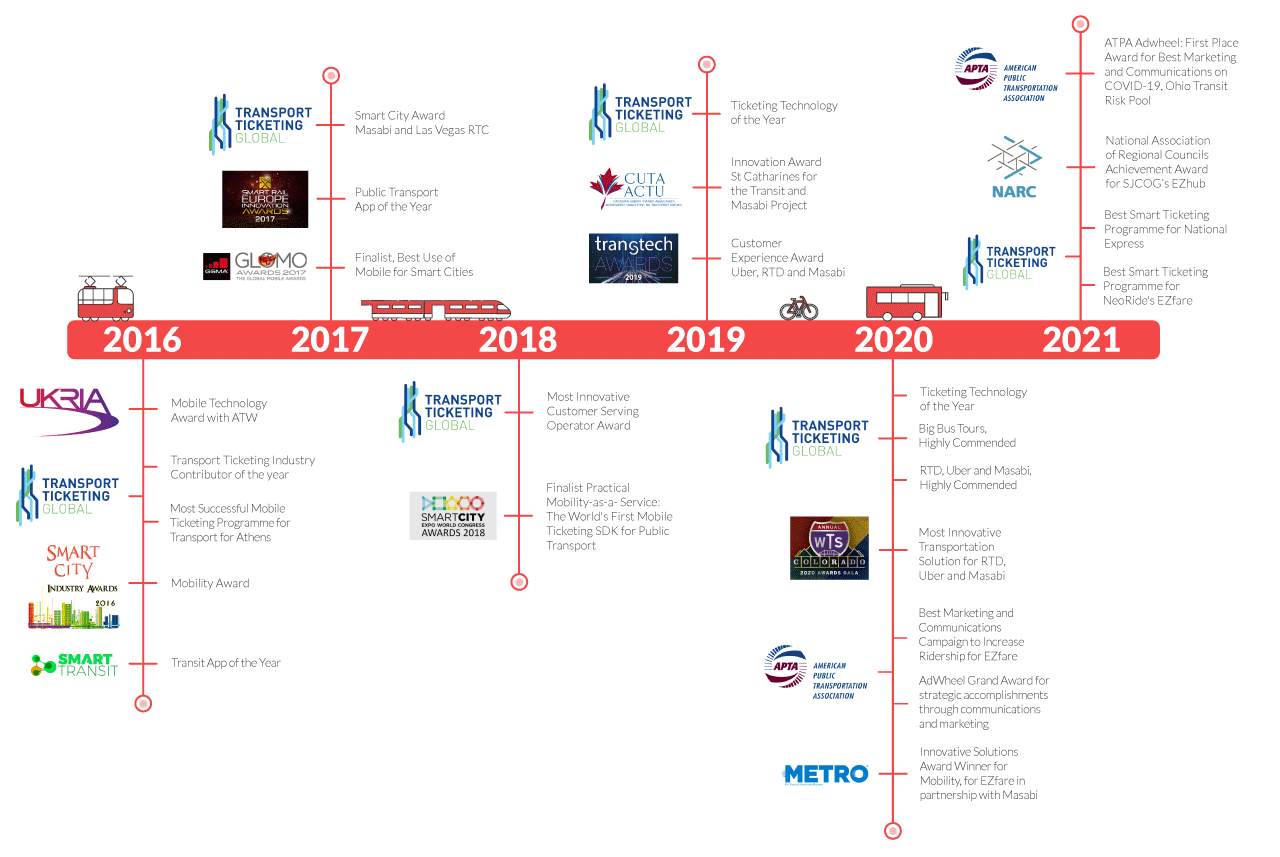 The latest honours consolidate upon Masabi's string of more than 20 ticketing awards – including Ticketing Technology of the Year for the second consecutive year at last year's Transport Ticketing Awards.
From America's Midwest to the Midlands of the UK, the scope of Masabi's smart ticketing partnerships now extends to more than 100 transit agencies in 10 countries.
These award-winning partnerships have been possible thanks to a Fare Payments as a Service delivery model making speedy deployments and innovation available to agencies of all sizes quickly and cost-effectively.
As a company that focuses on enabling the delivery of the latest fare payment innovations quickly, by using a multi-tenant platform which is constantly updating and adding new features. Winning awards like this shows that the work that we're doing helps to improve the journey experience for passengers, but also helps transit agencies and operators keep up with the pace of technology change, while reducing the total cost of fare collection, pushing the boundaries of what can be done to solve transit agencies and operators' fare collection challenges, whatever they may be.