The "Core" Automatic Fare Collection (AFC) system used by transit agencies are still dominated by AFC providers offering bespoke and customized solutions which agencies purchase and operate for years (sometimes even decades) using a Design, Build, Operate, Maintain (DBOM) model. With a Design Build Operate Maintain model for system delivery, each agency purchases its own solution to fit bespoke specifications, usually using bespoke software and hardware.
Masabi issued a survey in the late summer/fall of 2019 to professionals working for transit agencies and operators around the globe, with a particular focus on fare collection teams. The survey had a specific focus on agencies and operators "Core" Automatic Fare Collection (AFC) systems and was designed to see how they were using them.
The survey was completed by 63 transit professionals from 60 agencies and operators. The majority of respondents were from agencies based in North America and from a cross-section of agencies and operators of all sizes. (The full report - Transit Agency Research Report: The State of Fare Collection can be downloaded here. ) This blog highlights the four top problems that transit agencies are currently facing when it comes to their fare collection systems;
Problem 1: Fare Collection Systems Unable to Update with New Functionality
To continue to offer passengers the best experience, it is essential that agencies can update their systems with new features. However, when asked "How easy would it be to deploy new ticketing features and functionality for your "Core" Automatic Fare Collection (AFC) system?", the results were shocking with 59 percent saying any updates to their system was either 'Hard' or 'Very Hard' with updates occasionally or hardly ever happening. In a world where Software as a Service (SaaS) solutions are the norm, having systems which hardly ever improve or upgrade, providing users with new functionality, is very surprising and should no longer be necessary. It's also worth noting that the number of people who marked this as "Easy" correlates with the number of people using a "Software as a Service Platform" for their AFC infrastructure (as shows in the third graph below).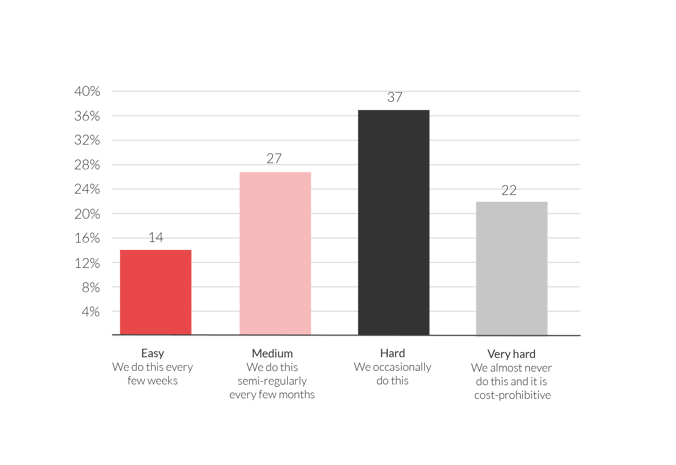 Problem 2: Fare Collection Systems Take Years to Deploy
The survey asked "How long did your "Core" Automatic Fare Collection (AFC) system take to get up and running from the contract award?". Although the time deployments took was split fairly evenly, the more popular answer was "1 to 2 years" with 30 percent of respondents selecting this answer. It is also interesting to see that 46 percent of systems took over a year to go live with an astonishing 11 percent taking over three years.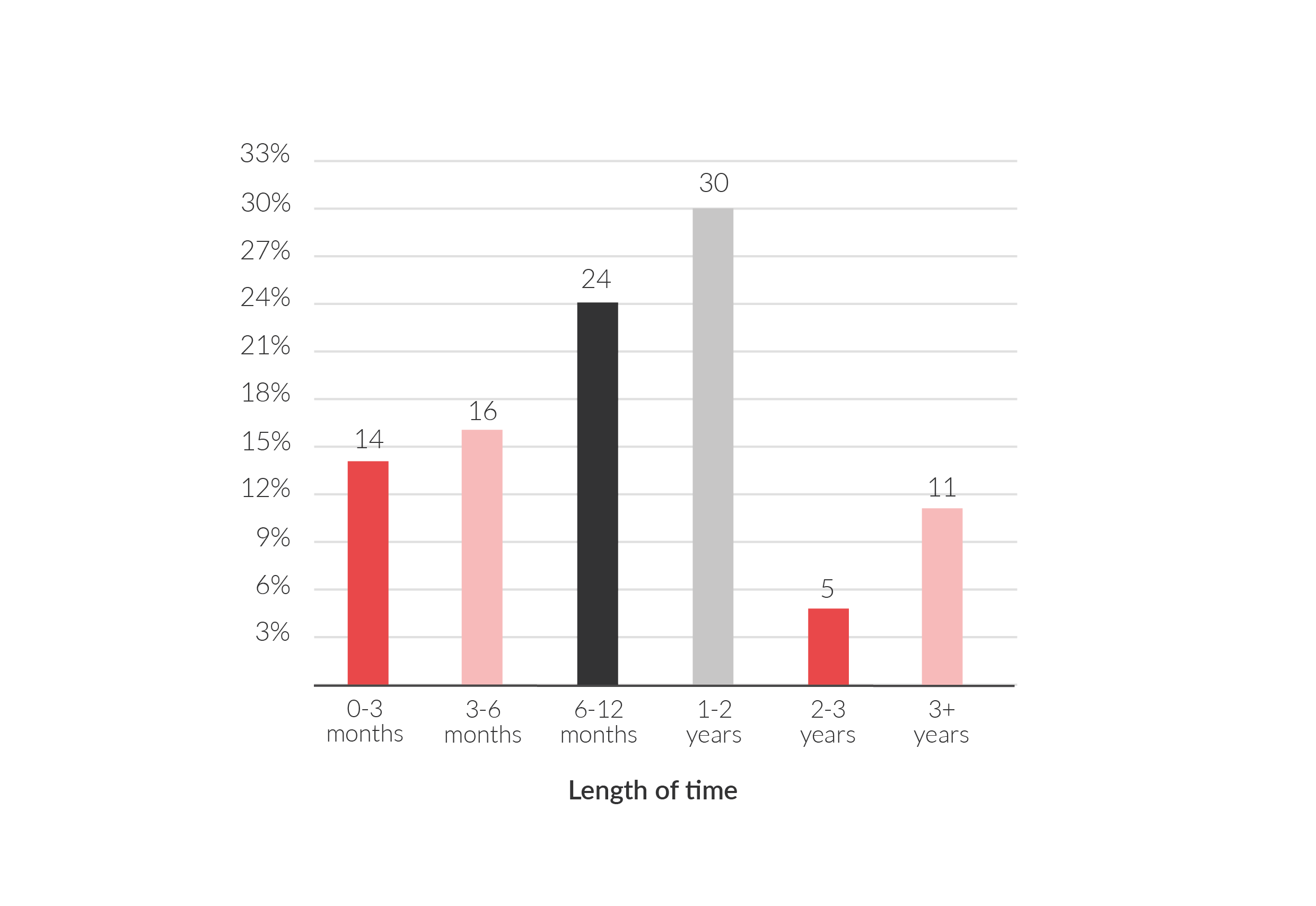 Problem 3: Bespoke Systems and Hosting
There are now a few different ways agencies can host and run their core system. When asked the question "How is your "Core" Automatic Fare Collection (AFC) system infrastructure deployed?", the results were telling.
41 percent of respondents still have their own Design Build Operate Maintain On-premise bespoke system and server infrastructure, while 22 percent have their own system run and hosted in the cloud through their AFC provider. These models for delivering technology will always take a considerable amount of time to set up and start providing services for passengers, particularly on premise systems and infrastructure, and with each of these hosting options supporting an agencies own bespoke system there is the potential to have issues keeping these systems updated.
Problem 4: Fare Collection Systems in use for Decades
The first question focused on the state of systems implementation. Respondents were asked "How long has your "Core" Automatic Fare Collection (AFC) system (the primary back-office solution or sales channel with the highest percentage of sales) been live?". Interestingly, 43 percent have been operating their system for over a decade, with 56 percent over seven years. It is perhaps worth noting for context that around a decade ago, smartphones became a mainstream user device and app mania had just taken hold; technology has changed considerably since then.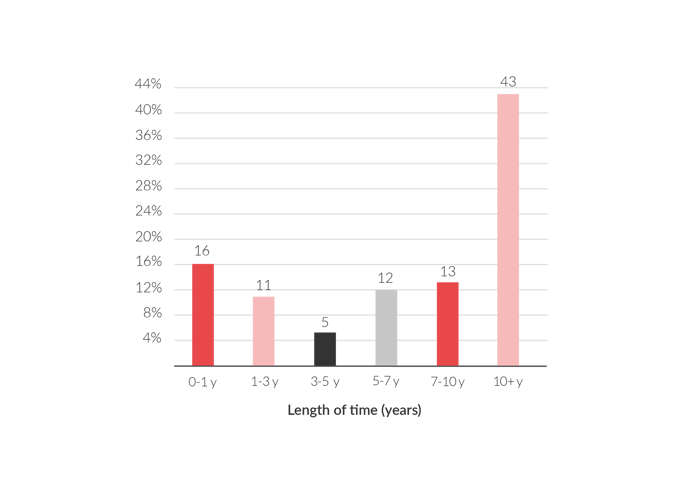 Conclusion
The ticketing industry is changing as more agencies move away from physically needing to issue as many tickets, to the convenience of using mobile phones and contactless bank cards, allowing riders to simply tap and ride to travel. The future of ticketing is not about tickets anymore, it's about fares and payments using an account-based back office and extending services to seamlessly connect public and private transit options to enable full first/last mile journeys.
Agencies' core AFC systems are currently stuck in a DBOM approach and delivering bespoke technology which takes too long to go live, costs too much to deploy, maintain and update and are in place far too long, often failing to keep up with the pace of technology change.
The full report - Transit Agency Research Report: The State of Fare Collection can be downloaded here
The truth is, until recently, there has never been a real alternative to this approach.
Until now...
Introducing Fare Payments-as-a-Service (FPaaS)
Fare Payments-as-a-Service (FPaaS) offers a better approach to underserved agencies wanting to provide fare payment services to passengers. Instead of needing to run a DBOM project, agencies and operators can sign up to a Fare Payments platform (one platform all agencies use) and pay for services on a pay as you go/subscription basis. This enables agencies to deliver the latest 'tap and ride' innovations to riders extremely quickly and grow capabilities as they get released onto the platform.
Read our "What is Fare Payments as a Service?" blog to learn more.