GLTC will introduce new integrated dispatch and vehicle location technologies alongside a new fare payment system.
Greater Lynchburg Transit Company (GLTC), the transit agency serving the City of Lynchburg and its surrounding areas has chosen Equans, Masabi and the Transit app to deliver solutions modernizing its services delivering improved affordability, accessibility, and ensuring the continued provision of high-quality public transportation service to the Central Virginia community. GLTC serves a population of 80,846 in an area covering 72 square miles.
Equans will provide its NAVINEO Integrated Intelligent Transportation System (ITS), which features include: a Computer Aided Dispatch/Automatic Vehicle Location (CAD/AVL) providing real-time dispatch functionalities for detour or trip cancellation information, an Automatic Voice Annunciation (AVA) supplying data to interior next stop signage and announcements as well as real-time passenger information via the Transit app, and a link to General Transit Feed Specification (GTFS/GTFS RT) allowing riders to be informed about their bus location and arrival information as well as giving GLTC useful information about the use of bus validator by location.
Equans' performance reporting module will provide GLTC with the ability to easily retrieve, summarize, and analyze performance data for internal use and planning, as well as for satisfying all requirements for federal reporting to the National Transit Database (NTD) including vehicle revenue miles, vehicle revenue hours, passenger miles traveled and unlinked passenger trips.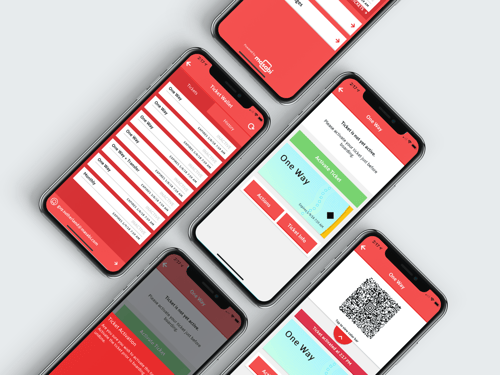 Masabi will power mobile ticketing through the Transit App and a branded GLTC App – as well as giving riders the ability to top up their GLTC account balances using cash at retail locations throughout Central Virginia using Incomm Payments. Masabi will also install its Justride Validators on board GLTC buses, which will quickly verify mobile tickets, accelerating the boarding process.
Thanks to the integrations between the Transit app, Masabi and Equans, riders in Lynchburg will be able to plan their journeys, locate their next bus, pay their fares, and ride - all through a single app.
"The deployment of this new tracking system along with the ability for customers to pay their fares through their smartphone, Transit, or using a smartcard will make riding GLTC a more convenient option along with giving our customers more information so they can plan their trips and ride with ease", said Josh Moore, General Manager for GLTC.
"With our partners Masabi and Transit, EQUANS is proud to support GLTC by providing an integrated Intelligent Transportation System, which improves the quality of public transit for residents in the Lynchburg area." added Stephan Goguet, C.O.O. Ineo Systrans USA, an Equans company.
"Towns and cities like Lynchburg share the same rider expectations as larger cities like Washington and New York, so it's only right that their transit agencies should have access to the same kinds of technology at a level that is affordable and quick to deploy," said Brian Zanghi, CEO at Masabi. "We are delighted to have been chosen by the City of Lynchburg, alongside our partners Equans and Transit, to be a part of transforming the service that GLTC provides, bringing their riders great convenience and accessibility. We look forward to continuing our work together in the years to come."
"We want to make riding public transit as simple and stress-free as possible, and this solution with our partners at Masabi and Equans helps do that," said David Block-Schachter, Chief Business Officer at Transit. "GLTC passengers already rely on Transit to find their next trip and track their ride in real-time. Adding the ability to buy transit fares gives riders everything they need in one app."
Other news from Masabi: