Masabi's mobile ticketing guru explains how keeping it simple and providing choice drives uptake and user acceptance by building trust in a fare payment system that reliably delivers tickets for the journeys riders want to make.
What does 'mobile ticketing' mean to you?
Essentially, it's really simple – we are talking about using apps on passengers' phones to get tickets into riders' hands without the use of any physical ticketing infrastructure or tickets.
From the passenger perspective, what this basically means is that the ticket machine comes to them, rather than having to go and find, then wait in line, at the ticket machine, or use the farebox, making it easier to use public transit than ever before
At Masabi, we offer huge flexibility in terms of whether an agency wants to sell tickets via its own agency-branded smartphone app, or by using a best-in-class third-party mobility app like Uber, Transit, Lyft or Moovit. In fact, we have a number of agencies that choose both these options to help service different rider groups, giving the agency the choice of applications they need and passengers the choice of application which they prefer.
Masabi's agency-branded 'White Label' app can be completely configured to suit an individual agency's needs and there's also a degree of flexibility in how the mobile ticket itself appears within the App in terms of colour and branding.
This kind of app could be deployed without any hardware using visual validation or incorporate a dynamic and encrypted barcode to be scanned by a validation device.
What problem is mobile ticketing attempting to solve?
Essentially, mobile ticketing serves two distinct groups: passengers who ride public transit and want a seamless ticketing experience and transit agencies who operate the services.
Maintaining ticket machines and printing tickets costs transit agencies a lot of money, so offering alternative ways of providing tickets – for example, by delivering them to someone's phone – can save agencies money that can be invested in delivering a better service.
For many passengers, there are three problems they are trying to solve when riding public transit. They are trying to figure out what sort of ticket they need to get from A to B, how much it costs and where they can buy a ticket.
Mobile ticketing is one way to solve all those problems, saving money for the agency and making it easier and much more convenient for passengers to buy tickets.
Creating an account linked to a stored value account in a smartphone app gives riders access to the best value fares on their mobile devices without needing to understand fare structures, or buy tickets before boarding and is made possible through an Account-Based Ticketing system.
When mobile ticketing is rolled out effectively, it meets the needs of both of those distinct groups, so when passengers find it really easy to buy tickets, this should result in more journeys and an increase in fare revenue for the transit agency.
"We make it really easy for riders to buy the tickets they need for the journeys they want to make – and that's what people really care about. They just want their bus to arrive on time and pay for a ticket without a load of faff."
What is the main motivation for transit agencies to invest in mobile ticketing solutions?
Many agencies understand the need to modernize their public transit offering, making themselves more competitive with other modes of transportation – many of which use an entirely virtual ticketing model.
Passengers who have become accustomed to booking everything, from a table for dinner, to a weekend break and an Uber to the airport, kind of expect to be able to do pretty much everything on their smartphones.
Buying tickets for public transit seems complicated in comparison and many transit agencies want to streamline their ticketing process to make public transit more appealing.
For example, The Central Ohio Transit Authority (COTA) partnered with Masabi and Transit to ensure its new digital fare payment system made purchasing fares easier, while increasing equity and accessibility and all ensuring customers pay the best price.
Masabi's fare capping technology empowers everyone to ride COTA for the same cost, regardless of their financial situation. Riders can simply scan the Transit app or tap their Smartcard on Masabi's Justride Validators (JRV) when boarding, and they will never pay more than $4.50 per day or $62 per calendar month.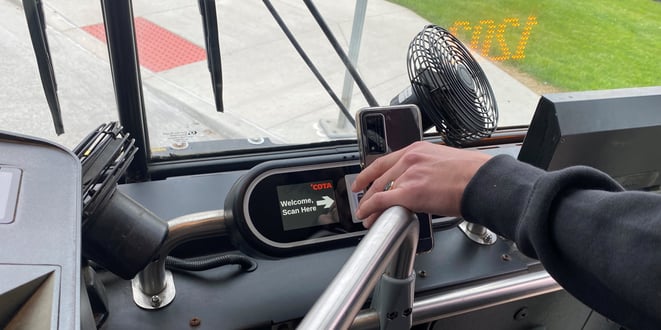 Masabi's mobile ticketing app is kept deliberately simple because we are focused on simply getting transit tickets into people's hands. We make it really easy for riders to buy the tickets they need for the journeys they want to make – and that's what people really care about. They just want their bus to arrive on time and pay for a ticket without a load of faff.
When people plan their journeys, they do so using the app they know and trust already, so why provide a sub-par journey planning service? It's better to integrate ticketing into journey planning apps riders already have on their phones and trust. That's why Masabi has led the way by integrating ticketing into leading mobility apps for 70 agencies worldwide.
What is the biggest advantage of Masabi's mobile ticketing app for passengers?
Speed and simplicity. Masabi's app is really focused on selling transit tickets and we just focus on doing that really well rather than getting distracted by offering other services, which we leave to our partners within apps riders love with large existing user bases.
As long as there's stored value credit within the app or a card saved, it's a super-fast way to buy tickets: you simply select the ticket you want, hit buy and it's there pretty much instantly and you're ready to travel.
Riders can buy tickets with credit cards or cash, access them easily from the home screen, see a record of all their journeys and rapidly access recent trips to repurchase tickets for frequent journeys without searching.
We've also done a lot of work to ensure that people with disabilities can access the app with ease. For example, we've worked with external accessibility consultants to make sure visually impaired passengers can use screen-readers to navigate their way through the app and also used high colour contrast design to enable partially sighted riders to read the screens easily.
The app continues to work without internet connectivity, so if riders are in areas with poor connectivity or their phone data plan expires, they can still effectively access their tickets and continue to ride. This is crucial for public transit as any app that does not provide this is really not fit for purpose.
What are the functional benefits of Masabi's mobile ticketing platform?
Until relatively recently, a lot of mobile ticketing functionality was predicated on using credit cards to pay for tickets bought in an app, but that's changing as we have developed new ways to allow people who don't have a credit card to buy tickets with cash.
We've partnered with some of the world's leading payments facilitators such as Payzone, T-Cetra and InComm Payments to allow people to take cash to a convenience store and load up a stored value account on their phone with credit, which can then be used to purchase tickets when they need them, bringing fare equity to all segments of riders.
Because we've worked with so many transit agencies over the years, we understand how to integrate with quite complex fare structures and the system also has the flexibility to deliver discounted tickets to eligible groups such as students or people with mobility impairment.
We have various ways of delivering discounted tickets directly to riders or extending entitlements to discounts via the app, which appeals to colleges and employers. The only real downside is that riders need to be registered within the app before they can get access to these discounts.
"Once a significant proportion of customers are using mobile ticketing for bus travel, journey times start to fall as dwell times at bus stops are shorter because fewer passengers are paying cash on boarding."


What operational benefits flow from introducing mobile ticketing?
Agencies are often quite surprised at the speed of uptake of mobile ticketing options, but when you make it easier for people to buy tickets via their smartphone – effectively taking the ticket machine to them – then it's perhaps not surprising that passengers are happy to switch from paper tickets.
Once a significant proportion of customers are using mobile ticketing for bus travel, journey times start to fall as dwell times at bus stops are shorter because fewer passengers are paying cash on boarding.
This means a faster, more reliable service as journey times decrease and service frequency increases. Speed, frequency and reliability are all inter-related and are consistently the most important considerations for transit users when planning their journeys. The number one concern among public transit users around the world is: is my bus going to arrive on time and am I going to get to my destination on time.
If you improve any one of those aspects of the service, you improve all of them and mobile ticketing has the potential to deliver tangible operational improvements in these areas.
We also allow agencies to link to as many external web pages as they want and also send in-app messages to riders – making it even easier for agencies to communicate directly with riders.
The mobile tickets themselves have a raft of quite elaborate fraud prevention measures embedded within them and they will always display with 100 per cent consistency across all platforms irrespective of what front end is used.
How important is the ability to integrate journey planning within a mobile ticketing app?
There are some tech companies out there who are doing journey planning really well, but it is incredibly hard for transit agencies to get it right in-house and it uses a huge amount of resource to keep a journey planning module current and updated.
The chances are that someone is already doing it in your city and it's easier to work with a partner that does journey planning really well and ensure your ticketing offer is visible within the journey planning element.
And from the customer perspective, many passengers will already be using a journey planner – or even multiple journey planners for different types of journeys.
The other factor that transit agencies should consider is the proportion of visitors to regular commuters among their customer base. Commuters are likely to have different needs to visitors because they generally know where they are going and make regular, repeat journeys.
How quickly can transit agencies implement mobile ticketing?
The short answer is really quickly! Once an agency has made the decision to trial mobile ticketing, potentially it can be up and running within weeks. The platform already exists and is working in transit systems around the world, so introducing it is much quicker than creating a custom build to deliver the same service.
Our developers and software engineers have worked with transit agencies in more than 140 cities worldwide and the chances are that they have seen some of the challenges and special situations in each individual transit authority before and can bring a global perspective and practical problem-solving approach to rolling mobile ticketing out in your territory.
"Mobile ticketing is low risk, low cost and quick to deliver, but it will also lay solid foundations for a more wholesale migration to a more ambitious smart ticketing system further down the line."
How easily does mobile ticketing integrate with other smart ticketing technology?
Mobile ticketing is a great first step because it's actually quite easy to deliver as a 'toe-in-the-water' exercise before committing to more comprehensive smart ticketing systems.
If you think about it as a model railway, mobile ticketing could be seen as building a simple circular railtrack and making sure everything works before incorporating that within a much more complicated network.
Mobile ticketing is low risk, low cost and quick to deliver, but it will also lay solid foundations for a more wholesale migration to a more advanced account-based ticketing system further down the line.
Once riders have gotten used to buying their tickets in a smartphone app, it's less of a cognitive leap to bring in other ticketing options, because these will be delivered using the same app.
Interested in learning more?