In this post we will explore how cities have reduced or removed cash onboard buses while ensuring or enhancing equity and why this is important in helping increase ridership. Topics covered include:
Buses are designed to transport dozens of people in comfort, safety and a timely manner to their destination. It's a complex operation that benefits from any opportunities to simplify it.
But things get even more complex when the bus draws up to a halt and turns, temporarily, into a shop selling tickets. While passengers use the farebox to pay, the bus is no longer moving.
The driver may need to field questions about fares, advise on the tickets required and issue change to riders who don't have the correct fare.
Worst of all, everyone's journey on the bus is now longer than necessary.
Research shows that it can take up to 15 seconds for each passenger paying cash to board a bus – that could add up to a dwell time of five minutes on a fixed route if 20 people on that route want to pay cash for their tickets. On a busy commuter route with many riders getting on and off the bus, that could lead to long delays during the rush hour.
In many parts of the world, bus systems have removed cash transactions onboard or reduced them to a minor retail channel.
This is not the case in North America and particularly in the US, where the high proportion of unbanked and underbanked riders has meant agencies have been more cautious in removing fareboxes.
Equity is such an important topic and is key for agencies around the globe. When it comes to fare payments, it's fairly simple: all riders need to be able to travel, no matter their circumstances, and all rider groups should be able to benefit from the same fare payment experiences.
Removing cash from the bus does NOT mean excluding cash riders. When talking about removing cash onboard buses, it's imperative to ensure that cash riders are fully supported – and this can now be achieved without accepting cash payment onboard buses.
We'll share an example from Dayton, Ohio who (we believe) became the first agency in the US to remove their fareboxes and go cash-free onboard their buses and we'll also reveal how Dayton was able to take cash off the buses while increasing fare equity for riders.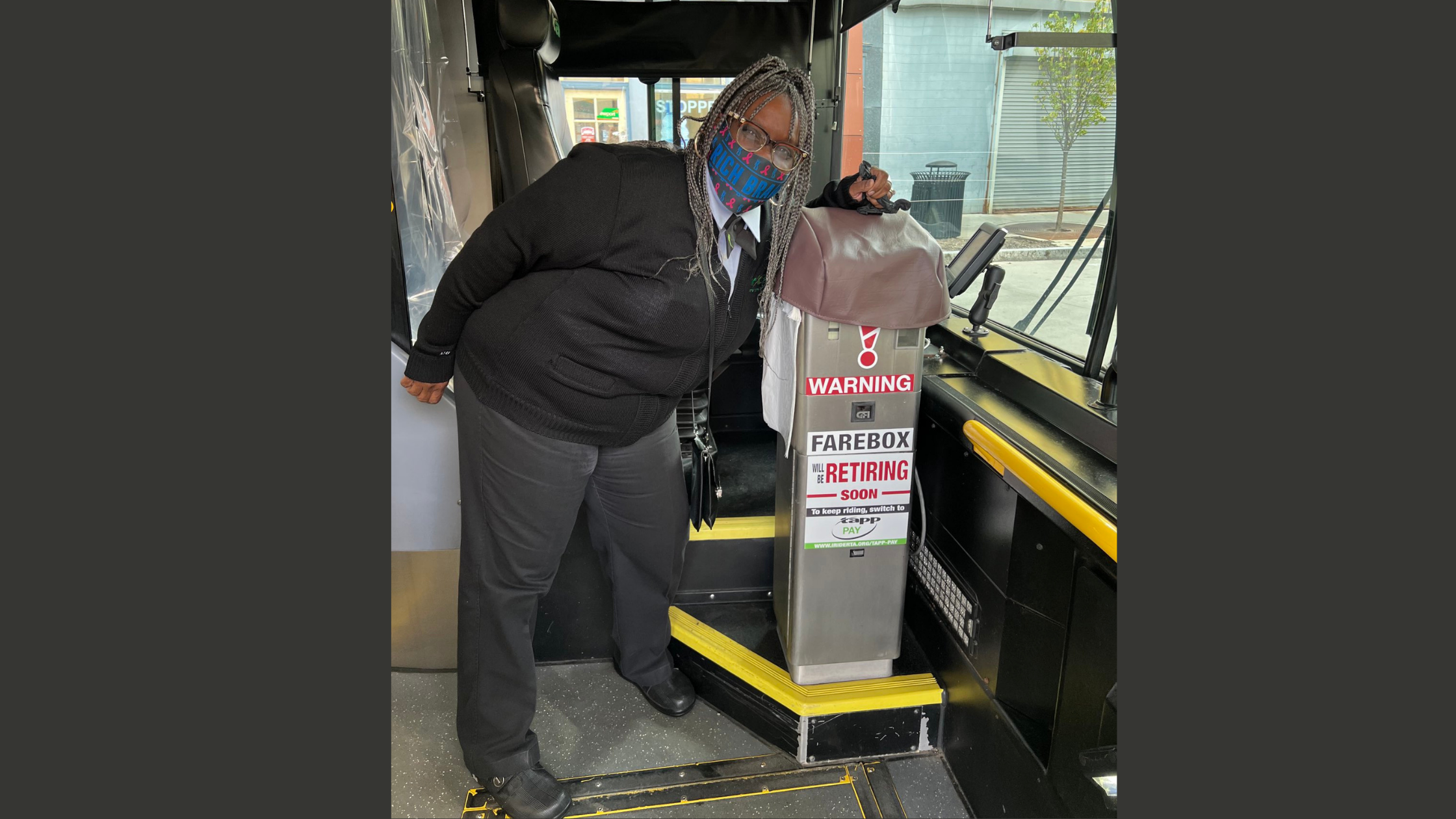 Why remove (or reduce) cash purchases on the bus?
There are a number of reasons why transit agencies and transport operators would want to remove cash off the bus.
Reduce dwell times (Increased convenience). It takes 9 to 15 seconds to board passengers using onboard cash transactions, if it goes smoothly. By removing cash transactions from the bus, the bus spends less time being a shop and more time on the move – great for people trying to get onboard and those trying to get to their destination.
Reduce hardware and maintenance costs. By removing devices which collect cash and issue tickets, transit agencies are able to remove the hardware and the maintenance associated with that hardware. In North America, fareboxes can be removed and in other countries cash collection infrastructure can be replaced.
Reduced cash handling costs. Cash is expensive. It costs a lot of money, time and effort to sort, count and secure cash before it can be delivered for processing.

Remove Vaulting, the secure cash safe from under each on-bus farebox, and depositing it in the in-depot vault.
Remove cash counting and weighing in the depot's secure cash facility with locked doors and high security.
Remove armoured trucks coming to get the cash regularly, and the bank charging extra to accept small denomination coins and bills.

Reduced driver aggravation. Removing cash onboard vehicles, quite simply, makes drivers' lives easier, with less people questioning and querying tickets, not having the right change or issues with the farebox. Drivers can fully focus on driving the bus and passenger safety.
How to remove cash from the bus, equitably
Removing cash from the bus comes with huge advantages for passengers, drivers and agencies. But there are good reasons why cities still operate systems offering cash onboard – equity.
If a city can't support cash-paying riders in a convenient way, then removing fareboxes becomes a huge challenge, or non-starter. However, it's now possible to take cash payments off the bus while increasing equity at the same time.
Whether you are a large capital city like London, or a smaller city like Dayton, the 'playbook' for removing cash onboard follows a similar model.
1. Ensure cash riders have comprehensive and convenient access to buy tickets with cash before they board
Ahead of announcing the end of cash fares on buses, London's TfL conducted an extensive consultation which attracted 37,000 responses. Around 20 per cent of the responses were submitted by cash-paying passengers who were opposed to the move to onboard cash-free ticketing.
The research identified three key groups who continue to pay cash onboard:
Regular bus users, who pay cash occasionally due to a low account balance or not having their Oyster card with them.
Users in areas of Outer London, including of cross-boundary services, where the Oyster Ticket Stop coverage is relatively thin.
Infrequent or occasional users, including tourists, visitors and business travellers, some of whom may not understand the options available.
In response to concerns about exclusion from disability rights groups, older passengers and minorities, before completely removing the cash payment option, TfL ensured that riders could top up their Oyster cards using cash at 4,000 convenience stores across the capital. Riders could also top up their cards using automated ticket vending machines at subway stations, ticket offices or at select bus stops.
This is crucial. Cash riders must be fully supported and by enabling local retailers to serve cash riders with the ability to add funds to people's accounts, they can conveniently use the new system. The key here is that there is enough coverage of agency-owned services and retailers to support cash riders.
For riders with low or no credit on their mobility account, TfL also introduced a 'one more journey' facility which allows riders to travel somewhere to collect cash and top up their account credit.
This effectively allows riders to run a small, temporary debit on their account, as long as they top up the credit before they attempt to travel again.
Ending cash payments on buses has saved Transport for London an estimated £100 million over the last seven years – funds that have been reinvested in operational improvements.
Many other European towns and cities have since followed London's lead and new contactless fare payment systems combined with a cashless onboard bus experience are also being rolled out in cities across the US.
There is now a new way of enabling retail networks to sell tickets or add funds that makes use of existing equipment and retail network providers. It also reduces costs as there is no need to distribute media, which also means there are more incentives for retailers (see case studies below for more details).
2. Increase fare equity and convenience through Account Based Ticketing
By using Account-Based Ticketing and providing comprehensive cash top-up services, a cashless onboard experience does not discriminate against those who still want, or need, to pay with cash for their bus tickets – it just takes the transaction off the bus – and with it all the complications associated with operating fareboxes. Furthermore, it actually helps increase fare equity. Here's how…
One of the best ways of offering riders the latest fare payment options is to adopt an Account Based Ticketing approach to fare collection.
Account Based Ticketing allows riders to create 'mobility accounts' (Stored Value accounts) to purchase bus tickets . This means underbanked riders can pre-pay or top up these accounts with cash at retailers, ticket offices or automated ticket vending machines and simply scan their phone or tap their smartcard to board.
Account Based Ticketing offers advantages for all riders, and when deployed using a Fare Payments as a Service approach, it's a future-proof way to transform fare payment quickly, without committing huge capital resources to design complex bespoke fare collection systems.
Using Account Based Ticketing is simple for the customer (it's the back office systems that make it all work). The customer simply taps to ride using a smartphone app, smartcard, contactless bank card or mobile wallet.
This way of delivering a ticketing experience removes the reliance on purchasing tickets because it effectively shifts everyone to a 'Pay As You Go' (PAYG) model and means minimal use of hardware for receiving or using a ticket, with more people able to use what they already have in their pockets to travel, like smartphones and bank cards. It also removes the barriers of needing to select a fare or buy a ticket in advance.
The shift to PAYG is important. With the introduction of 'fare capping' technology, the benefits of period passes (discounts for people who use services more frequently rewarding them for travel) become available to all riders, not just those who can afford to purchase them upfront. This delivers true fare equity to all riders. Discounts for period passes are based on usage, not income.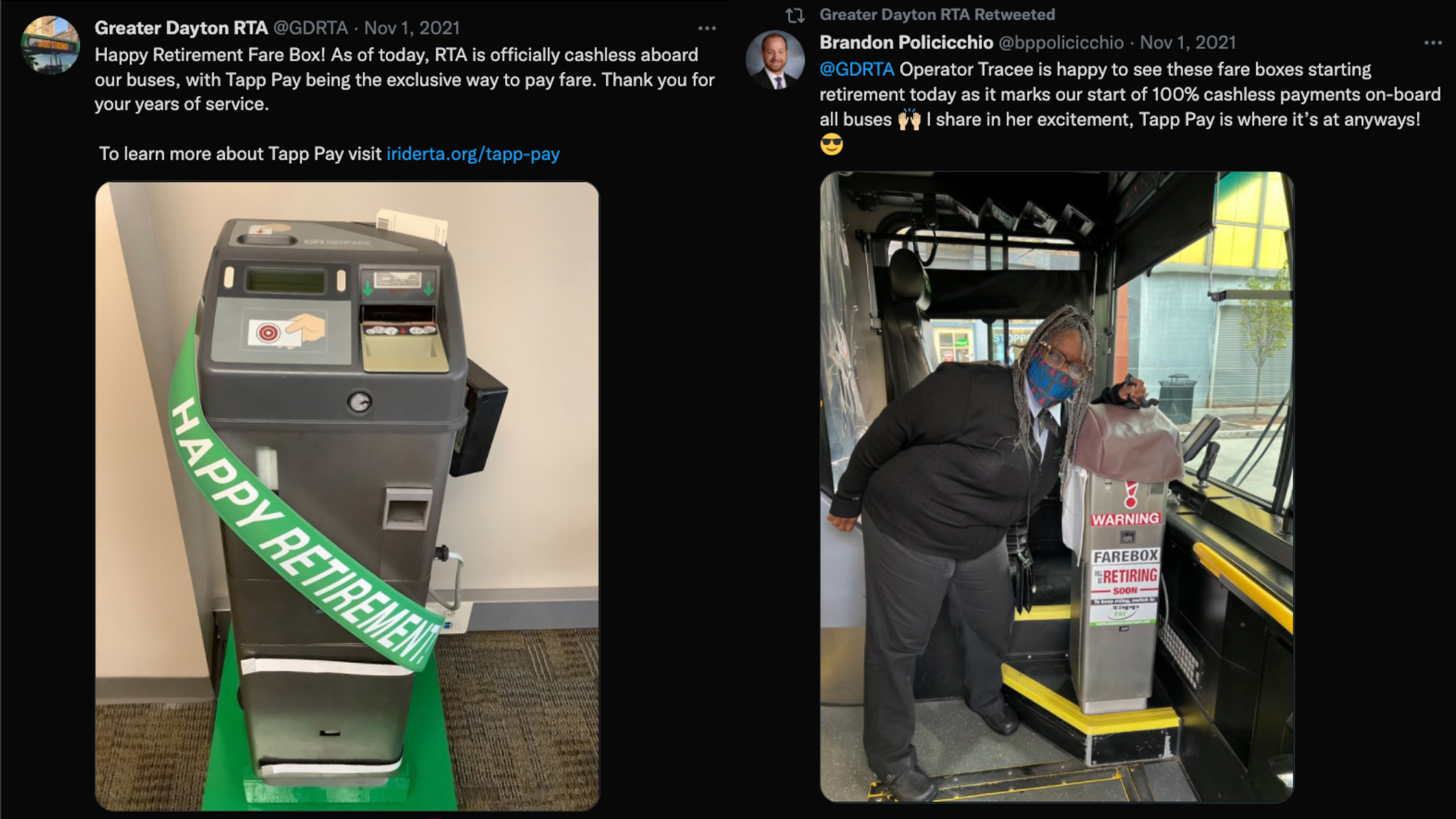 Case Study: Greater Dayton Regional Transit Authority Launches Tapp Pay and Removes Fareboxes
In Dayton, Ohio, the rollout of the Regional Transit Authority's Tapp Pay contactless ticketing system was underpinned by Account-Based Ticketing and integration with a leading Mobility as a Service (MaaS) app, Transit.
In April 2021, Dayton RTA introduced new stored value smartcards to make Account Based Ticketing accessible to all riders, including those who may not have access to a smartphone.
Dayton riders can visit their local convenience store and add funds to their Tapp Pay account using cash (or bank cards) through partnerships with T-Cetra's VidaPay and Incomm Payments' Vanilla Direct service.
The introduction of the new system saw cash fare payments on board Dayton's buses fall to just 10 per cent of total journeys across the RTA by July 2021.
By making it easier to purchase tickets at over 300 local retailers and at new Ticket Vending Machines, Dayton was able to streamline the transit experience by removing all cash payments onboard vehicles in November 2021, decommissioning their fareboxes.
We believe Dayton was the first agency to do this in the US, and they were able to do so by deploying an Account Based Ticketing system and enabling comprehensive cash top up services throughout the city and surrounding area, while dramatically enhancing fare equity.
A win-win for riders and transit agencies
According to research commissioned by credit card payments facilitator Visa Inc, almost half of commuters see contactless payments as the single most significant improvement to their overall travel experience, while 77 per cent of those surveyed said it had improved the experience of travel on public transport.
From an operational perspective, transitioning to a cashless onboard model removes the need to operate and maintain fareboxes and the significant logistical challenges and costs associated with securely transferring that cash from the bus, to the depot, to the bank.
Account Based Ticketing extends access to best value fares to all riders. Riders who want or need to continue paying cash can convert their cash into digital currency or 'stored value' by a process of 'cash digitization' at convenience stores, ticket offices or automated Ticket Vending Machines (TVMs).
Transit agencies and their technology partners are increasingly working with retail payments solutions providers such as Masabi's partners; InComm Payments, Payzone and T-CETRA to ensure riders can pay for their bus tickets using cash at their local convenience store
Riders pay cash over the counter at the store, or at the ticket office, which is then converted into digital currency or 'stored value' held on their account and linked to their smartphone or smartcard.
To board the bus, the rider simply taps their phone or smartcard against a card reader. As long as there is value within the account, the rider will automatically benefit from the best fare for each journey they make. With the introduction of 'fare capping' technology period passes are earned based on usage, not affordability, delivering fare equity for all riders.​​
Conclusion
As Masabi we believe in an equitable 'Digital First' philosophy. This means encouraging as many riders as possible to use digital fare payment channels which provide the best rider experiences and reduce costs, while ensuring that there are always convenient alternative ways to pay using cash and that the best fares are offered to all riders.
Cash digitisation as part of Account Based Ticketing has the potential to transform public transport – creating a seamless travel experience for all passengers while delivering significant operating efficiencies for transit agencies.
Over the next few years we believe we will see agencies' dependence on maintenance-intensive fareboxes decline as more agencies follow Dayton's approach.
By moving to Account Based Ticketing and integrating cash digitisation options and removing or reducing the reliance on the farebox, transit agencies can reduce costs, manage risks and secure ticket revenue, while making the bus quicker and more convenient and enhancing fare equity for all riders. We think this is a pretty neat solution.
If you would like to speak to a Masabi consultant about how you can transition away from fareboxes, then please get in contact.
Other blogs you may like: