Converting cash into digital currency is crucial as public transit agencies and operators invest to make contactless ticketing and best value fares accessible to all.
More and more public transit agencies and transport operators are looking for ways to reduce cash handling on board vehicles. Cash fares slow down boardings, and collecting, counting, and converting cash is a significant pain point for agencies' operations.
Additionally, cash fares do not yield the same high quality ridership data for reporting and service planning. The question that remains is how can agencies do this and continue to serve customers who still want, or need, to pay cash in an increasingly virtual world?
One of the solutions is to turn cash into digital 'mobility currency' which allows riders to buy tickets which can then be used via a smart card or mobile phone.
As agencies look for ways to reduce expensive cash transactions and the associated fare media, hardware and admin costs, or aim for a completely 'cashless' onboard fare solution, it's important no passengers are left behind. Masabi is helping facilitate these transitions with equitable and seamless Account-Based Ticketing systems.
Account-Based Ticketing (ABT) uses 'stored value' accounts linked to phones and smart cards (which can be topped up using cash) or cEMV payments (using contactless bank card or mobile payment like Apple Pay or Google Pay), to allow passengers to simply tap and ride around a transport network without needing to buy a ticket in advance or select their fare.
This – together with 'best fare finding' or 'Fare Capping' – delivers the ultimate ticketless mobility experience in an equitable way to as many people as possible.
Why?
Because fares are not selected before travel and are instead calculated by the systems back-office based on usage (amount of taps). This means everyone can benefit from discounted period passes, even those who can't afford to buy them upfront.
So how do transit agencies implement these systems without excluding groups like students or key workers who may rely on cash to buy all their essentials – from groceries to bus tickets?
Cash digitisation: how does it work?
Cash digitisation is the term used to describe the ability to turn cash into a digital currency or digital credit. In a transport context it enables the unbanked or underbanked to convert cash into transit tickets or digital mobility credit via a variety of different transaction channels – at an automated ticket machine, ticket office or a third-party retailer.
The pandemic highlighted millions of essential workers' dependence on public transit to get to and from work – and the critical importance of easy access to the full spectrum of payment methods.
Covid-19 also accelerated demand for 'touch-free' or contactless payment systems to keep both passengers and transit employees safe onboard.
But not everyone has access to bank cards or a smartphone and it's essential that these passengers can still tap into touch-free smart ticketing solutions.
We believe that it's equally important that cash-paying customers who can't afford to purchase monthly or weekly tickets upfront have access to exactly the same fares and discounts as riders who can afford to pay upfront for a discounted period pass or travel card.
So we are also working hard with a wide range of partners and stakeholders to enable passengers who prefer – or have no option – but to pay for their travel needs with cash, to continue to do so. This is crucial!
Cash digitisation and the retail revolution!
Users of Masabi's Justride platform who prefer, or have to, use cash and have a smartphone or smart card can visit a ticket vending machine, convenience store or ticket office to deposit cash in exchange for mobility credit (or virtual tickets) stored in the user's account.

By providing local retail stores with the ability to add funds or exchange cash for tickets, agencies can quickly and easily expand their riders' options for using cash to travel.

Cash digitisation also keeps the ticket purchase process off the bus – helping to speed up the service and deliver a more convenient experience for passengers who can add funds to their account while they do their weekly shop.

Retail network partners are enabled through our Partner Network and include InComm Payments, T-CETRA and Payzone, which use Justride APIs for cash sales and cash digitisation.

Taking advantage of our partners' retail networks, Masabi's agencies are able to significantly expand passengers' access to cash digitisation for contactless payments using mobile ticketing and smart cards. Here are some examples:

Retail outlets or ticket offices can also be enabled with a web console to add funds (using cash or card) to an account or issue mobile tickets. In fact, Duluth did just that: Duluth Transit Authority, Masabi, Transit app Launch MyDTA Fare Payment System. A receipt paper printer can also be used to issue super inexpensive barcode tickets, which don't require minimum purchase, a deposit, or any registration of services.

Cash digitisation: a great example in Greater Dayton
Greater Dayton Regional Transit Authority recently introduced Account Based Ticketing.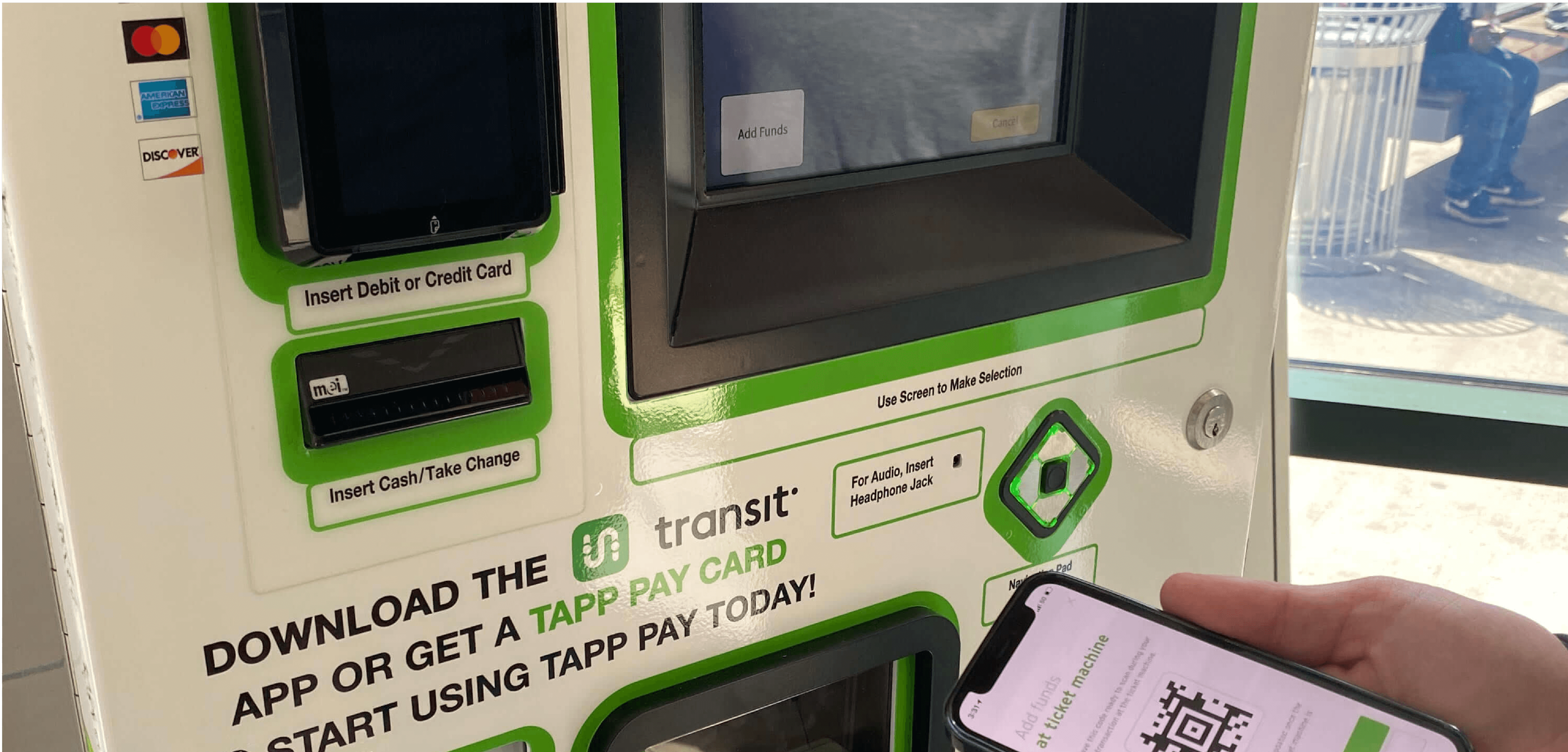 Dayton's public transit riders can now purchase a smart card from recently installed automated Ticket Vending Machines and add funds to their account using cash or credit and debit cards.
They can also visit over 200 local retail outlets (or any throughout the US) signed up to InComm Payments' VanillaDirect cash-in payment platform or any T-CETRA VIDAPAY retailer.
To preload cash onto their account, retailers scan a barcode on riders' smart cards or within the Transit app. This benefits cash riders and those who do not have credit or debit cards to add funds to their smart card or mobile account.
The benefits of cash digitisation for public transport
Digitizing tickets effectively removes cash transactions from the point of use – often on the bus or station itself – and relocates them upstream, so the associated fare collection infrastructure can also be relocated from the frontline over time.
In addition to making the travel experience more convenient for riders, these bring operational advantages for transit agencies.
If cash-only riders use secure tokens rather than buying tickets when they board, there is a shorter 'dwell time' at each stop, meaning vehicles can complete their circuits around the route faster. This benefits all riders by increasing speed, frequency and capacity of the service.
When Preston Bus in the UK launched mobile ticketing across its city-focused transit area, boarding times were reduced by an average of 9 seconds per passenger, reflecting significantly reduced dwell times at bus stops.
Extending the ability to buy travel passes or credit with cash at retail partners also extends access to riders who don't live near a transit shop or ticket office. This reduces queuing time at ticket machines in transit shops and dwell time at bus stops while cash-only riders find their fare.
The problem with cash
The transport ticketing market is moving away from using bespoke Automated Fare Collection (AFC) systems, which focus on cash collection, expensive custom hardware and proprietary ticket issuance.
With these legacy systems, the riders who end up paying the most are often low-income 'pay-as-you-go' riders who rely on public transit to get to work or to study and currently pay cash for their tickets and may not be able to afford to pay upfront for a weekly or monthly travel pass.
In our view, the future of 'ticketing' is not about issuing 'tickets', it's about enabling fares and payments (fare payments) through secure tokens and enabling the best digital frictionless experiences for all passengers.
These 'secure tokens' could be phones, bank cards or account-based smart cards – but the overriding priority for transit agencies is to enable the best possible fare payment experience for all riders by ensuring cash digitisation support for cash paying riders and equity for those who still prefer (or need) to use cash.
Fortunately – there is an alternative. By moving to a 'Fare Payments as a Service' (FPaaS) delivery model, transit agencies can reduce costs, manage risks and secure ticket revenue without huge upfront investments in bespoke ticketing technology.
Using a multi-tenant platform such as Masabi's Justride enables the rapid delivery of Fare Payments-as-a-Service.
As ridership levels recover from the pandemic, this system delivery model comes with immediate benefits, such as a smoother, safer, more convenient experience for riders and a reduction in operating costs for transit agencies.
An equitable 'Digital First' philosophy
As Masabi we believe in an equitable 'Digital First' philosophy. This means we try to get as many riders as possible using digital fare payment channels if we can, while ensuring that there is always a convenient way to pay and ride for all riders and no one is left behind.
We do this because digital channels are not only the most cost-effective for agencies, but they also come with additional benefits for riders.
For transit agencies, replacing paper tickets with secure tokens stored on a mobile phone, bank card or smart card reduces the requirement for complex and often capital and labor-intensive fare collection infrastructure.
This can be replaced by cash digitisation options and validators at the point of boarding which scan pre-paid tickets or deduct the fare from stored value accounts or debit a bank card with the appropriate fare.
And in addition to operational improvements for transit agencies, migrating to an agile Fare Payments as a Service model like Justride delivers additional advantages for transit riders.
By using Account-Based Ticketing, where fares are calculated in the back office, a rider can access the same savings as someone paying up front for a discounted monthly travel pass.
Lower income riders who currently pay small amounts for each journey may find that the cost of these journeys over a day or week adds up to the equivalent of a travel pass, but without paying upfront for the discounts available with a period pass, these groups don't always have access to the best value fares.
'Fare Capping' rules set in the back office can automatically convert these fares to a day, weekly or monthly pass, so that further travel in that period will not incur further charges.
This allows more expensive period pass products to be automatically 'earned' by riders who make regular journeys without needing to budget or plan up front, eliminating the need to second guess whether they might need a period pass to get the best value for money.
In Rochester, upstate New York, riders using the local transit agency's RTS Go system pay just $1 per ride – but thanks to fare capping – never more than $3 a day or $56 a month – equivalent to the cost of a daily or monthly travel pass.
The Justride platform allows individual transit agencies to determine their own fare capping policies to ensure riders get great value and reward them for using transit.
'Best fare finding' means riders can pick the journey that suits their needs without worrying about overpaying. The back-office function of Account-Based Ticketing will always give them the 'Best Fare' – even if they didn't pay for a pass in advance.
Conclusion
Momentum is building behind cash digitisation as it expands the ability for passengers to use cash to buy tickets or add funds, reducing the need for expensive hardware and the associated maintenance.
Cash digitisation combined with Account-based Ticketing has the potential to transform public transport – creating a seamless travel experience for all passengers while delivering significant operating efficiencies for transit agencies.
Rolling out cash digitisation options across wider retail networks will make equitable fares and increased convenience accessible to all passengers and reduce transit agencies' dependence on legacy systems so they can shift their focus from fare collection to enabling payments and innovation.
By moving to a 'Fare Payment as a Service' (FPaaS) systems delivery model that enables Account-based Ticketing and integrates cash digitisation options, transit agencies can reduce costs, manage risks and secure ticket revenue without huge upfront investments in bespoke ticketing technology.
Interested in learning more? Request a call with Masabi
Further reading: