In the past, transport providers either gave you old fashioned paper tickets, magnetic tickets or smartcards. This meant that they needed complex infrastructure to facilitate that payment and validate the ticket, as well as to distribute pieces of plastic or paper that allow riders to travel. The future of ticketing turns this approach around and tries to remove both expensive single purpose infrastructure and the need to issue a piece of paper or plastic, saving agencies money. This is the approach we call BYOT (Bring Your Own Ticket).
The ubiquity of the smartphone, the increased proliferation of contactless bank cards and the availability and speed of the internet have enabled an 'as a service' systems delivery model to flourish, and with it brought better ways to run ticketing for public transit 'Fare Payments-as-a-Service'.
In this post we run through a short 7-step guide to moving agencies to a BYOT set up, utilising Fare Payments-as-a-Service and enabling organisations to save money, improve the passenger experience and attract new riders. It may be that you do all seven steps at once, enter at step 3 or 4, or skip a step. It is also true that every transit system is different and the order may not follow this exact process. If you would like to discuss your fare collection set up with a consultant from Masabi we can provide more specific advice based on your infrastructure, pain points and objectives.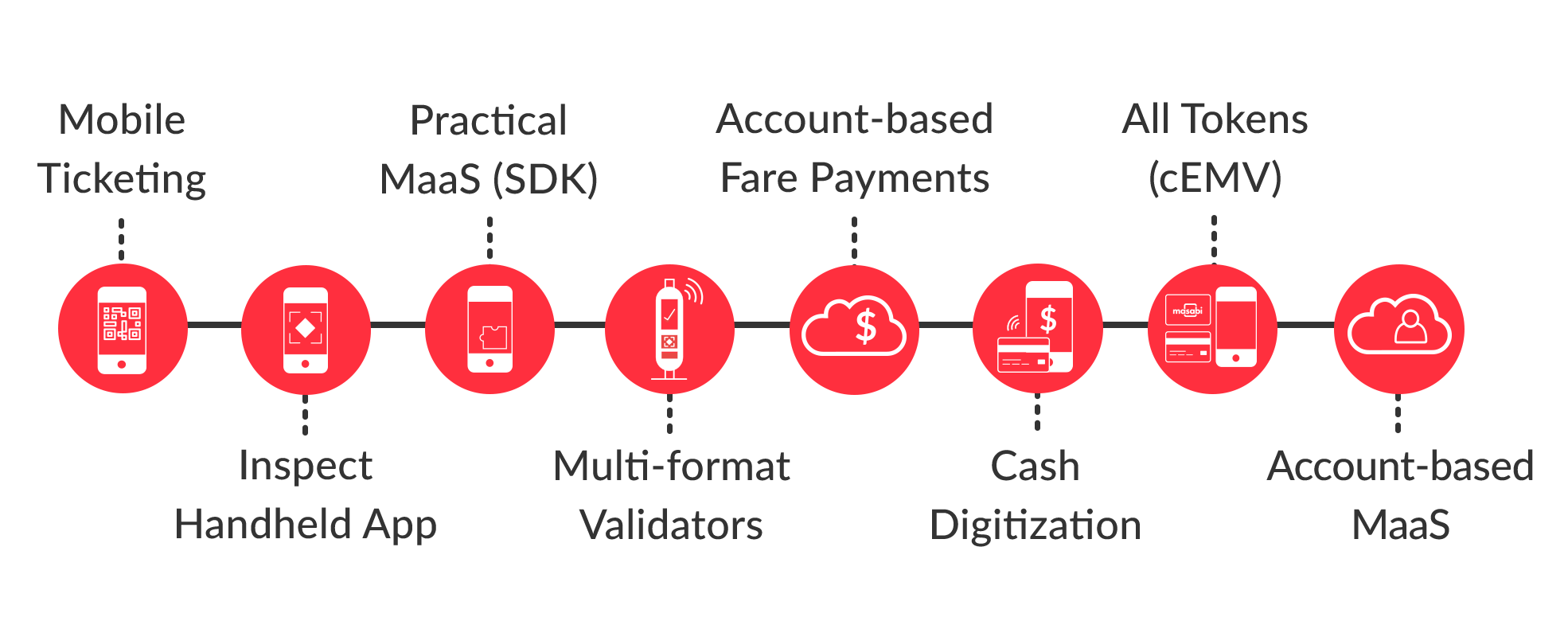 Step 1 - Mobile Ticketing LIVE in Weeks
Mobile ticketing is available to transit agencies and operators around the globe, no matter their size, via a 'fixed monthly fee' or 'percentage of fare revenue' model. It is also extremely quick to deploy. Masabi deployed Fire Island Ferries just 23 days after contract signature, SW Transit in 20 days, National Express in 7 weeks and in 16 days for Nikko Kotsu Bus in Japan.
Mobile ticketing does not necessarily require capital expenditure or hardware and can run alongside existing fare collection systems. Often mobile ticketing is deployed using a visual digital ticket inspected via drivers or inspection staff, or upgraded to a scanned solution using validation devices or validation apps.
Step 2 - Mobile Ticketing SDK Integrations (Practical MaaS)
The availability of the Justride SDK, the world's first mobile ticketing SDK for public transport, means you can now integrate the market-leading mobile ticketing platform into existing or new applications. This enables riders to buy tickets from multiple applications within an urban ecosystem. The SDK is currently live in 47 apps for transit agencies in 5 countries.
An agency branded mobile ticketing app may well be the best option for commuters and regular riders, but for people visiting a city or using a journey planning (or MaaS) app to navigate to a destination, the ability to seamlessly purchase tickets from the same application gives better accessibility and choice for passengers. It increases convenience for riders by removing the barrier of having to figure out how to buy a ticket to ride public transit.
By integrating public transport tickets into leading consumer facing and white label MaaS apps, transit agencies are able to enable MaaS in a practical and cost-effective way, without needing to offer discounts on tickets or subscriptions.
Step 3 - Multi-format Electronic Validation
Once you have a successful mobile ticketing deployment, the next stage is validation and adding in a foolproof way of ensuring any fare evasion is minimised. Today, mobile barcode is the most accepted way to deliver contactless mobile ticketing, as it works on all smartphones with a simple app download and does not require any changes to sim cards.
Despite the use of barcodes for mobile tickets, it is worth noting that validation devices should be multi-format to enable multiple technologies and fare media to to used, ensuring all major ticketing technologies are available and making sure you do not lock out innovation. The key ones to include, along with barcode, are NFC and cEMV (Bluetooth may be one for the future and is a technology we also include in case it becomes market ready). These devices are becoming more and more cost-effective for organisations of all sizes, and Masabi has the experience of bringing off-the-shelf and customised solutions to cities around the globe.
It is also crucial that these devices have the necessary memory and processing power to enable Account-Based Ticketing, so passengers can simply tap and ride using secure 'tokens' such as mobile phones, contactless bank cards, ID's and smartcards.
Step 4 - Account-Based Ticketing (ABT)
Account-Based Ticketing frees riders from needing to buy a ticket or understand fares before they travel. They simply need to have an 'account' linked to a secure 'token' and credit can be taken post journey. This is the next step in making travel via public transit convenient and even more seamless. Passengers can use a mobile barcode and a stored value account to scan onto public transit and just ride, or another token such as a contactless bank card, mobile payment token or smartcard. There are two models for enabling ABT (cEMV and stored value accounts)
Step 5 - Adding Other Tokens
Once Account-Based Ticketing is operational you can add in other tokens such as contactless credit/debit card and smartcards. Masabi's Justride platform supports both pre-purchase and account-based fares along with all major fare media, meaning people can chose whichever token is best for them. As people use the ticket machine in their pocket or the ticket already in their wallet, agencies can reduce proprietary ticket issuance over time and save costs through a reduction in cash handling, physical ticket printing/distribution, and hardware/systems maintenance costs.
Step 6 - Enabling the Unbanked and Cash Digitization
Agencies around the word can't operate just for a small percentage of riders; they need to make sure public transit available to everyone, and that includes people without a bank account. By using retail shops, agencies can utilise retail distribution networks so passengers can exchange cash for digital credit. This has the advantage of being extremely cost-effective and has positive side-effects for local retail outlets. With Masabi's account-based system you can exchange cash for digital credit for your Justride Account in multiple ways.
Step 7 - Account-Based Mobility-as-a-Service (MaaS)
Not all transit trips exclusively use public transit. Adding connecting services and joining together urban mobility applications and private operators is the final step to deliver complete first-last mile journeys without using private cars. By connecting various best-of-breed services via the Justride SDK and APIs - all underpinned through an account-based back office, passengers can access tickets for public transport in MaaS apps or tap on and off transit services and pay the best possible fare (depending on which MaaS models agencies select). The extension of services from the central public transit system will have a positive effect on the rider experience and rider numbers, helping increase public transit ridership in cities around the globe.
Fare Payments-as-a-Service
At Masabi we are trying to do things differently and better than traditional automatic fare collection solution providers; helping create seamless riders experiences while reducing cost and increasing operational efficiency for agencies of all sizes around the globe. We are enabling this through delivering systems in a new and better way, avoiding expensive, slow and stagnant bespoke solutions by using a multi-tenant fare payments platform enabling agencies to move to a Fare Payment as a Service delivery model.
If you have any questions about the 'Mobile First' approach please email: james.gooch@masabi.com