MaaS is the integration of different forms of transport services into a mobility service accessible from the moment people leave their front door until they reach their destination, planning and paying seamlessly based on what and how much they use, without using a private car. MaaS promises to help move people away from private car usage, helping to reduce congestion and pollution in cities around the globe. In Masabi's view, there are currently three approaches to enabling MaaS for public transit (which are not mutually exclusive). These are:

1. Practical MaaS
Practical MaaS delivers public transit ticketing within consumer facing or white label MaaS apps such as; Uber, Transit, Moovit, Gertek and Kisio Digital. This model connects public transit with private mobility services without the need for discounts or new business models.
2. Account-Based MaaS

Account-Based MaaS uses an Account-Based mobility card (smartcard) or token (mobile barcode, mobile payment or contactless bank card) to travel via tapping (or being) on public and private vehicles. The fares are then calculated based on what and how much people consume. Passes (like a monthly subscription) are earned based on usage over particular time periods, but do not exclude people unable to afford, or not requiring, an upfront subscription.
3. Subscription-Based MaaS
Subscription-Based MaaS connects public and private transit options through a subscription, be it a weekly or monthly time period, where users pay up front for a mobility package.
All these approaches have their pros and cons, but we have put them in the order we believe makes the most sense to deploy (although we would advocate Practical and Account-Based MaaS make the most sense for cities and agencies in order to provide social equity and facilitate demand-based pricing and better policy control levers).
23 Transit Agencies in Five Countries Have Enabled Practical MaaS
Practical MaaS is the integration of ticketing for public transit into third-party apps. These apps usually fall into two groups, either consumer facing MaaS apps (such as Uber, Transit, Jorudan) or white label MaaS apps (such as those provided by companies like Kisio Digital and Moovit).
With Practical MaaS, there is no need for agencies to give a discount on tickets or often even pay an upfront cost. They simply pay the normal fee they would when they sell a mobile pass. The app providers may bundle up tickets, or simply retail public transit ticket - with or without other mobility services.
Enabling Practical MaaS through the Justride Mobile Ticketing SDK
Practical MaaS in France: Masabi's Justride SDK is the world's first and only SDK for public transport, integrating ticketing directly into 3rd-party apps. The Justride SDK first went live in two MaaS apps (PlanBookTicket) in France provided by Kisio Digital for the cities of Orleans and Montargis.
Practical MaaS in Canada: Transit launched in-app ticketing for public transit in Canada during 2019 for riders in St Catharines, allowing them to buy tickets and ride public transport using Transit (app) while also combining public transit with Transit's other private mobility services. After just over 4 weeks mobile ticketing adoption using the SDK was over 7%.
Practical MaaS in USA: The SDK has been adopted by Uber to deliver ticketing for public transit for riders of RTD services in Denver. The launch of Uber Transit ticketing, which completed its roll out at the end of May, saw more than 14,500 tickets sold through Uber by the end of September. RTD went on to deploy ticketing in the Transit app, meaning more people already using urban mobility applications can now easily access in discover RTD services in Denver. These new rider capabilities were launched alongside the existing agency mobile ticketing application (also provided by Masabi) which has continued to see a rise in adoption since the two SDK launches. A similar offering went live in Las Vegas in January 2020 with the launch of ticketing in both the Uber and Transit applications operating alongside the existing agency branded app.
The next 13 agencies to deploy a branded mobile ticketing application and Practical MaaS using Transit were; Laketran (Lake County), MCPT (Medina County), METRO RTA (Summit County), PARTA (Portage County), Sandusky Transit (Erie County), SARTA (Stark County), TARTA (Lucas County), WRTA (Mahoning County), BCRTA (Butler County), SORTA (Hamilton County), TANK (Northern Kentucky), The Cincinnati Bell Connector (Cincinnati Streetcar) and The Lancaster-Fairfield Transit systems. The EZfare service (enabled through NEOride) went fully live in October and has since sold thousands of tickets.
Practical MaaS in Japan: Jorudan, Japan's leading journey planner and MaaS application launched ticketing for public transit for Syoei Express Bus which operate services into Tokyo city. Jorudan went on to launch Practical MaaS in Toyota City and Oita City in time for a major sporting event taking place in the country. The service then went live for JRW and Nikko Kottsu Bus service.
Practical MaaS in Spain: The Lurraldebus app was launched in 2018 through our partner Gertek. This app deployment is the first step in the movement to MaaS for the operator.
The future of public transit is a connected one
Practical MaaS is on the rise thanks to the ease of deployment and the fact that agencies of all sizes can connect into developing MaaS ecosystems without any upfront cost or needing to offer a discount on tickets.
If you are interested in retailing tickets or having your tickets retailed in white label or consumer branded MaaS apps please email james.gooch@masabi.com.
Placing Public Transport at the Center of Mobility as a Service (MaaS)
This eBook provides a comprehensive guide to the three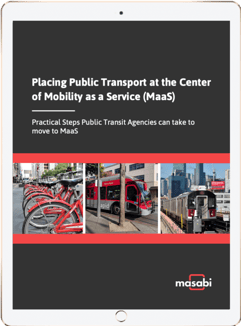 different approached to MaaS available today and gives practical steps public transit agencies can take to move to MaaS.
Click here to download the eBook.