Around the globe multi-tenant Software-as-a-Service (SaaS) platforms have revolutionized industries, bringing leading solutions to companies of all sizes, quickly and cost-effectively. We now expect software to be available on a pay as you go (or subscription) basis, to update and improve all the time and to have the flexibility to switch providers if we are unsatisfied with the service we receive.
However, the fare collection industry (mobile ticketing aside) is still dominated by Automated Fare Collection (AFC) providers offering bespoke and customized solutions that agencies purchase and are stuck with for years (often decades) using a Design, Build, Operate, Maintain (DBOM) model for systems delivery.
The Problems with Design, Build, Operate, Maintain (DBOM) Bespoke Fare Collection Systems
A Design Build Operate Maintain approach to delivering a new system to an authority or agency does exactly what it says on the tin. Each agency has to invest time and money developing what they need, getting a supplier to build a system for them (from scratch) to meet strict and detailed specifications set out in the RFP. The system then needs to be operated and maintained, usually for a significant amount of time.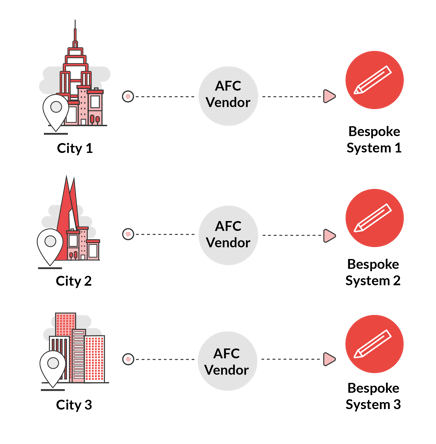 With a Design, Build, Operate, Maintain model for systems delivery, each agency purchases its own solution to fit bespoke specifications, using bespoke software and hardware. As a result, these systems are expensive to build, operate and maintain. They are also slow to deploy and updates are expensive and time-consuming (if they happen at all). However, there is now a BETTER way authorities and agencies can deliver fare collection technology to passengers...
What is Fare Payments-as-a-Service?
Fare Payments as a Service (FPaaS) is a better way of delivering ticketing systems to transport agencies, operators and passengers. Instead of running a DBOM project and purchasing a bespoke Automatic Fare Collection (AFC) system, agencies can now sign up to a service delivered via a multi-tenant fare payments platform, removing the cost, risk and complexity of providing the latest fare payment innovations and allowing agencies and operators to concentrate on what they do best, operating safe, reliable and convenient transit services to riders.
A Fare Payments-as-a-Service systems delivery model enables the latest 'tap and ride' fare payment innovations for passengers extremely quickly and gives agencies the ability to grow capabilities as they get released onto the platform, removing the complexity of running ticketing services. There are a number of Fare Payments-as-a-Service characteristics which are important to mention;
Subscribe, Go and Grow: Agencies and operators can subscribe to a fare payments platform as it is already built, taking the complexity out of buying, managing and updating their fare collection system. Agencies can be live with a proven platform in weeks and grow capabilities as the service expands.
Multi-Tenant Fare Payments Platform: Each agency uses the same platform configured in different ways for their needs. This makes it far more cost-effective (cost are amortised across all customers), as well as being quick to deploy and constantly being updated (one update and everyone using the platform benefits). The key thing here is that the platform is multi-tenant.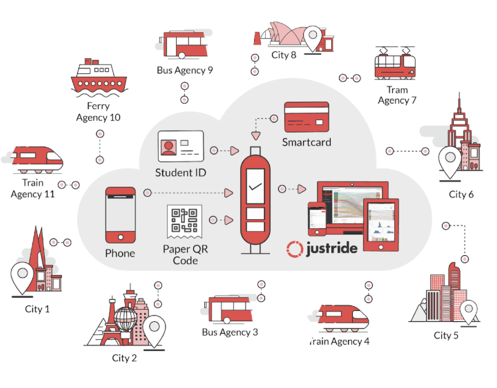 A Fare Payments-as-a-Service delivery model holds a number of significant benefits for cities and agencies, these include:
Cost-Effective: Agencies are able to reduce the overall cost of fare collection as the cost of supplying the service is less as everyone is on the same platform. Services are available on a percentage of ticket sales basis with reduced capital, maintenance and update costs.
Speedy: Once capabilities are added to a fare payments platform, existing customers can use the new functionality after their next update. It also means new deployments can be live in weeks instead of years.
Constant Updates: With a fare payments platform new updates are delivered regularly, meaning all agencies on the platform get shiny new functionality enabling them to keep up with the pace of technology change.
Mobility-as-a-Service Enabled: Fare payments platforms help enable Mobility-as-a-Service (MaaS) for public transit through SDKs and APIs linking tickets, fares and payments with other best-of-breed MaaS services. Agencies can also deploy Account-Based MaaS via Account-Based fare payments capabilities. This enables passengers to use a stored value account to tap across multiple operators, with passengers being charged 'best fare' post their journey.
Open Integrations: An open API architecture means fare payment platforms can link to existing (or new) systems and connect with other best-of-breed services. This helps make deploying fare payment platforms easier and allows the platform to connect with existing or new services, as required.
Account-Based Ticketing Experiences: FPaaS platforms deliver tickets to riders but they should also enable the latest innovations for agencies by enabling account-based ticketing using a mobile phones, smartcards (NFC) or contactless bank cards (cEMV) - meaning riders no longer need to buy a ticket or understand fares to travel. The ultimate convenient passenger experience.
Future-Proof Roadmap: With a roadmap of new features and capabilities, a platform approach takes the complexity out of fare payments and allows experts to guide agencies on their ticketing journey, allowing them to concentrate on what they do best, providing safe, reliable and convenient journeys for riders.
In this webinar entitled 'The end of AFC as we know it?' Ben Whitaker, Co-Founder of Masabi, explores the impact of COVID-19 on fare payments and introduces Fare payments-as-a-Service.
Increasing Public Transit Ridership
From mobile to Account-Based Ticketing, to enabling Mobility as a Service for public transport, multi-tenant fare payments platforms help increase public transit usage through increased accessibility, discoverability and convenience. We believe this, together with facilitating more money to be put back into running transit services and increased data insights, will help agencies and operators attract more people to ride public transit services, reducing congestion and making our cities better places to live, work and visit.
Further reading: